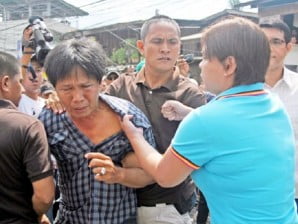 The incident in Davao where Mayor Sara Duterte punched Sheriff Abe Andres in the face has become a hot issue in the past week. Now, the Sheriffs Confederation of the Philippines Inc (SCOPHIL) makes its move to fight for their right in behalf of Sheriff Andres by filing a case against Mayor Duterte.
The case has been filed on Monday and according to the group they are very much disappointed by the action of Davao Mayor Duterte knowing that she is a lawyer and a public servant, Duterte should have been a good role model to her people.
Recently, Mayor Duterte already apologized to the court and to her people for letting her emotion take over during the scene thus making such improper action. However, she still stands on her belief that she does not owe any apology to Sheriff Abe Andres because according to her she only did her job as the mayor and that is to protect her people.
In an interview with the spokes person of the group Atty. Ruben Almadro, he said that Sara should face the consequence of her action and that includes an explanation to the secretary of the Department of the Interior and Local Government or DILG which is in charge in the investigation as well as to the court for being a lawyer.
He also added that Duterte's act of punching a sheriff only show's her disrespect to the authorities implementing the law and the court itself as an institution.
Sheriff Abe Andres has already confessed that he will not file any charges to Mayor Duterte instead he will leave d theecision to the judge.
The SCOPHIL condemns this kind of action coming from high government officials and said that they will fight for their right. They also added that they will not allow higher officials to disobey the courts orders and processes.