Illegal Drugs Concealed in Biscuit Cans Confiscated by Authorities at NAIA-3
The authorities seized P76 million worth of illegal drugs concealed within biscuit cans and other food items.
Over the previous decades, illegal drug has been one of the major problems not only in the Philippines but also in different countries all around the world. It poses a serious problem to public health, safety, and the overall well-being of the Filipino people.
On Wednesday (September 27, 2023), the authorities confiscated about 14 kilograms of illegal drugs hidden in biscuit cans at Ninoy Aquino International Airport Terminal 3. The operation resulted in the arrest of two Singaporean nationals.
The foreigners had traveled from Doha, Qatar, raising suspicion as the contraband was found in both their hand-carry and checked-in luggage. The suspects employed plastic wrapping in an attempt to feign purchase from the Duty-Free shop.
The Bureau of Immigration also grew suspicious during their profiling of the suspects due to the extensive list of destinations visited before returning to Singapore. The Singaporean nations reported traveling to Dubai, United Arab Emirates, and Doha, Qatar, before heading to Manila.
Initially, the Philippine Drug Enforcement Agency (PDEA) identified the contraband as cocaine after conducting a field test and receiving confirmation from the K9 unit.
PDEA is expected to file charges against the suspects while trying to determine the source of the illegal substance and to identify any other individuals involved in the smuggling operation. It shows the relentless efforts of law enforcement agencies to combat drug-related crimes.
Previously, a man was arrested for allegedly selling illegal drugs on dating app
The social media users expressed their reactions to the recent smuggling of illegal drugs: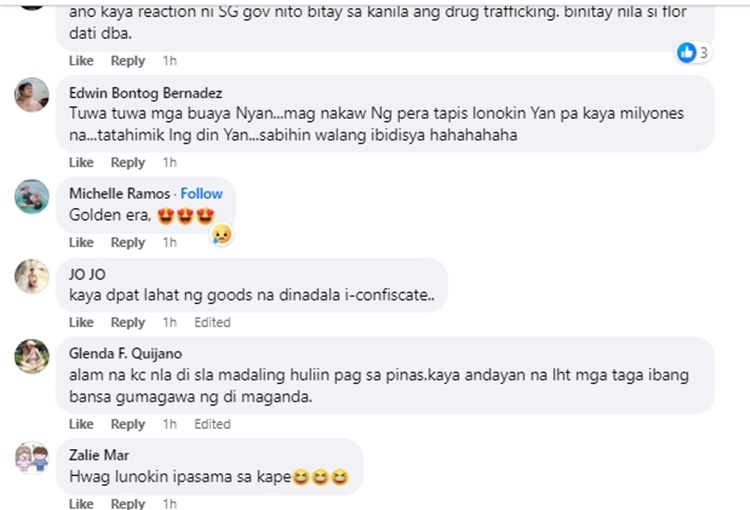 This is a developing report, just visit this website regularly or refresh the page for further updates and information.
Thank you for visiting Philippine Trending News (Philnews.ph). You may also follow us on the following social media platforms; Facebook, Twitter, and YouTube