Puregold Issues Statement on Security Staff Accusing Customer of Stealing
Supermarket Puregold issued a statement regarding the viral video of their security staff accusing a senior citizen customer of stealing.
It should be noted that a female store security guard garnered flak on social media after TikTok user Marcofny published a video of her false charge. According to the footage, after being accused of stealing, security personnel instruct him to remove all of the contents of his bag.
The old man, who was later revealed to be one of the cast members of FPJs Batang Quiapo, was dissatisfied and chose to film their fight. Based on the previous article, when he was leaving, the security guard stopped him and accused him of stealing a deodorant. Yet, Marcofny denied stealing anything.
Marcofny even showed the empty deodorant container and said he took it out to see what brand he should buy. Yet, the female security guard insisted that he had nothing in his luggage. The senior citizen opens his bag in front of them, indicating that no groceries were inside.
He requests that the female security apologizes to him for embarrassing him in public after establishing that he did not steal anything from the grocery store. The netizen is said to be upset with Puregold's staff for opening his suitcase in front of so many people.
Meanwhile, Puregold released a statement on the incident. They feel terrible for the elderly man and how the incident was handled, according to a statement made on their Facebook posts.
"Mga ka-Puregold, we saw and we heard it all. Sorry. We really feel bad para kay Tatay. and how the situation was handled. This puts the pain in striving to be panalo," they said.
"Please know that this incident is being dealt with privately, with kindness and patience. We ask that you allow us to learn from this and improve," the supermarket added in their post.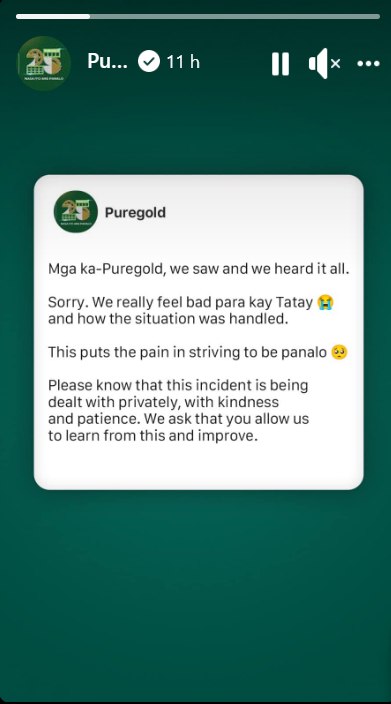 READ ALSO: Male Student Holds Classmate's Rosary During Examination
What are your thoughts on this article? Just feel free to leave your reactions in the comment section.
Thank you for taking the time to read this. We aim to give the freshest and in-demand content to our visitors. Come back next time at PhilNews for more updated news.