HOROSCOPE TODAY: Here is the Astrological Prediction for February 11, 2023 (Saturday)
HOROSCOPE TODAY – Here is the astrological prediction for each zodiac sign for February 11, 2023 (Saturday). Check your daily horoscope here.
Horoscope is an astrological chart or diagram that represents the positions of the Sun, Moon, planets, astrological aspects, and sensitive angles at the time of an event. Experts also make predictions from that astrological information.
Every zodiac signs have its own traits and characteristic, which define the personality of an individual. It might be helpful to a person to read horoscope predictions at the start of the day.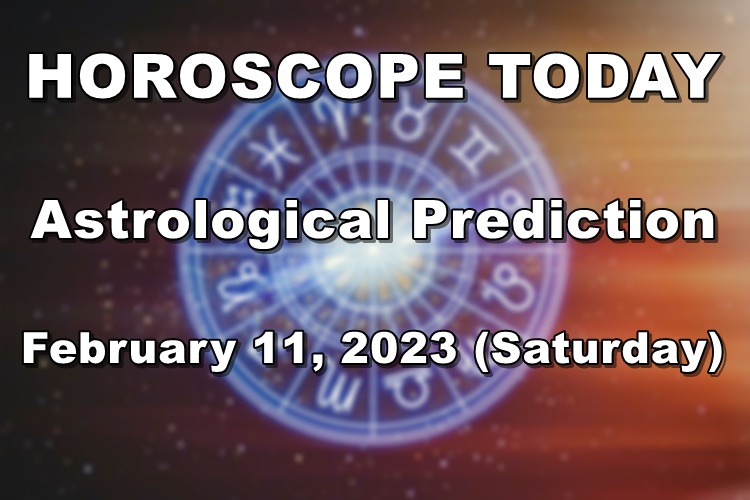 Find out the predictions here:
ARIES (Mar 21-Apr 20)
Lucky Number – 11
Lucky Color – Magenta
Love Focus – Singles may fall in love with their coworker
Money – You need to keep your spending under control and think carefully before paying for unnecessary items
TAURUS (Apr 21-May 20)
Lucky Number – 1
Lucky Color – Pink
Love Focus – You might get the chance to spend some quality time with your loved one on a trip or long journey
Money – You might choose to spend your money wisely
GEMINI (May 21-Jun 21)
Lucky Number – 22
Lucky Color – Grey
Love Focus – Your attraction to your partner could be overwhelming, and your love might know no bounds
Money – It will be a better than normal day financially
CANCER (Jun 22-Jul 22)
Lucky Number – 4
Lucky Color – Silver
Love Focus – You must be careful how you handle your relationship problems
Money – You can experience some financial difficulties and receive support from your mother's side
LEO (Jul 23-Aug 23)
Lucky Number – 8
Lucky Color – Green
Love Focus – You may schedule a lengthy drive with your partner and savor every second of it
Money – You should restrain your tendency toward excess if you don't want to loose your savings
VIRGO (Aug 24-Sep 23)
Lucky Number – 4
Lucky Color – Golden
Love Focus – It can take a little longer for singles to locate that particular someone
Money – Entrepreneurs might achieve their financial goals
LIBRA (Sept 24-Oct 23)
Lucky Number – 18
Lucky Color – Maroon
Love Focus – The timing is right to surprise your significant other with a lavish gesture
Money – The moment is ideal to consider growing your business
SCORPIO (Oct 24-Nov 22)
Lucky Number – 15
Lucky Color – Purple
Love Focus – Some people might yearn to rekindle their relationship with an ex-lover
Money – Before signing a business agreement, you should get advice from a professional or an elderly relative
SAGITTARIUS (Nov 23-Dec 21)
Lucky Number – 2
Lucky Color – Peach
Love Focus – The moment is right to make some significant choices regarding your romantic life
Money – A property dispute could become nasty and aggravate relations with your family
CAPRICORN (Dec 22-Jan 21)
Lucky Number – 1
Lucky Color – Blue
Love Focus – You can be in a romantic frame of mind and make an effort to savor each day's activities with your companion
Money – Property investment may prove to be profitable in the near future
AQUARIUS (Jan 22-Feb 19)
Lucky Number – 5
Lucky Color – Silver
Love Focus – Some people could do dance moves, sing songs, or crack jokes to win over their crush
Money – Money may arrive from unanticipated places. It might be a lucky day for real estate brokers and dealers
PISCES (Feb 20-Mar 20)
Lucky Number – 8
Lucky Color – Brown
Love Focus – Don't pass judgment on your partner; instead, try to be understanding and helpful
Money – A successful day and significant financial benefits are predicted. Some might want to invest in real estate
What can you say about this daily horoscope? Just feel free to leave your comments and reactions to this article.
Thank you for visiting Philippine Trending News (Philnews.ph). You may also follow us on the following social media platforms; Facebook, Twitter, and YouTube