HOROSCOPE TODAY: Astrological Prediction for February 9, 2023 (Thursday)
HOROSCOPE TODAY – Here is the astrological prediction for each zodiac sign for February 9, 2023 (Thursday). Check your daily horoscope here.
Horoscope is an astrological chart or diagram that represents the positions of the Sun, Moon, planets, astrological aspects, and sensitive angles at the time of an event. Experts also make predictions from that astrological information.
Every zodiac signs have its own traits and characteristic, which define the personality of an individual. It might be helpful to a person to read horoscope predictions at the start of the day.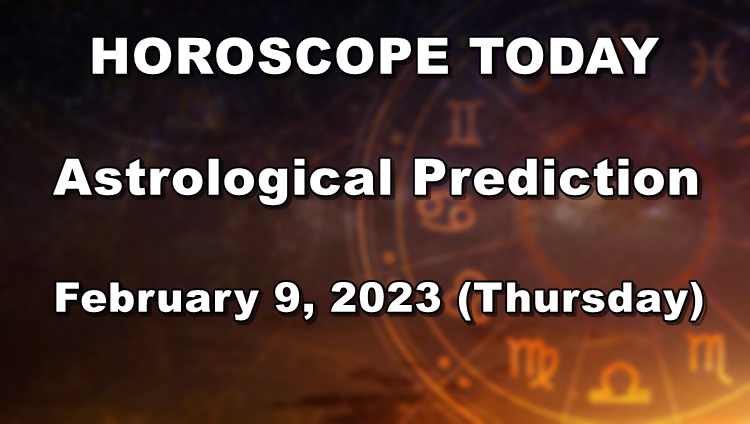 Find out the predictions here:
ARIES (Mar 21-Apr 20)
Lucky Number – 18
Lucky Color – White
Love Focus – Those who are single and daring have a decent chance of finding love
Money – To turn around the declining fortunes of your company, you'll need to take calculated risks
TAURUS (Apr 21-May 20)
Lucky Number – 3
Lucky Color – Saffron
Love Focus – People who are just starting to date could feel pressured to divulge more personal details
Money – Business owners can anticipate expansion and success
GEMINI (May 21-Jun 21)
Lucky Number – 15
Lucky Color – Brown
Love Focus – Some of you are ready to experience something romantic that will let you forget about all your issues
Money – After some speculating and unanticipated gains, money may be in better shape
CANCER (Jun 22-Jul 22)
Lucky Number – 17
Lucky Color – Saffron
Love Focus – Your romantic life could come back together today
Money – Today presents a great opportunity for you to get your financial life in order
LEO (Jul 23-Aug 23)
Lucky Number – 11
Lucky Color – Baby Pink
Love Focus – You'll be in the mood for romance, so show your love for your partner some additional care
Money – To achieve financial success, you must start working on your plans at the appropriate time
VIRGO (Aug 24-Sep 23)
Lucky Number – 1
Lucky Color – Saffron
Love Focus – Don't pass up the opportunity to get in touch with someone interesting and see if anything happens
Money – Today you can receive positive news regarding a loaned cash for which you had given up on trying to reclaim it
LIBRA (Sept 24-Oct 23)
Lucky Number – 4
Lucky Color – Grey
Love Focus – It is advised that you always speak politely and in an appropriate manner with your partner
Money – Find ways to increase your income by putting your creative thinking to use
SCORPIO (Oct 24-Nov 22)
Lucky Number – 5
Lucky Color – Navy Blue
Love Focus – You might receive compliments from your partner that you've been longing to hear
Money – Right now feels like a fantastic opportunity to launch a business. Being frugally minded with your money can ensure prosperity in the future
SAGITTARIUS (Nov 23-Dec 21)
Lucky Number – 18
Lucky Color – White
Love Focus – Communication can be challenging between committed partners at times
Money – Due to the expected increase in your expenses, your stress levels may increase today
CAPRICORN (Dec 22-Jan 21)
Lucky Number – 8
Lucky Color – Orange
Love Focus – With the aid of your spouse, your goals and desires for the future might come true
Money – Investments would increase future stability and prosperity
AQUARIUS (Jan 22-Feb 19)
Lucky Number – 7
Lucky Color – Golden
Love Focus – You can become agitated if you and your significant other have a disagreement
Money – For the long term, invest in stocks and shares
PISCES (Feb 20-Mar 20)
Lucky Number – 22
Lucky Color – Brown
Love Focus – You might have a lot of time to spend with your significant other
Money – Today is a good day for you to combine your savings and strengthen your financial standing
What can you say about this daily horoscope? Just feel free to leave your comments and reactions to this article.
Thank you for visiting Philippine Trending News (Philnews.ph). You may also follow us on the following social media platforms; Facebook, Twitter, and YouTube