HOROSCOPE TODAY: Here is the Astrological Prediction for February 3, 2023 (Friday)
HOROSCOPE TODAY – Here is the astrological prediction for each zodiac sign for February 3, 2023 (Friday). Check your daily horoscope here.
Horoscope is an astrological chart or diagram that represents the positions of the Sun, Moon, planets, astrological aspects, and sensitive angles at the time of an event. Experts also make predictions from that astrological information.
Every zodiac signs have its own traits and characteristic, which define the personality of an individual. It might be helpful to a person to read horoscope predictions at the start of the day.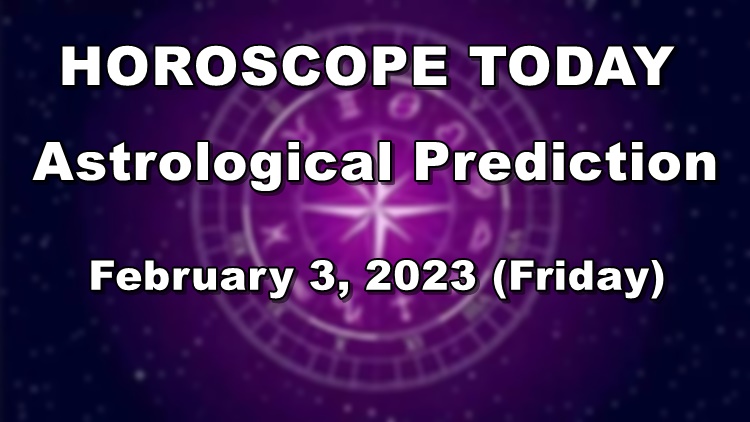 Find out the predictions here:
ARIES (Mar 21-Apr 20)
Lucky Number – 6
Lucky Color – Grey
Love Focus – There may be some issues with romantic relationships
Money – Anything you want to start or accomplish today is a fantastic idea. Entrepreneurs could be able to make important purchases
TAURUS (Apr 21-May 20)
Lucky Number – 15
Lucky Color – Brown
Love Focus – Lovebirds are sure to have a fantastic time, and they might even embark on a brief local getaway
Money – Professionally speaking, the day seems fruitful and promising. You might learn about lucrative investing options
GEMINI (May 21-Jun 21)
Lucky Number – 9
Lucky Color – Golden
Love Focus – Despite all the difficulties in the present, the bonds between couples would endure
Money – Even though your expenses are going to rise today, they will still be under control
CANCER (Jun 22-Jul 22)
Lucky Number – 2
Lucky Color – Purple
Love Focus – To become closer, married couples must create a communal haven of calm and understanding
Money – Cash in hand is necessary to complete a financial transaction
LEO (Jul 23-Aug 23)
Lucky Number – 17
Lucky Color – Green
Love Focus – Your romantic life will flourish as you go through a happy time
Money – You may save money by leading a frugal lifestyle
VIRGO (Aug 24-Sep 23)
Lucky Number – 22
Lucky Color – Sky Blue
Love Focus – Your partner and you will have better communication and understanding
Money – There will probably be new chances for businesses to close transactions
LIBRA (Sept 24-Oct 23)
Lucky Number – 3
Lucky Color – Yellow
Love Focus – Today could be a great day for a getaway with your significant other
Money – Your purchasing power would rise if your wealth did
SCORPIO (Oct 24-Nov 22)
Lucky Number – 18
Lucky Color – White
Love Focus – If you flirt with people to annoy them, it might cause a rift between you and your partner
Money – Consider the worst-case situation when it comes to a property and take preventative measures
SAGITTARIUS (Nov 23-Dec 21)
Lucky Number – 11
Lucky Color – White
Love Focus – Examine your partner's capacity to understand your feelings
Money – The investment has a good chance of producing profits
CAPRICORN (Dec 22-Jan 21)
Lucky Number – 5
Lucky Color – Dark Blue
Love Focus – Your special someone will bring forth your best qualities
Money – People in the corporate sphere will have to work very hard to get money
AQUARIUS (Jan 22-Feb 19)
Lucky Number – 15
Lucky Color – Orange
Love Focus – Some of you might find it challenging to reignite a past romance
Money – Finding out what you really want with the aid of an affordable luxury vacation
PISCES (Feb 20-Mar 20)
Lucky Number – 1
Lucky Color – Red
Love Focus – Those who are willing to express their feelings may also find love
Money – Your financial graph ought to shortly be improving
What can you say about this daily horoscope? Just feel free to leave your comments and reactions to this article.
Thank you for visiting Philippine Trending News (Philnews.ph). You may also follow us on the following social media platforms; Facebook, Twitter, and YouTube