Here is the Astrological Prediction for July 6, 2022 (Wednesday) – Horoscope Today
HOROSCOPE TODAY – Here is the astrological prediction for each zodiac sign for July 6, 2022 (Wednesday). Check your daily horoscope here
Horoscope is an astrological chart or diagram that represents the positions of the Sun, Moon, planets, astrological aspects, and sensitive angles at the time of an event. Experts also make predictions from that astrological information.
Every zodiac signs have its own traits and characteristic, which define the personality of an individual. It might be helpful to a person to read horoscope predictions at the start of the day.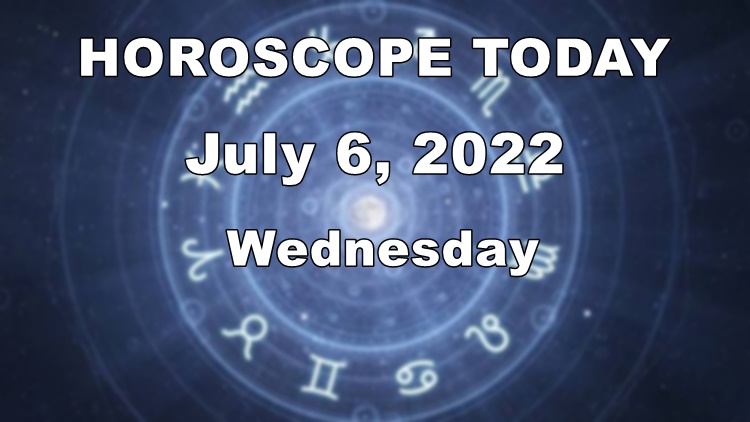 Find out the predictions here:
ARIES (Mar 21-Apr 20)
Lucky Number – 18
Lucky Color – White
Love Focus – Your efforts on the romantic front will eventually pay off
Money – You will be able to think of new ways to earn money
TAURUS (Apr 21-May 20)
Lucky Number – 11
Lucky Color – Gemini
Love Focus – You may be able to meet someone on the romantic front
Money – Financial problems is likely to disappear sooner or later
GEMINI (May 21-Jun 21)
Lucky Number – 9
Lucky Color – Lemon
Love Focus – Keep your fingers crossed as few romantic possibilities appear on the horizon
Money – Some will be able to go for saving spree as financial stability is assured
CANCER (Jun 22-Jul 22)
Lucky Number – 5
Lucky Color – Dark Green
Love Focus – Some will likely find it difficult to woo lover but persistence will pay
Money – The money you loaned to someone will be returned
LEO (Jul 23-Aug 23)
Lucky Number – 11
Lucky Color – Baby Pink
Love Focus – Playing your cards well may attract someone from the opposite gender
Money – Judicial spending can help you avoid financial crunch
VIRGO (Aug 24-Sep 23)
Lucky Number – 1
Lucky Color – Golden Brown
Love Focus – Your relationship with lover may strain due to an argument
Money – Wise investments will likely to give good profit and benefits
LIBRA (Sept 24-Oct 23)
Lucky Number – 7
Lucky Color – Orange
Love Focus – Your caring nature will likely help your relationship to blossom
Money – Money starts trickling in and financial status are expected to be stable
SCORPIO (Oct 24-Nov 22)
Lucky Number – 6
Lucky Color – Chocolate
Love Focus – Spending time with lover in the lap of nature is indicated
Money – Shopaholics may find it possible to overspend
SAGITTARIUS (Nov 23-Dec 21)
Lucky Number – 8
Lucky Color – Light Grey
Love Focus – You will be amazed with partner's romantic ideas
Money – Sideline jobs will likely to give you a good break and a fine earning
CAPRICORN (Dec 22-Jan 21)
Lucky Number – 4
Lucky Color – Royal Blue
Love Focus – Your chance on the romantic front may mar due to lack of confidence
Money – Handsome dividends are expected from previous investments
AQUARIUS (Jan 22-Feb 19)
Lucky Number – 11
Lucky Color – Baby Pink
Love Focus – Couples will be able to resolve misunderstandings on the marital front
Money – Wealth can be attracted by analytical mind
PISCES (Feb 20-Mar 20)
Lucky Number – 15
Lucky Color – Indigo
Love Focus – Someone from the opposite gender is likely to send out positive signals
Money – Money is expected to pour in as things look to be favorable on the financial front
What can you say about this daily horoscope? Just feel free to leave your comments and reactions to this article.
Thank you for visiting Philippine Trending News (Philnews.ph). You may also follow us on the following social media platforms; Facebook, Twitter, and YouTube.