Bela Padilla Launch Fundraising To Help Informal Workers In Metro Manila
BELA PADILLA – Kapamilya actress Bela Padilla launched online fundraising to help the informal workers in Metro Manila amid community quarantine.
The Philippines currently face the threat of the novel coronavirus (COVID-19). On Thursday, President Rodrigo Roa Duterte addressed the nation amid the spread of the virus from China.
The 74-year-old chief executive imposed a 30-day community quarantine in Metro Manila to contain the spread of the deadly virus. During his speech, she said he will ask for assistance from the Chinese government if the situation worsens.
President Rodrigo Duterte is set to make new pronouncements on Monday, March 16. He will give his final say regarding the curfew in Metro Manila. Travel to and from the National Capital Region (NCR) will be suspended starting March 15 to April 14.
The "community quarantine" in Metro Manila is taking a toll on some workers. Kapamilya actress Bela Padilla launched online fundraising to provide food supply to the informal workers amid the crisis in the country.
Bela Padilla took to Twitter to ask if there are already agencies who handle donations for the people who are severely affected by the crisis. She wants to provide some help since they won't be able to earn enough money amid COVID-19 outbreak.
"Do we have agencies that handle donations for food for this month for employees or people who dont have enough money or groceries put aside for a whole month? Or even soup kitchens? If you know of any, please let me know! Thank you"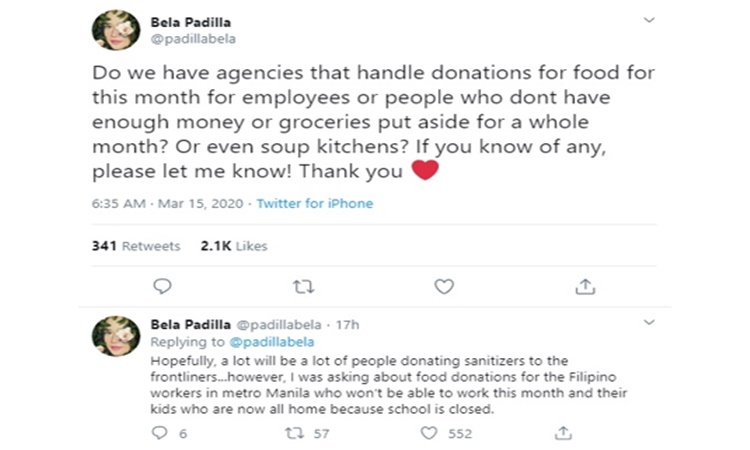 Bela Padilla also asked some help to the government officials, particularly to the social welfare and development offices in cities and municipalities.
To all our government officials, I know your health and your family's safety is your top priority right now as it should be 🙂 but I was hoping I could get in touch with anyone of you in the metro Manila area and maybe we can do food drives or soup kitchens this month? Thank you!

— Bela Padilla (@padillabela) March 15, 2020
In a previous article, comedian Pokwang prepared some snacks for the police officers and soldiers who are conducting checkpoints in Metro Manila.
What can you say about this article? Leave your comments and reactions below.