Here are the areas included in #WalangPasok on January 15, 2020 due to Taal eruption
The Local Government Units (LGU) in these following areas declared class suspension (#WalangPasok) on January 15, 2020, Wednesday due to Taal eruption.
In order to ensure the safety of the students, classes were suspended when Taal volcano started to spew thick smoke. It was followed by heartbreaking sights of streets full of ashes. LGUs near the volcano started to announce class suspension on January 13.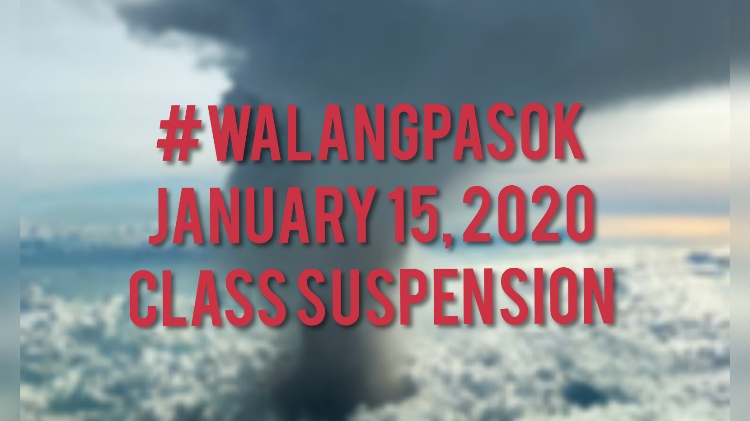 Based on the most recent eruption bulletin for Taal Volcano, as of the writing, it is still in Alert Level 4. That is why classes are still suspended in selected areas.
Classes are suspended in whole Cavite and Laguna in all levels on January 15, 2020, Wednesday. (Sources: Gov. Ramil Hernandez and Gov. Jonvic Remulla FB Pages)
The whole province of Batangas also declared class suspension, based on Batangas PIO Capitol's Twitter post.
Meanwhile, Muntinlupa City suspends classes for Daycare and Pre-school only. However, students are advised to strictly wear face masks.
Classes in Metro Manila will also resume on Wednesday. As of 8:30 PM, here are the cities that confirmed "MAY PASOK" .
Manila
Quezon City
Valenzuela
Makati
Pateros
Parañaque
Pasig
This information is based on the Twitter post of @EarthShakerPH.
Meanwhile, here are the ways in dealing with ashfall:
Minimize exposure to ash
Stay indoors as much as possible
Keep doors and windows closed
Keep home from infiltration by using damp curtains, blankets or clothing
Use dust masks
Wear goggles or eyeglasses to protect eyes from irritation
Keep pets in closed shelter
Clear your roof of ash
Observe traffic notifications and road safety measures
READ ALSO: Tito Sotto Slammed Due to Cloud Seeding Action Proposal in Taal