Family Told To Remove Christmas Display Because It's Too Soon To Decorate
FAMILY – A homeowners association ordered a family to remove their Christmas display because it's too early.
Filipino people start decorating for Christmas as early as September 1. Malls and shops all over the nation have already put up decorations and play Christmas songs.
They just couldn't wait for the most important holiday in the county. Zamboanga Sibugay and Makati City are among the places that made their city extra for the season.
Recently, in Texas, a family was ordered to remove their Christmas decorations because it's too early. Based on a report from CNN, the homeowners association sent a letter to the family saying they should remove the display until closer to the holiday.
Claudia and Nick Simonis placed their Christmas display on November 1. Three (3) days later, Diamond Association Management & Consulting, asked them to take it all down.
According to the report, Simonis family just discovered the letter this week and they were shocked by the home associations notice.
"I felt shocked and angered… the HOA has so much time on their hands," said Nick.
On Wednesday, Nick said he didn't know that there are rules when to display their Christmas decorations, so they put inflatable decorations and huge snowman in their yard. Simonis family are the only ones in the neighborhood who put Christmas decors.
"We're in the Christmas spirit just like anybody else… we love the holidays, and my wife is very active in it," he said.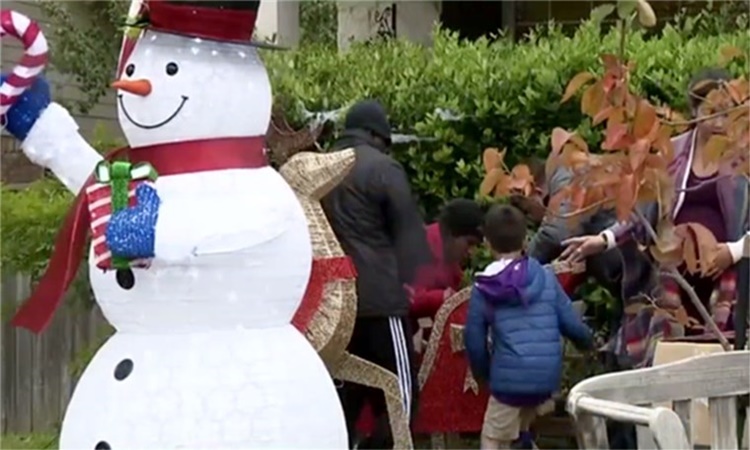 Based on the report, Claudia Simonis is 8 months pregnant and she expects to give birth to their baby on Christmas Day.
"We just wanted to get everything set up, so that way, we can relax… if the baby comes early, we don't have to worry about it," Nick said.
The couple's neighbor has been very supportive of them. Claudia said they supported them by also putting their Christmas display in their houses.
What can you say about this article? Leave your comments and reactions below.