Recent Barretto issue prompted netizen to politically link Atong Ang to Pres. Duterte
BARRETTO ISSUE – The presence of businessman Atong Ang at the wake of Miguel Barretto was politically linked to President Rodrigo Duterte.
The businessman is known to be a close friend of Gretchen Barretto and they arrived together at the wake. On that day, Pres. Duterte came earlier than them. It became controversial when a commotion between Gretchen, Marjorie, and Claudine happened.
Amid the controversy, new revelations came out such as Atong's alleged relationship with Nicole Barretto and Gretchen allegedly stole him from her niece. Marjorie also confirmed that former mayor Recom Echiverri is the father of her youngest daughter Erich as what Greta previously stayed.
A new issue surfaced along with Barrettos' controversy. Netizen Ding C. Velasco shared a post on Facebook stating the reason why Pres. Duterte and Atong Ang were at the wake.
"Now we know why Dutz went to the Barreto wake, even though he doesn't know the Barretos personally: ATONG ANG," he stated. The netizen also said that the businessman "operates a nationwide chain of Small Town Lottery (STL) companies and in those areas too where Jueteng still thrives."
Apparently, the netizen believes that there is a certain connection between the wealthy businessman and the Chief Executive of the Philippines. He cited that Duterte came coinciding with the coming of Atong at the wake.
We already who is the Big Boss of that woman in Masbate who already owns an island resort worth more than Half a Billion pesos and who was recently implicated in the murder of a Masbate Vice Mayor: ATONG ANG.
"Why the Hell can Atong Ang influence the President to come to a wake for a parent of complete strangers – if this ATONG ANG does not have a secret bridge to the occupant of Malacañang?" Velasco questioned.
His post came to this conclusion: "It seems that Jueteng and STL have managed to put its feet inside Malacañang, and this is certainly no whiff."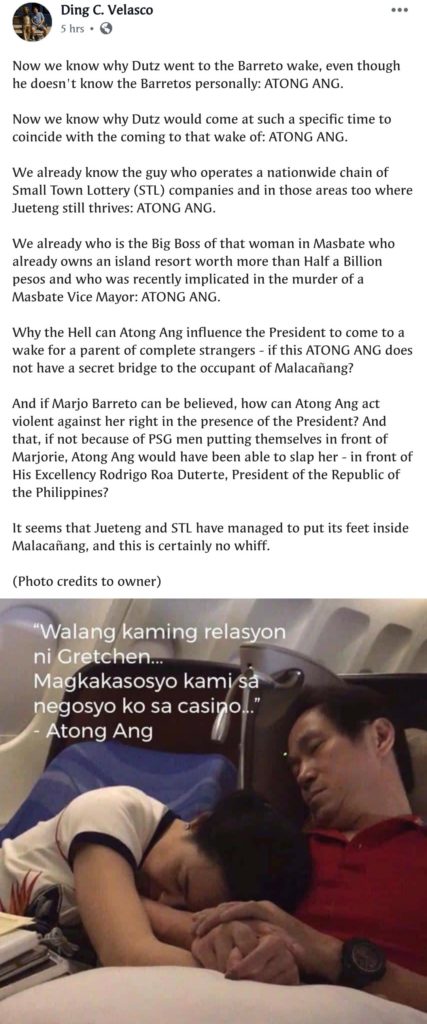 What can you say about this?
READ ALSO: Ruffa Gutierrez Posts Family photos, Netizens Tag Gretchen Barretto