Here are some of the Nostalgic things that we no longer see in Manila.
Manila Nostalgic Things – Here are five(5) of the most nostalgic things and places we no longer see in Manila.
Manila, the busiest commercial district, is a clear reminder of the modernity now. There are old things and places in this city that we no longer see.
The city's seen good times and hard times. It has survived wars, witnessed revolutions, braved disasters, and evolved over time. Despite the traffic and pollution that plague the city, nothing can take away from the character of the capital.
Based on the article of Filipiknow, Here are some of the most nostalgic things and places we no longer see in Manila.
1. The Tranvia
The tranvia is the grandfather of the modern-day LRT. Our ancestors would have remained dependent on the calesa or carruaje had Leon Monssour of Department of Public Works didn't propose the construction of a streetcar system in 1878.
The plan of Monssour was approved by the government. However, it was only materialized when an entrepreneur named Jocobo Zobel de Zangroniz took over the project. With the support and help of Spanish engineer and a Madrid banker, Jacobo established the La Compañia de Tranvias de Filipinas in 1882.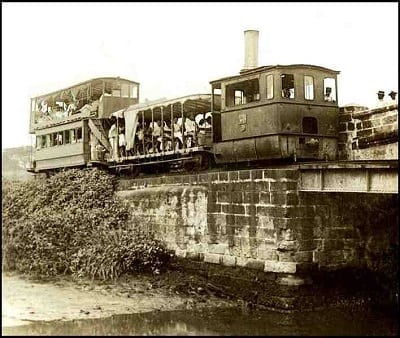 Among the five routes of La Compañia de Tranvias de Filipinas , only the Malabon line ran on steam while the rest were horse-drawn. Therefore, it can be said that the first steam railroad in the country was a streetcar.
The tranvia was a major mode of transportation in Manila until 1902 when the company operating it stopped expanding and only 10 streetcars were used for each of the five lines. As a result, a law was passed in October 1902 to build electric power and transportation networks in the city.
The slow demise of the tranvia started when it was heavily damaged during WWII. After the war, it was decided to finally end the tranvia operations and just focus on rebuilding the nation. Later, resourcefulness pushed Filipinos to put the remaining army jeeps into good use. The jeepney was born and has since become the country's major mode of transportation.
2. Giant 3-D Billboards
Long before EDSA became the paradise of advertisements, there were 3-D billboards that were, in fact, entertaining. Take these two memorable landmarks for example. They're both gone now, but we all wish they're still here to fascinate the child in us.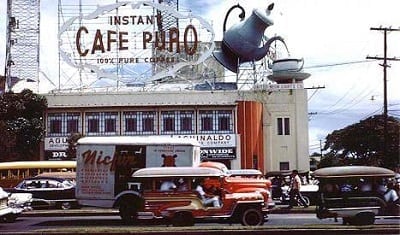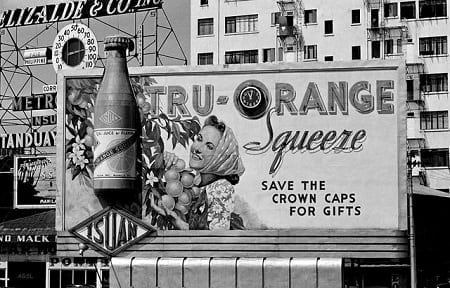 3. Balintawak Beer Brewery
Some jeepneys plying Valenzuela and Bulacan still use BBB to indicate their destination. The name actually originated from Balintawak Beer Brewery, a Japanese-owned company that once replaced San Miguel Brewery during WWII. They used this place to brew Asahi beer.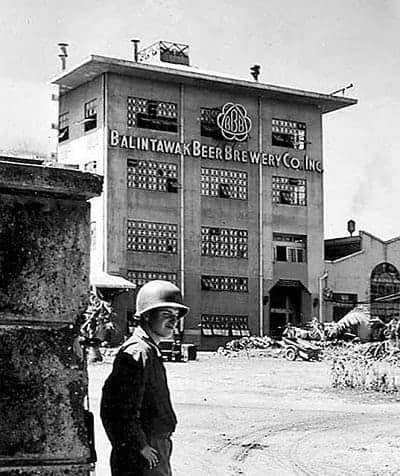 After the war, the Balintawak Beer Brewery was liberated from the Japanese, and San Miguel Brewery took over again.
4. Manila's Megabus
Manufactured by Santarosa Philippines Motorworks, this Megabus has a 400 seating capacity.
Its operation, unfortunately, was short-lived either because commuters were not used to it or its size made U-Turns on narrow streets a complete impossibility.
5. The Acme Super Market
If you're born in the '50s, you probably remember Acme Super Market as the store where kids would sneak in to buy their favorite Sen-Sen candies, Double Bubble Gum, or comics.
Based on the article, found i Padre Faura between Mabini and M.H. del Pilar, this grocery store was also the first choice of families who wanted to buy imported chocolates, potato chips, and other food items from America, Europe, and Australia.
There's never a quiet day in Metro Manila, even back in its early years as what we refer to now as Old Manila. There's a story around every corner and there's something new happening every day. I hope you remembered these five(5) nostalgic places that we no longer see in Metro Manila today.
comment(s) for this post "5 Most Nostalgic Things That We No Longer See in Manila". Tell us what you think abut this post by leaving your comments below.