These classic love stories will surely touch your heart.
LOVE STORIES – These classic love stories from the past could be the greatest and the purest you will ever hear that will touch your heart.
A love story almost never failed to touch someone's heart. And in the Philippine history, aside from the wars an killing spree of Japanese in the country, there are these stories of lovers who will always leave a mark in our country's past.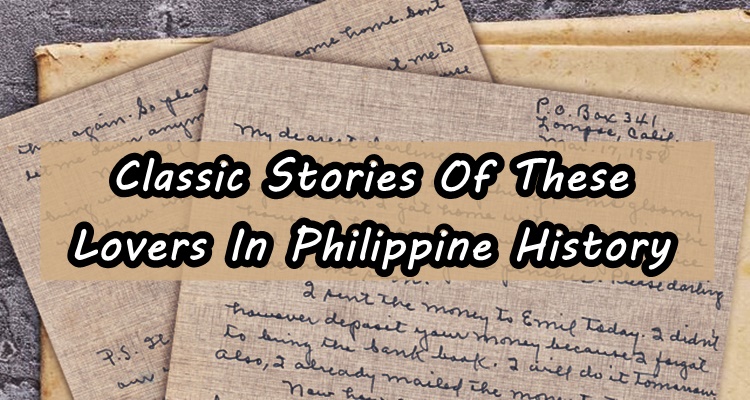 Read some below:
JOSE RIZAL AND LEONOR RIVERA
Leonor Rivera is Jose Rizal's inspiration for his Mara Clara character in Noli Me Tangere. They met in her 13th birthday where Rizal at that time was a medical student. For a decade, their only communication then is through writing letters. But Rizal, being a Filibustero, made Leonor's mother do something that will cut off their only communication by bribing the postal clerk to make letters not reach Leonor. When the letters stopped coming, Leonor's mother convinced her to marry Englishman and railroad engineer Henry Kipping. However, on her birth of their second child, Leonor died and one of her last wishes is that the letters of Rizal to be buried with her.
DON MARIANO LEDESMA LACSON AND MARIA BRAGA
Surely, everyone is familiar of The Ruins in Talisay City, Negros Occidental at it is a standing symbol of Don Mariano's love for his wife Maria Braga. He met her in one of his travels and got immediately smitten. They eventually got married and have 10 children. However, on her pregnancy on their 11th child, Maria met a fatal accident that took her life and their child. And to prove his undying love for his wife, he built this mansion for her. He and their children lived in there but on World War II, the architectural marvel was burned down so as the Japanese will never have a chance to make it as a their headquarters.
Gen. Douglas MacArthur and Dimples Cooper
Their story was a bit tragic but the "I shall return" icon upon his return to the country, met a budding Filipina actress named Isabel Rosario Cooper or also known then as Dimples Cooper. In 1930, when he came back to the United States, he made arrangements to her and that is for her to follow without giving any hint to her mother. She stayed in an apartment there and lived a luxurious life. However, despite the luxury, she was not allowed to go out and kept in secret. She was left with a toy poodle as companion but boredom made her roam the city and have an affair to several prominent men. Years later, there were journalists who were able to discover MacArthur's mistress which ended their relationship. He gave her a sum of $15,000 to disappear forever and go back to Manila. But she stayed and lived a new life. She landed on small roles in Hollywood. But whatever turned out her life and career made Cooper disappointed, thus, took her own life with an overdose of barbiturates in 1960.
READ ALSO:
What can you say about this? Let us know!
For more news and updates, follow us on Twitter:@philnews_ph and Facebook:@PhilNews