Driver Jumps Out of Window After Car Catches Fire At Gas Station
DRIVER – A driver quickly jumped out of the small window of his car after it catches fire at a gas station in southwest China.
Billions of people in the world are now using cars. They preferred cars compared to motorbike since it's safer and could protect the driver and its passengers from the heat of the sun and rain.
Every driver is required to read the manual before using the car. Drivers are advised to have basic routine maintenance to avoid trouble in the streets. Risks could happen if they fail to follow the expert's advice.
Meanwhile, a driver in China almost burned to death inside his minivan in southwest China's Chongqing Municipality last August 20, 2019. The video of the man was taken from the CCTV footage of the gasoline station and was shared on the Facebook page of South China Morning Post.
Based on the caption of the video, the man had just finished refueling his vehicle. When he started the engine, a fire suddenly burst from the bottom of his minivan.
It can be seen on the video that the man quickly jumped headfirst out of the tiny window of his car. The employees at the gas station rushed to help him and put out the fire with a fire extinguisher.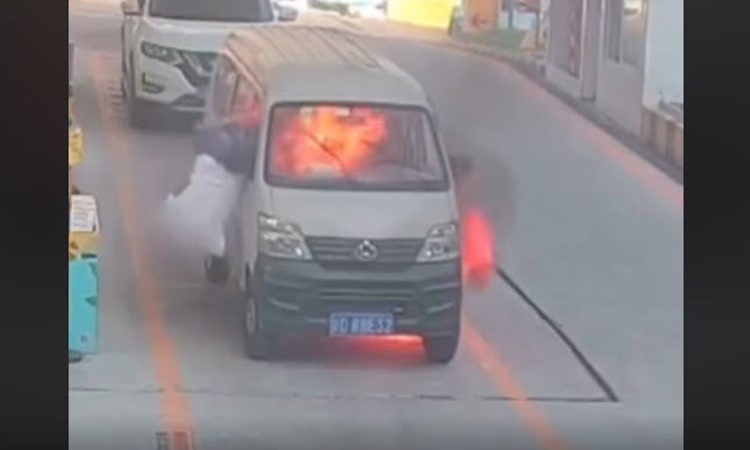 The driver said the oil pipe of his minivan was broken and admitted that he didn't repair it properly. Fortunately, the car didn't explode at the gas station. The video has generated 495 reactions, 156 shares, and 63K views as of this writing.
The video of the man escaping from the raging fire in his car elicited mixed reactions from the netizens. Here are some of their comments on the post:
@Zonuni Ngente Soroka: "Oil pipe broken and he knows it and he said he had not repaired it. Big mistake!"
@Victor Tan: "Never use handphone at petrol pump area, static electricity can ignite combustible petrol fume"
@Watt Miswatt: "Luckily the driver managed to escape on time"
What can you say about this article? Leave your comment and reactions below.