Complete List of Domestic and International Cebuana Lhuillier Remittance Partners
CEBUANA LHUILLIER REMITTANCE PARTNERS – Here is a full list of the domestic and international remittance partners of Cebuana Lhuillier Pawnshop.
Among the lending establishments in the Philippines that now offers international services is Cebuana Lhuillier Pawnshop. It offers several types of service including money lending and money transfer.
With regards to money transfer services, a lot of people trust and like Cebuana Lhuillier. Aside from the fast transaction it offers, it is easy to send or claim money anywhere in the Philippines or even abroad.
Cebuana has around 2,500 branches in the Philippines and it also has accredited international remittance partners. On its official website, the company posted the complete list of its partners:
Cebuana Lhuillier Remittance Partners (Domestic)
ADB Lending Company, Inc. (Pasamonte)

Expresspay, Inc.

Global Pinoy Remittance and Services (GPRS)

Orient Asia Lending, Inc. (Prime Remit)

Jewelhouse Pawnshop and Jewelry

Ayala Alabang Village Association-Employees Multi-Purpose
Cooperative (AAVA-EMPC)

FILHAI Multi-Purpose Cooperative (FILHAI MPC)

Republic Pawnshops Corporation (H Lhuillier)

Quickloan Pawnshop

Cardbank, Inc.

Tiaong Rural Bank, Inc.

China Bank Savings, Inc

Cantilan Bank, Inc

Enterprise Bank, Inc

ABS-CBN E-Money Plus, Inc (myREMIT)

Opportunity Kauswagan Remit, Inc. (OK Remit)

Rural Bank of San Antonio

Dalton Pawnshop and Jewelry, Inc.

Inter Asia Development Bank

Gata Daku Multi-Purpose Cooperative (GDMPC)

Sun Gate Pawnshop

Bangko Kabayan, Inc.

Card SME Bank

Viaexpress Travel & Tours, Inc.

Philippine Postal Savings Bank
Bayad Center

Tanglaw Pawnshop

Golden Rural Bank

Pazalonia Pawnshop

Country Builders

Rural Bank of Kiamba (Sarangani) Inc.

Common Wealth Rural Bank

Via.com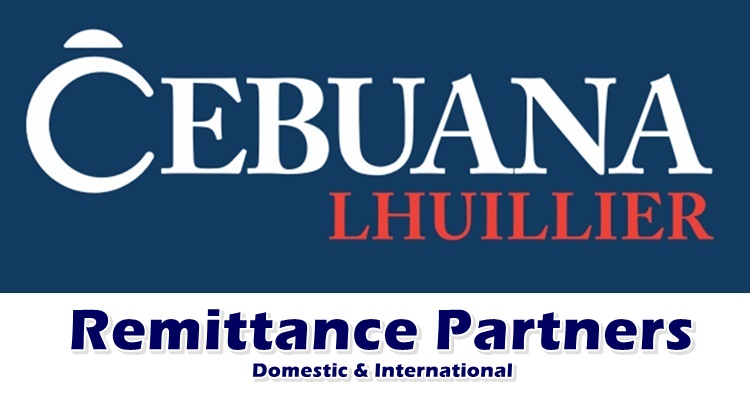 Cebuana Lhuillier Remittance Partners (International)
Worldwide
I-Remit

Moneygram

Ria Financial

Banco de Oro (BDO)

Bank of Commerce

Bank of the Philippine Islands (BPI)

China Bank

Development Bank of the Philippines (DBP)

Metrobank

Philippine National Bank (PNB)

Rizal Commercial Bank-ing Corporation (RCBC)

WorldRemit

Sigue/Travelex

TransferTo MFS
Asia-Pacific Region
BM Express

Forex World

Ouryes Corp

BTI/ Telepadala

Cebuana Lhuillier HK

Franki Exchange Co.

PLDT HK LTD

CIMB/Speedsend

International Money Express (IME)

TML

Placid Express

Brunphil

EEC International Phil Corp

Metrex

Ang Pinoy Bakeshop (Entrepinoy)

WCT Express/Far East Express

Pinoy Express Hatid Padala

KEB Hana Bank

SMJ Teratai

Tranglo

BKK Forex

Digitel Co. Ltd.

Japan Remit Finance

WRTC

EMQ

China Money Trade

BHF HK

Cash Express HK

CashPinas

Golden Union Investment
CoinShot (FinShot, Inc.)

Well Chain Int'l Co. Ltd.

Monetium Credit Limited

Max Money

Pinoy Remit
Europe, Middle East, Africa
Zenj Exchange

Transfast / NYBP

Money Polo

Worldcomm Finance (WIC)

Bank Albilad/Enjaz

Small World Financials

Al Fuad Exchange

Al Ghurair Exchange

XpressMoney

Instant Cash

Aftab Currency Exchange Limited

Al Falah Exchange

Al Fardan Exchange

Al Ansari Exchange / Cash Express

Lari Exchange

uRemit International

Wallstreet Exchange Kuwait

Optimum Exchange

Intel Express

Lulu Exchange

Send Exchange Est.

G.S. Cashline Ltd.

Unilink

BFC Bank Limited / EZ Remit

Rakbank

Index Exchange

Crosspay Ltd

Rewire

Mayzus Financial Services Limited

Omanye Limited

Titanes Telecommunicaciones S.A.U.

Masari Payment Services

Belmoney
US and Canada
Family Express

Pinoy Express Foreign Exchange (Teleguam)

Remitly

Uniteller/ Wells Fargo

Xoom

Viamericas

Atin Ito Remittance Ltd

Filremit

Lucky Money/LMI Express Delivery Inc.

Usend / Pontual Money Transfer
In sending or receiving money through the Cebuana Lhuillier branches or Cebuana Lhuillier remittance partners, you only have to prepare the following:
For the Sender:
Duly-Accomplished Pera Padala Form
Money to be sent
Valid ID
Payment for transfer fee
24k Card (if you are a holder of the 24k card)
For the Receiver:
Duly-Accomplished Pera Padala Form
Valid ID
Control Number
24k Card (if you are a holder of the 24k card)
We're pleased to have helped you on your inquiry with regards to the Cebuana Lhuillier remittance partners. Thank you for visiting us. Rest assured we'll continue to post informative updates.
READ ALSO: Cebuana Lhuillier Remittance Rates
comment(s) for this post "Cebuana Lhuillier Remittance Partners (Domestic & International) – Full List". Tell us what you think abut this post by leaving your comments below.