Steps on How To Cook Carbonara
HOW TO COOK CARBONARA – Here are the simple steps in cooking a creamy Pinoy-style carbonara.
One of the ways in cooking a pasta is making it into a carbonara or also called by others as "white spaghetti". This dish originated in Rome and you can use different kinds of pasta in cooking carbonara.
You may use fettuccine, bucatini, rigatoni, or linguine pasta but the one that is widely-used in cooking carbonara is the spaghetti pasta. Are you planning to cook soon?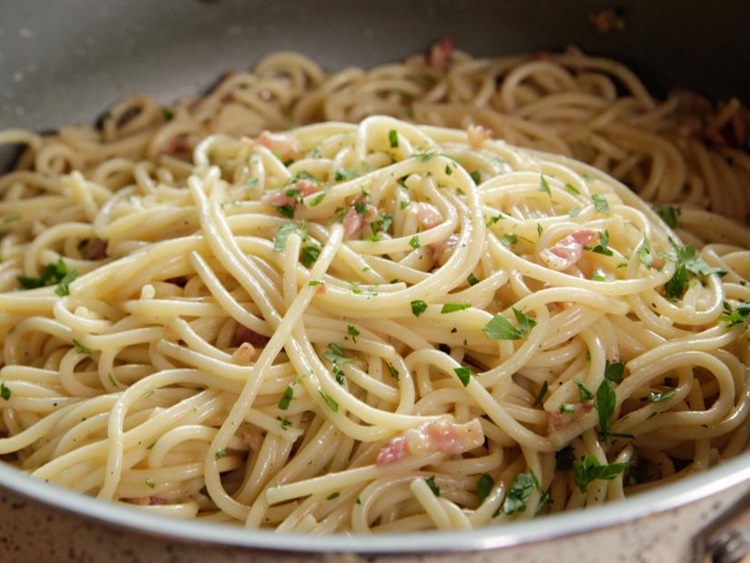 In courtesy of Kawaling Pinoy, here are the steps on how to cook carbonara which is creamy and bearing the Pinoy style:
How To Cook Carbonara
Ingredients:
1 pound uncooked spaghetti
2 pounds sliced bacon
1 onion, peeled and sliced
3 cloves garlic, peeled and minced
1 pound fresh button mushrooms sliced thinly
2 tablespoons butter1 tablespoon flour
1 cup chicken broth
14 ounces all-purpose cream
2 tablespoons Parmesan cheese and more for serving
1 teaspoon freshly grated nutmeg
salt and pepper to taste
1/4 cup fresh parsley, stemmed and sliced
Step 1 – Heat 4 quarts salted water in a large pot over medium heat. Add the pasta and cook it less than one(1) minute the package direction. Drain the pasta after cooking it.
Step 2 – In a pan over medium heat, add bacon and stir it occasionally until it turns brown and crispy. Remove it from the pan and drain it using a paper towel.
Step 3 – Add onions and garlic on the pan until it is softened.
Step 4 – Add mushrooms on the pan and cook until the mushroom is softened. Remove it and keep it warm.
Step 5 – Add butter to the pan and heat until it melts then add flour and stir it while cooking for 1-2 minutes until it turns smooth and light brown in color.
Step 6 – Add some chicken broth and then add some cream. Lower the heat then simmer.
Step 7 – Mix the mushroom mixture, pasta, and bacon. Based on the article, toss until it completely mixes with each other.
Step 8 – Add some fresh parsley and Parmesan cheese on top before serving. Enjoy your creamy Pinoy-style carbonara!
READ ALSO: Burn Belly Fats With This Healthy Breakfast Recipe
comment(s) for this post "How To Cook Carbonara | Steps In Cooking Creamy Carbonara". Tell us what you think abut this post by leaving your comments below.