These are the negative comments from netizens to the revelation of Liz Uy regarding her relationship with Raymond Racaza.
The revelation of celebrity stylist Liz Uy regarding her relationship with businessman Raymond Racaza garnered negative comments from netizens.
For the longest time, she remained mum about the issue being thrown to her and her then-alleged partner.
Now, that Liz  finally broke her silence, it sparked hate comments from several social media users.
Some people specifically criticized her for having a romantic relationship with a then-married man. Raymond was previously married to Dr. Geraldine Zamora-Racaza. 
In an article, it was mentioned that when Liz and Raymond met each other, the latter was already having marital problems and when they had their Baby Xavi, his marriage was already annulled.
On the other hand, netizens were quick to slam this statement about the romance between the couple.
Facebook user Nikola Laxamana questioned why Liz Uy is lying. She cited that the mother of Dr. Geraldine said that the "annulment started in March 2017 and was over just this year."
However, Laxamana pointed out that Liz said that Raymond was already annulled in 2016.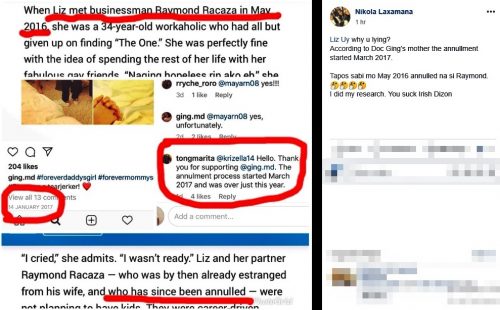 Twitter user @TresHappy01 also tackled this issue. The said netizen pointed out that it was a "speedy annulment process" and concluded that perhaps a big sum of money was paid.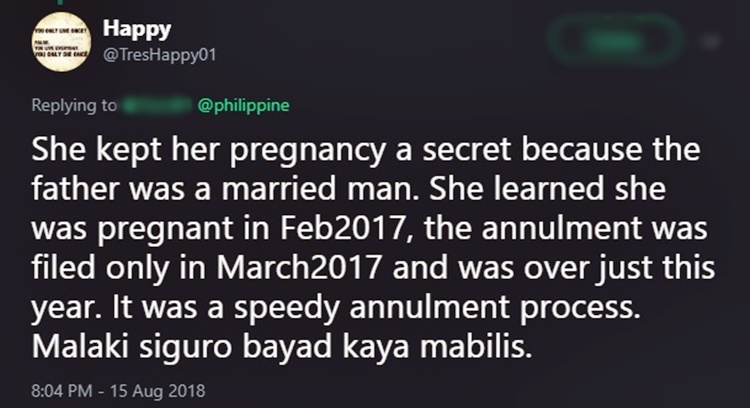 Netizen Cristina Mario also criticized the celebrity model for what she stated about her and Raymond. Mario said in a comment that Liz Uy is "habitual [liar]" and "habitual guy snatcher".
"In between those men may side line pa sya. Di sya na [bakante]," the said netizen commented.
Furthermore, Mario wrote lengthy comments on articles about the celebrity mom. The netizen said also called Liz "makapal ang mukha" and Facebook user Alexis Nguyen agreed on this also.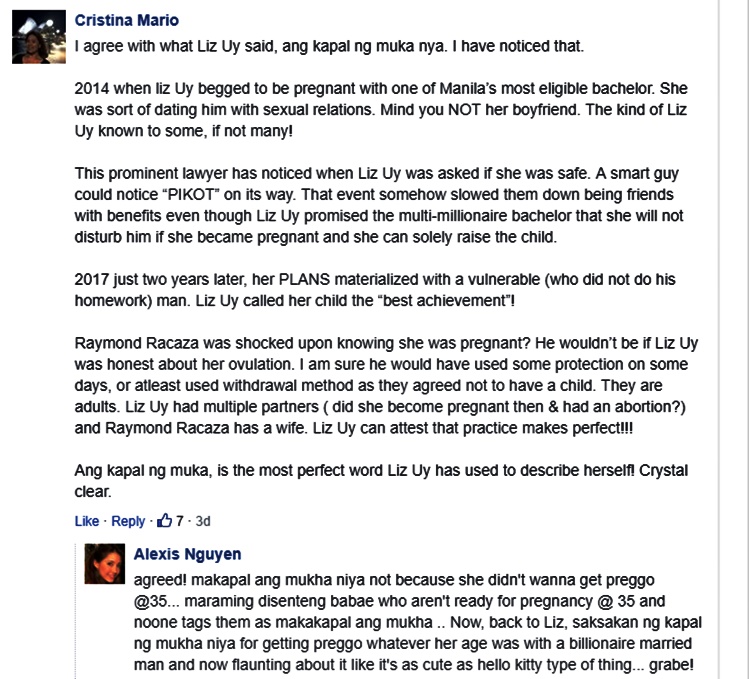 Meanwhile, Facebook user Anna Jane admitted that she was never a fan of Liz Uy and now she knows why.