Isabelle Duterte and Paolo Duterte have fiery exchange of words online.
DUTERTE – The father and daughter Vice Mayor Paolo Duterte and Isabelle Duterte have fired up the online platform over the fiery exchange of words.
Presidential son Paolo Duterte is the incumbent Vice Mayor of Davao City and the eldest son of former Mayor of Davao City and now Philippine President, Rodrigo Duterte.
And lately, a rift between the father and daughter has emerged for they have taken their squabble online.
On the Twitter account of Isabelle to which users confirmed by Isabelle have access to her tweets is where she accordingly posted, "My dad f*cks up my Christmas every year. What a time to be alive."
She also tweeted a longer message, seemingly addressed to her father to which the rough translation indicated, "Just because you have a position in the city doesn't mean you have the right to beat [someone]!!! Just because you have power doesn't mean you can hurt people!! That person whom you exerted your power on is a human being!!! Not just [a] human being, but a child!! Not because you're a Duterte, you can!!"
Thus, her father clapped back to these posts of her.
The politician said in a Facebook post as per rough translation, "Just because you were pimped twice by that person doesn't mean I'll keep my silence! And that mother of yours and tatay-tatayan (father-like figure) who is not concerned with you – well I'm not like them! Change your family name if you want! You don't have respect! You just embarrassed yourself! Get an education so your brain isn't empty. You don't know how to listen anymore because you're famous??? Famous, for what, Belle? Famous for disparaging a father? Just wait for my death so you will be free from me! Pray for it, woman! I know all of us will be embarrassed over this post. But this is what you want! Let's talk here because you are a millennial, as they say. You'll only listen here by your number of likes?!."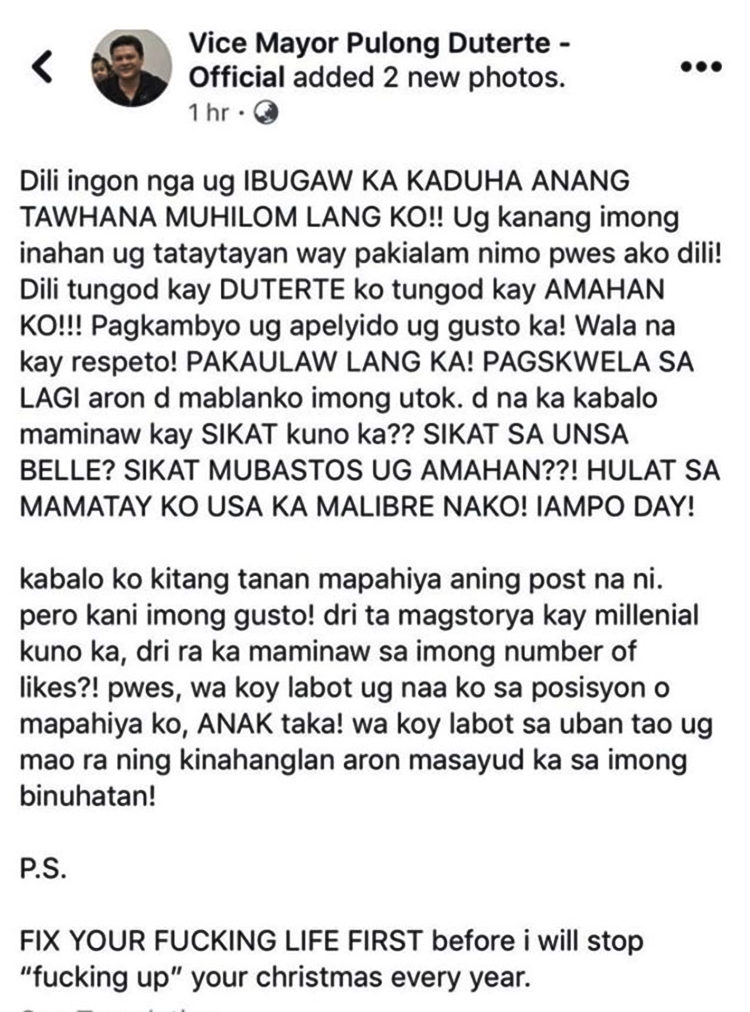 And lastly, he wrote, "FIX YOUR F*CKING LIFE FIRST before I will stop 'f*cking up' your Christmas every year."
What can you say about this?
Source: Rappler
Read also the previous article: Tropical Storm Vinta Intensifies, Signal No. 2 Raised In 4 Areas
For more news and updates, follow us on Twitter: @philnews_ph and Facebook: @PhilNews