'It's An Honor To Be Jailed', De Lima Says
On Friday (February 24, 2017), Senator Leila De lima reiterated her innocence on her drug-related charges and declared that it's her honor to be jailed.
The senator was currently facing several issues and controversies regarding her alleged involvement in the proliferation of illegal drugs at the New Bilibid Prison (NBP) a few years ago, while she was still the justice secretary. Several NBP inmates have already testified against De Lima.
Last week, the Department of Justice (DOJ) filed illegal drug charges against the 57-year-old senator, before the Muntinlupa Regional Trial Court. But the senator was insisting her innocence regarding the accusations against her.
De Lima denied the allegations of receiving drug money, protecting drug suspects, and coddling drug lords. She called it as all lies because the authorities have no enough evidence that
"If they think they can silence me, if they think I'll no longer fight for my cause, especially for the truth, for justice, the daily extrajudicial killings and other oppressive acts of the Duterte regime, it's an honor that I be jailed for what I'm fighting for," said by De Lima before she was brought to Camp Crame in Quezon City for detention, quoted by Philstar.
Last Thursday evening (February 23, 2017), De Lima spend the night at the office after receiving reports that the police Criminal Investigation and Detection Group (CIDG) arrived at her home in Parañaque City to arrest her.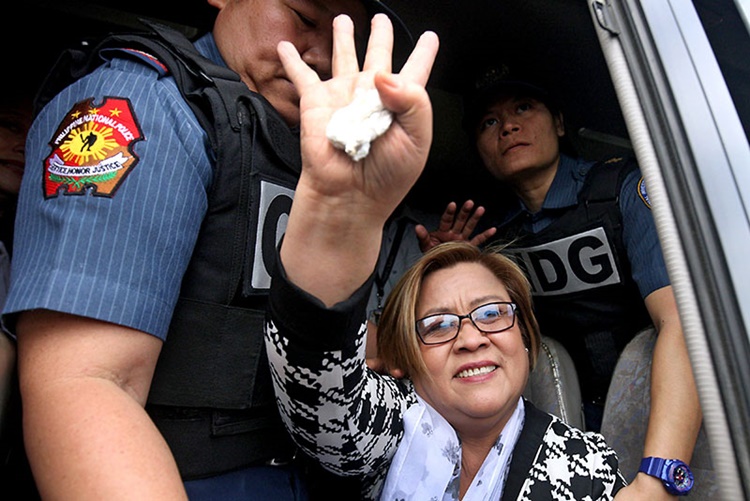 The senator doesn't want to be arrested at her residence during the night, so she appealed to move her arrest for several couples of hours. She explained that it is dangerous at night and she will not evade arrest, so the authorities waited overnight for her.
Senator De Lima also described her arrest as a sign of abusive government, morally bankrupt, and power-hungry. The former justice secretary was standing up in answering the charges and allegations against her without asking any favors or privileges, according to Alex Padilla, spokesman for De Lima's legal team.
comment(s) for this post "De Lima: 'It's An Honor To Be Jailed'". Tell us what you think abut this post by leaving your comments below.