The capital of the Philippines Metro Manila and the "Queen City of the South," Cebu City was included in the list of Top 10 Global Outsourcing Destinations in the world according to 2014 ranking of investment advisory firm Tholons.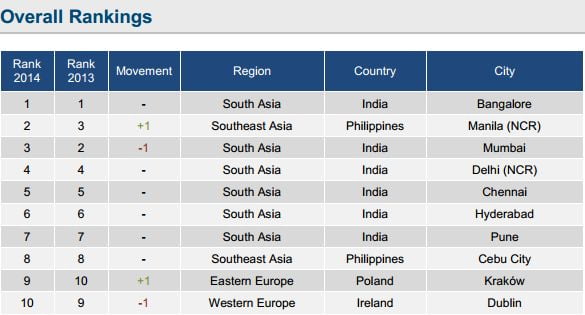 The City of Manila edged out Mumbai, India, the place who ranked second last 2012 and now ranked at the third spot as Top Outsourcing Destinations in the whole world.
The technological capital of India, the city of Bangalore continues to dominate the top spot as they ranked as the world's No. 1 outsourcing destinations. Aside from Manila, the City of Cebu also ranked at the No. 8 spot.
Two countries, India and the Philippines dominated the Global Outsourcing Destinations for the year 2014. Manila and Cebu are not the only Philippine cities who made it to the List of the Top 100 Global Outsourcing Destinations list.
The cities of Davao, Sta. Rosa in Laguna, Bacolod in Negros Occidental, Iloilo City and Baguio City are also included in the list of the Top 100 Global Outsourcing Destinations by Tholons.
Due to the huge demands global outsourcing business, the demands for business process outsourcing (BPO) companies has never been bigger. The Philippines BPO target for 2016 is 1.3 million Filipino workers.
Here's the List of the Top 10 Tholon's Global Outsourcing Destinations:
Bangalore, India
Manila, Philippines
Mumbai, India
Delhi, India
Chennai, India
Hyderabad, India
Pune, India
Cebu City, Philippines
Krakow, Poland
Dublin, Ireland