One of the Philippines largest religious denomination, the Iglesia Ni Cristo Church, is responsible for the building of Philippine Arena, which was featured on Discovery Channel's episode aired last December 25, 2013.
Watch the video Featuring the Philippine Arena on Discovery Channel:
The Special Coverage of the Philippine Arena was aired on December 25, 2013 at around 11:00 PM (Manila Time) featuring Man Made Marvel "Quake Proof" featuring one of INC's major project to be showcased on their 100th year anniversary this coming 2014.
The producers and director of the Discovery Channel Documentary, Denise Keller and David Moggie visited the Philippines and meet with the Philippine Arena's owners representative, the New Era University.
Aside from Discovery Channel's representatives and the New Era University, the Project Manager of Philippine Arena, the Generations Design Asia GDA and the construction company Hanwa Construction was also present during the meeting.
The construction of the Philippine Arena, which is now dubbed as the World's largest Dome commenced on July 2011. The estimated completion of the project which is dubbed by Discovery Channel as "Quake Proof" will be on 2014.
The World's Largest Dome is currently on its finishing stages of construction built in a 75-hectare lot located at Ciudad de Victoria, Bocaue, Bulacan, Philippines.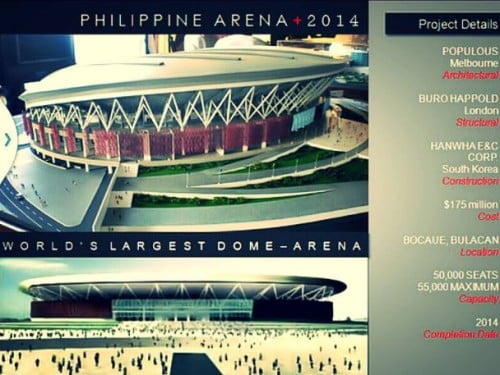 For more Facts of the Philippine Arena Click Here