The Miss Universe 2013 representatives of the US territory, Guam, Miss Alexis Scott is the fourth Filipina who will be competing in the world's most prestigious beauty pageant which coronation night will be held this coming November 9, 2013.
Based upon our previous reports aside from Ariella Arida, the Philippines representative to Miss Universe 2013, there are two other Filipinas who will be competing in the world's most popular beauty pageant, Miss Canada's Riza Santos and Miss Gabon's Jennifer Ondo Mouchita.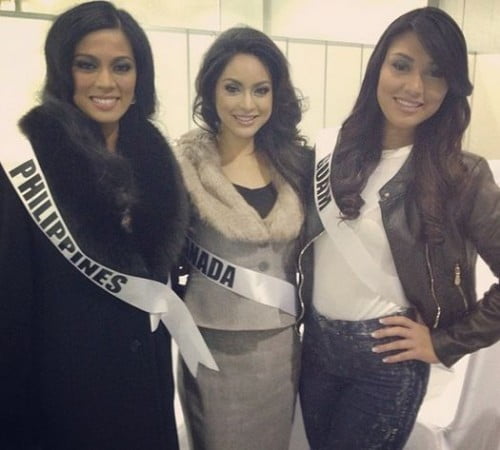 Ariella Arida, Riza Santos & Alexis Scott (Photo: Ara Arida's Instagram)
On Thursday, October 24, 2013, Miss Philippines' Ariella Arida posted on her Instagram and Twitter account her picture with the Filipino beauties, Miss Canada and Miss Guam, with the caption "Mabuhay ang Pinay" which means "Long Live Filipinas."
Ariella Arida and Riza Santos are going to share the same room based upon various reports we gathered from reliable sources. Based upon the social media posts of the three Filipinos they were having a good time together bonding with each other, the only Filipina who is not currently joining their group is Miss Gabon's Jennifer Ondo.
The representative of Guam, Alexis Scott is considered as the youngest among the four Filipinas competing in the Miss Universe 2013, she is just 18 years old when she won the Miss Universe Guam beauty pageant. Alexis just graduated high school from Our Lady of Guam and she plans to continue her education at the University of Guam where she hopes to study dermatology.
Alexis won the Miss Universe Guam beauty pageant on September 16, 2013 where she also got the award for Best in Swimwear and Best in Evening Gown.
Watch the video of Alexis Scott's Coronation as Miss Guam 2013: