BEST PALAWAN DESTINATIONS – This tropical destination is a cluster of paradise and here are some ideas for you!
Strutting from one place to another is both fun and tiring. But there's nothing more rewarding than being welcomed by a stunning view after dreadful travels and hours of flight. And one place in the Philippines that will definitely fill your eyes with beauty is Palawan.
Palawan Destinations – Coron, El Nido, and Puerto Princesa
Here are the famous Palawan destinations and the highlights of each place.
PALAWAN DESTINATIONS – If you are planning to go to Palawan, here are some of the highlights about Coron, El Nido, and Puerto Princesa.
A place of pristine beaches, lush forests, and stunning limestone cliffs is Palawan. It is undeniable that Palawan is one of the most beautiful and most-visited tourist destinations in the Philippines.
This is a dream place for many nature lover and beach lover.
Palawan's significant provinces are Coron, El Nido, and Puerto Princesa.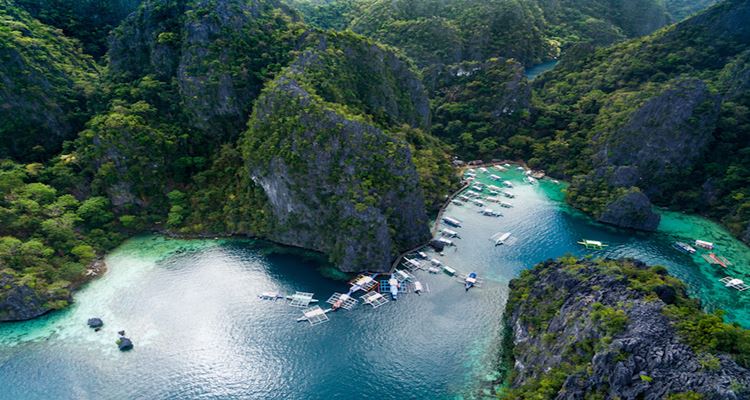 For starters, here are some of the must-see tourist attractions:
Puerto Princesa Underground River in Puerto Princesa is a UNESCO World Heritage Site and one of the new seven wonders of the world. This is the world's second-longest subterranean river where you can see stalactites and stalagmites in various shapes and sizes.

In going to Puerto Princesa, finding the best accommodation is something you must not worry. We have listed some of the best hotels and resorts that will surely not fail you in terms of services and amenities.
Kayangan Lake in Coron is one of the most-visited attractions. Kayangan Lake has crystal blue water. This is area is the highlight of an ultimate island hopping tour. Check out these details about going to Coron.

Here's also a list of some of the best hotels in Coron, Palawan you might want to check out.
Barracuda Lake is another stunning attraction and one of the best tourist spots in Coron that you must visit. The rock formations and the turquoise waters of the lake attract a lot of tourists and a Coron trip will not be complete without diving into the waters of this lake.
Nacpan Beach is a paradise within the paradise of El Nido. It's powdery sands are dreamy and pristine. This is four-kilometer stretch of sands and coconut trees and a place where tourist can both relax and do water activities.

Check out this list of top and luxury resorts in El Nido, Palawan that will absolutely complete your perfect stay in this place.
Another beautiful tourist spot in El Nido that you must not skip is the Big Lagoon. The vibrant waters and picturesque limestone rocks are inviting. this is located off the eastern coast of Miniloc Island. For divers and thrill seekers, tourists are allowed to free-dive up to 50 m deep
What can you say about this? Let us know!
For more news and updates, follow us on Twitter: @philnews_ph Facebook: @PhilNews, and YouTube channel Philnews Ph.