2 Underage Girls Engaged in Intense Altercation Amid Peñafrancia Festival
The intense altercation between two underage girls was caught on CCTV amid the Peñafrancia Festival in Naga, Camarines Sur.
The CCTV footage, recorded in Barangay San Francisco, showed the bustling streets of Plaza Quince Martires, where a crowd had gathered to witness the famous Peñafrancia Festival procession.
The event draws numerous attendees to celebrate the religious festival with great enthusiasm. However, the CCTV captured one girl, dressed in white, engaged in a physical altercation with another young female.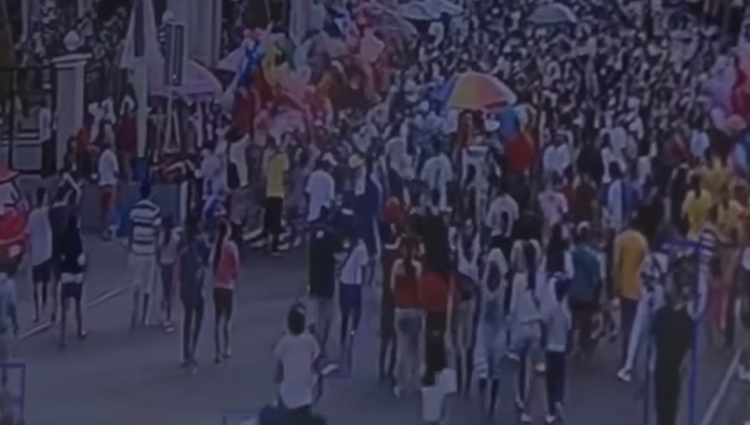 The altercation lasted for several minutes before onlookers managed to intervene and separate the two minors.
According to Barangay San Francisco Captain Efren Nepomuceno, one of the victims, who filed a complaint, explained that the incident involved a group of young girls, commonly known as "pash-pash."
It seems that these underage girls had crossed paths, possibly by chance, in the vicinity of their barangay during the festival. They were acquainted with each other, and tensions escalated, resulting in the altercation.
Fortunately, no injuries were reported as a result of the confrontation. However, authorities are now investigating the cause of the incident.
The Peñafrancia Festival is known for its joyful and peaceful celebrations, and any disruptive incidents like this one are taken seriously by the community and local authorities. Preventive measures must be put in place to ensure the safety of all attendees.
In a previous report, an altercation between cop and alleged retired soldier leads to street fight in Makati City
Its origins can be traced back to the 18th century when the image of Our Lady of Peñafrancia, also known as "Ina," was first brought to the Philippines from Spain. The festival typically lasts for a week, culminating on the second Saturday of September.
Thank you for visiting Philippine Trending News (Philnews.ph). You may also follow us on the following social media platforms; Facebook, Twitter, and YouTube