Episode Bar and Kitchen Restaurant By Rendon Labador Earns Negative Reviews, 1.1 Rating
The newly opened Episode Bart and Kitchen restaurant of motivational speak Rendon Labador earned negative reviews and a 1.1 rating.
Rendon Labador, a self-proclaimed motivational speaker, had the grand launch of his new restaurant "Episode Bar + Kitchen" on March 25, 2023. The event included performances by entertainers such as Paolo Santos, LILY, SUD, and others. Rendon was unhappy, however, when no one purchased tickets for the event.
He vented his rage on social media, blaming actor-director Coco Martin's followers. He further accused Coco fans of being "palamunin," which is why they couldn't afford P2,000 tickets to his grand opening.
Prior to the launch of the sports bar, he was highly attacked online for his harsh statements directed at the lead star of FPJ's Batang Quiapo. He alleged that the shooting of the series in Quiapo had a negative impact on the vendors' livelihoods.
He declared that his restaurant would be temporarily shuttered two days after it opened. Some internet users speculated that it was because they had no ticket sales at the time of their debut.
Rendon mentioned in a post that he spent 1.2 million pesos on the launch of his restaurant. Despite the criticism, Rendon stated that his restaurant is popular and the number one sports bar in the country.
However, the reviews and ratings of netizens contradict his allegation. His recently established eatery received poor reviews from netizens who dined and received 1.1 ratings.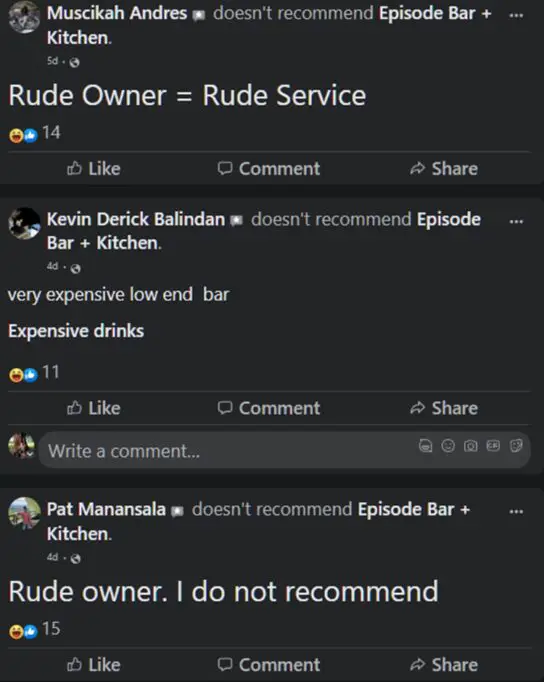 READ ALSO: Tricycle Driver Goes Viral for Failing to Recognize Paul Artadi & James Yap
What are your thoughts on this article? Just feel free to leave your reactions in the comment section.
Thank you for taking the time to read this. We aim to give the freshest and in-demand content to our visitors. Come back next time at PhilNews for more updated news.