Long Lasting and Pure Love of Jericho Rosales to his Wife Kim Jones
JERICHO ROSALES- The versatile Filipino actor dismissed the seperation issue with her wife fashion icon Kim Jones.
Through an Instagram post, fashion blogger Kim Jones dispelled rumors that she and her husband Jericho Rosales were divorcing. On his birthday, Kim sent Jericho greetings with images of him at the beach.
"Birthday boy in his natural habitat. This year is yours @jerichorosalesofficial," she said.
Based on the report of PUSH, The actor responded to her post and demonstrated to everyone how important his marriage to his wife is by making a comment.
"I loooove! Back at you, 👑," Jericho commented.
Lots of netizens commented in the post of said fashion icon as they are happy to the innocent and pure love of the celebrity couple. The report also mentioned that, others are saying that they want love like Jericho and Kim have but also others are wishing them a more happy and stronger relationship.
Meanwhile, 4 years ago Jericho also posted a sweet message for her wife saying:
"Dear Kimberley, 7 years ago you introduced me to mp3s. Today i still listen to cds. But I'm definitely a better version of myself because of you. Not a lot of folks know how much you help me with my personal and career issues and decisions. On the other hand, I'm so proud of everything you have become and achieved. You never fail to impress me. To my best friend, cheers to more years of annoying each other and laughing 'til we pee! I am so happy to be your recce partner."
On the island of Boracay in May 2014, Kim and Jericho exchanged vows. Jericho has been attending acting classes while Kim has been traveling in and out of the city for her profession in design since they moved to New York earlier this year.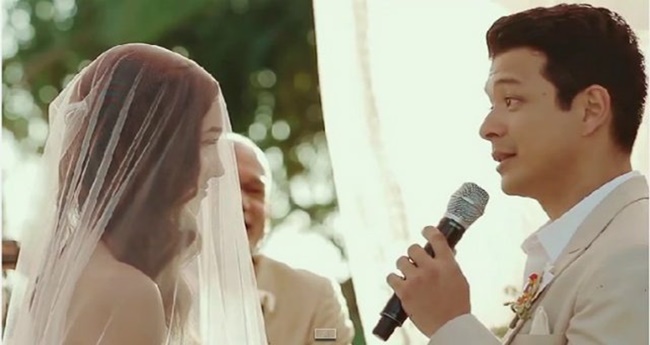 In the meantime, Jericho is getting ready to travel to the US in November to finish a project with Piolo Pascual. According to the actor, they'll be in the US for around a month and a half.
You may also visit: Jericho Rosales, Wife Kim Jones Use Surfboards To Help in Marikina Rescue Operation