Duterte Will Not Make Way For Marcos Says Netizen In Viral Post
DUTERTE ADMIN – According to a netizen, the Duterte admin would not give way and "bend the knee" for Marcos.
Recently, a series of events took place in the realm of Philippine politics. First, Senator Ronald "Bato" Dela Rosa filed a certificate of candidacy (COC) for the President on a whim. Along with this, Senator Bong Go had already filed his (COC) for vice president.
However, most people never took their candidacy seriously. Instead, the focus was on Ferdinand "Bongbong" Marcos Jr., and Sara Duterte.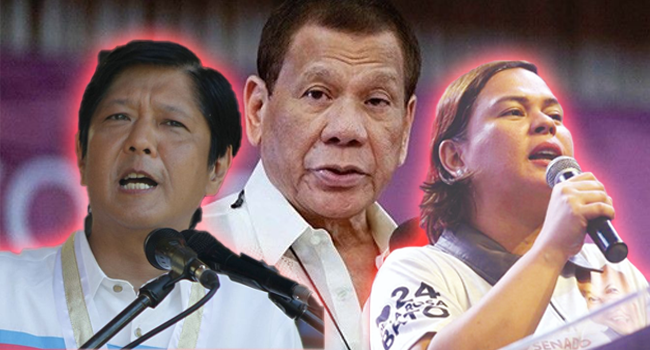 Many wanted to see the two become a tandem as President and Vice. With Marcos already filing a candidacy for the presidential seat, all that's left is his running-mate, who he has yet declared.
Last month, BBM and Sara "coincidentally" met in Cebu during separate business matters. This led to further speculations of the two planning a tandem. Additionally, a few days till the deadline for candidate substitutions, Sara Dutete withdrew her COC for Davao Mayor.
SARA FOR PRESIDENT NOT VICE PRESIDENT
According to Albay 2nd District Rep. Joey Salceda, there would be no VP option for her. Moreover, he emphasized picking a VP would not be an issue.
Meanwhile, a previous post from Juan Nationalist dating back October 22, 2021, became viral yet again following the recent political news. In the post, JN said the Duterte admin was in "disarray".
He cited having no supra-majority coalitions and even their own PDP-Laban was in "tatters" following the Manny Pacquiao fiasco. Citing from his post, JN explained:
"But would Duterte bend the knee and make way for bemblong (BBM)? No freaking way. Duterte will surely raise his middle finger for bemblong…

In this case, the pressure is on bemblong to make way for Sarah, but could he sacrifice another 6 years as mommy imelda is very old na? Even bemblong is already 70 years old for the 2028 elections."
Still, all of this is speculation and we'll all see how this would play out on November 15.
What do you think about this? Leave your comments below.
READ ALSO: Sara Duterte Emotional Upon Return to Davao City Hall After Withdrawing COC
comment(s) for this post "Duterte Will Not Make Way For Marcos Post Goes Viral". Tell us what you think abut this post by leaving your comments below.