Counterpart of Parsley in Tagalog & Sample Sentences
PARSLEY IN TAGALOG – Here is a guide on the Filipino counterpart of the word "parsley".
In this article, we will review the meaning of the uncommon word "parsley". We will also discover its counterpart in Tagalog or the Filipino language.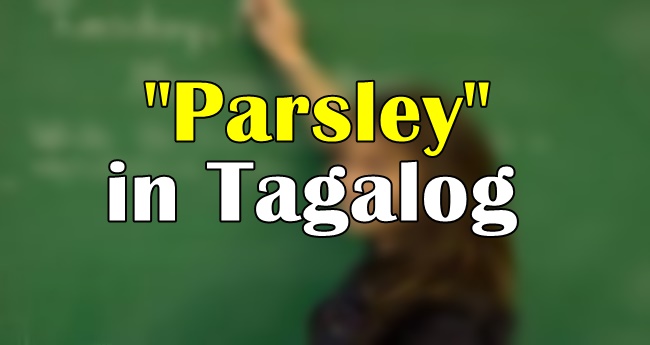 What is "parsley"?
Parsley is a kind of herb. Based on Merriam Webster Dictionary, it is a perennial herb from the carrot family. It is famous for its "dissected curly or flat leaves" which is usually used in cooking.
You may also visit – Mahapdi in English – Translate "Mahapdi" in English
What is "perehil" in Tagalog?
After knowing about the exact meaning of the word, surely many of us want to know the Tagalog translation of the word parsley.
Parsley in Tagalog = "Perehil"
Examples of sentences using the word parsley:
1. Did you some fresh parsley on the dish you are cooking for the birthday of Matteo?
2. Winston asked Jeremiah to drop by the market and check if there are some parsley sold there.
3. The mother decided to grow her own parsley as the herb is her children's favorite.
4. Who cut the leaves of the parsley plant at the back of the house?
5. Fred decided to make his recipe unique so he added some parsley, pickles, and sliced cheddar cheese into the pasta.
Mga halimbawa ng mga pangungusap na gumagamit ng salitang perehil:
1. Huwag mong lagyan ng perehil ang niluluto mo kung gusto mong kumain ang bata.
2. Kinuha ni Norberto ang mga perehil mula sa harden upang ilagay ito sa kanyang nilulutong ulam.
3. Nakabili ka ba ng perehil para sa uulamin natin mamaya?
4. Tumubo ba ang mga perehil na itinanim mo sa likod ng bahay niyo?
5. Perehil ang pinaka paboritong gulat ni Rambo kaya bumili si Aling Tinay at ipinagluto siya.
For other English-Tagalog translations…
VISIT: English To Tagalog Translate – List of English-Tagalog Word Translation