Counterpart of Junk Food in Tagalog & Sample Sentences
JUNK FOOD IN TAGALOG – Here is a guide on the Filipino counterpart of the word "junk food".
In this article, we will review the meaning of the uncommon word "junk food". We will also discover its counterpart in Tagalog or the Filipino language.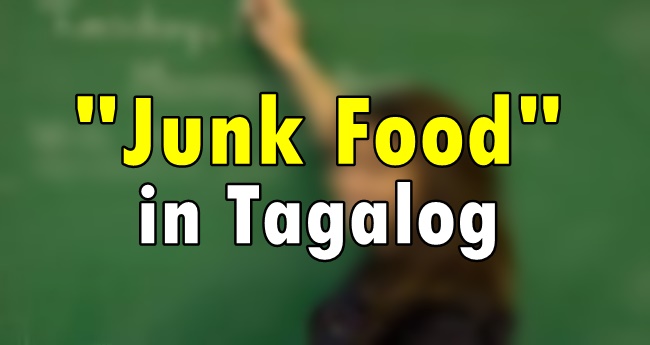 What is "junk food"?
Based on Merriam Webster Dictionary, junk food is food that contains a lot of calories. It is delicious or appealing but it has very little nutritional value. Usually, kids like eating junk foods such as a bag of chips.
You may also visit – Mahapdi in English – Translate "Mahapdi" in English
 What is "junk food" in Tagalog?
After knowing about the exact meaning of the word, surely many of us want to know the Tagalog translation of the word junk food.
Junk Food in Tagalog = "Chichirya"
Examples of sentences using the word junk food:
1. The teacher reminded her students not to bring junk foods for their snacks in school.
2. The month of August reminds everyone to stay healthy and stay away from junk foods which are unhealthy foods.
3. Paulo grew up eating junk foods most of the time that is why he is very sickly.
4. The doctor told Maggie never to eat junk foods anymore as they are high in calories.
5. The principal called the attention of the students she saw eating junk foods by the corridor.
Mga halimbawa ng mga pangungusap na gumagamit ng salitang chichirya:
1. Sarap na sarap ang mga bata sa chichirya pero hindi ito masustansya para sa kalusugan nila.
2. Paminsan-minsan ay pinapayagan ni Betty si Junior na kumain ng chichirya.
3. Nagdala ka ba ng mga chichirya?
4. Kinuha ni Vonric ang mga chichirya mula sa sasakyan nang dumating si Mang Tonyo.
5. Ang mga chichirya na binili ni Aling Pilar kahapon ay inubos ng kanyang mga pamangkin.
For other English-Tagalog translations…
VISIT: English To Tagalog Translate – List of English-Tagalog Word Translation
comment(s) for this post "Junk Food in Tagalog – Translate "Junk Food" in Tagalog". Tell us what you think abut this post by leaving your comments below.