Social Distancing In Public Transportation To Be Reduced On Monday
SOCIAL DISTANCING – The Inter-Agency Task Force on Emerging Infectious Diseases (IATF-EID) recently approved the reduction of social distancing on public transportation.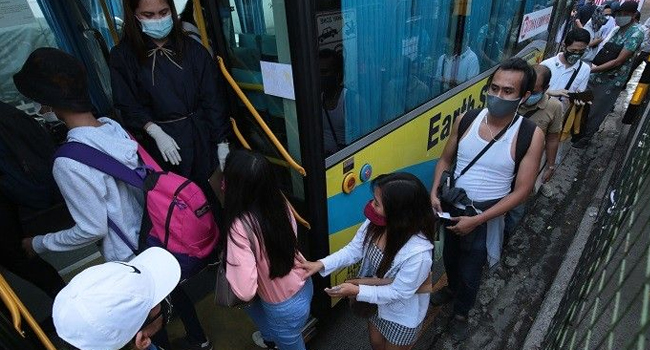 In exchange the number of passengers in public transportation are expected to increase starting Monday, according to PhilStar.
This was confirmed by the Department of Transportation (DOTr), who added that the plan came from the Economic Development Cluster (EDC).
"There is a need to safely optimize the carrying capacity of the various public transport modes as Metro Manila and its adjacent areas continue with the transition towards the 'new normal' where more workers are expected to return to their re-opened work places," 
This came from a statement from DOTr Secretary Arthur Tugade, who also said that more business are expected to resume operations.
"[M]ore businesses are expected to resume operations that were stopped during the enforcement of strict quarantine measures."
Social distancing between passengers of MRT, LRT and Philippine National Railways (PNR) will be reduced to 0.75 meters from 1 meter. It is set to be implemented on the 14th of September.
Based on the report, Tugade initially eyed for a 0.5 meter distance in the next two weeks then to 0.3 after a month.
Here is the supposed list of the new distancing and passenger capacity in the said trains in the next days:
LRT-1

1-meter: 155
0.75-meter: 204
0.5-meter: 255
0.3-meter: 300

LRT-2

1-meter: 160
0.75-meter: 212
0.5-meter: 274
0.3-meter: 502

MRT-3 

1-meter: 153
0.75-meter: 204
0.5-meter: 255
0.3-meter: 286

PNR

1-meter: 166
0.75-meter: 184
0.5-meter: 256
0.3-meter: 320
What do you think of this report? How will you react to this? Let us know more about it in the comments below.

READ ALSO: Darren Espanto Cleared Out Gay Speculations About Him: "I'm Straight"
Check out our latest news at philnews.ph or in our following social media pages
Facebook: /PhilNews
Twitter: @PhilNews247
Instagram: @philnewsph