What Is Self? Definition And Usage Of This Term
WHAT IS SELF – In this topic, we will first know the definition of the term "self" and how is this term used in sentences.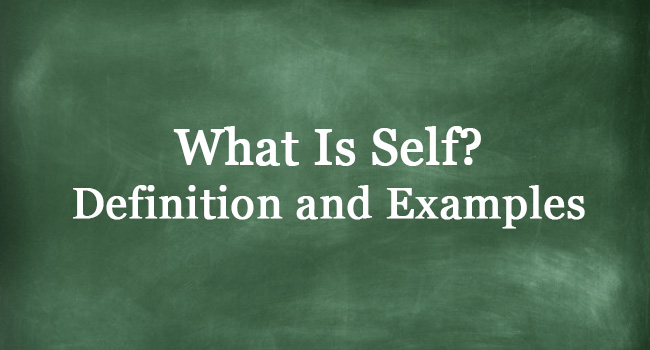 Definition

The Oxford Dictionary described this term as the following:
a person's essential being that distinguishes them from others, especially considered as the object of introspection or reflexive action.
(of a trimming or cover) of the same material and color as the rest of the item.
On the other hand, the Merriam-Webster Dictionary defines this term as the following:
an individual's typical character or behavior

an individual's temporary behavior or character

a person in prime condition
the union of elements (such as body, emotions, thoughts, and sensations) that constitute the individuality and identity of a person
personal interest or advantage
the entire person of an individual

the realization or embodiment of an abstraction

material that is part of an individual organism
having a single character or quality throughout
of the same kind as something with which it is used
Etymology

It is an Old English term of Germanic origin. It is also akin to the Dutch term zelf, and the German selbe.
Examples

Here are some of the examples:
Look then at thy inner self with the eyes of the spirit, and ask thyself whether thou art content with thyself.
While Molly was her usual quiet self, and perhaps a little nervous, it was obvious she was excited. 
I compromised my own self in order to keep the peace and stave off confrontation.
Their priming mixture, primer cup and anvil are encased in a battery cup that forms its own self supported metallic pocket when inserted into the shell's primer pocket.
READ ALSO: What Is Charisma? Definition And Usage Of This Term
comment(s) for this post "What Is Self? Definition And Usage Of This Term". Tell us what you think abut this post by leaving your comments below.