Delfin Lorenzana Told AFP Chief: "Less Talk, Less Mistake"
DELFIN LORENZANA – National Defense secretary Delfin Lorenzana recently advised AFP Chief Lt. Gen. Gilbert Gapay to follow the "less talk, less mistake" tact.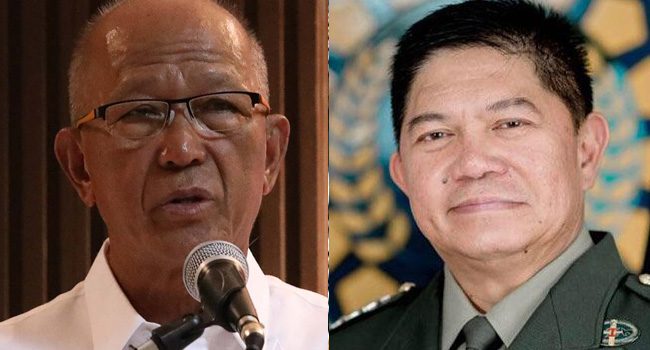 This was after Gapay drew flak for making a proposal to modify the Implementing Rules and Regulations (IRR) in order to use the Anti-Terrorism Law to regulate social media.
VISIT: Lawyers' Group Reacts On Using Anti-Terrorism Law To Regulate Social Media
According to a report from ABS-CBN News, Gapay recently said that the military would give inputs on regulating social media "because this is the platform now being used by the terrorists to radicalize, to recruit and even plan terrorist act."
Lorenzana, citing his conversation with Gapay, said that the latter meant regulating the dark web.
The Defense secretary, however, questioned his claim, asking him how to regulate something "underground and is not actually legit?"
Gapay later said that what he regulated is the platform, not the users. Lorenzana said, adding that the AFP chief should be "very discerning".
"Sabi ko nga sa kanya, if you are not sure of your answer, then do not answer. Sabihin mo, 'I'll find out, I'll research.' Less talk, less mistake,"
Lorenzana said that he was against moves to control social media.
"To me, it's very good for people to air their grievances and everything," 
Based on the report, officials are drafting the IRR of the anti-terror law which will allow the detention of terror suspects for up to 24 days without charge.
Different sectors fear that this could be used to silence government criticism. This prompted 26 petitions, so far, to challenge its constitutionality before the Supreme Court.
"We'll let the Supreme Court decide. It's in their court now. The ball is in their hands so let them do their job," 
In light of Gapay's proposal, National Union of Peoples Lawyers (NUPL) president Edre Olalia earlier said that the IRR cannot rise above its source.
Furthermore, this sends a chilling effect since this restrains, discourages or penalizes; and results to prior restraint or subsequent punishment of freedom of speech and expression.
What do you think of this report? How will you react to this? Let us know more about it in the comments below.

READ ALSO: Crash Landing On You Star Son Ye-Jin Want To Visit PH So Badly
Check out our latest news at philnews.ph or in our following social media pages
Facebook: /PhilNews
Twitter: @PhilNews247
Instagram: @philnewsph
comment(s) for this post "Delfin Lorenzana Told AFP Chief: "Less Talk, Less Mistake"". Tell us what you think abut this post by leaving your comments below.