Screenshots of Jang Lucero's Lady Driver's Conversation Sharing her Problem About Her Girlfriend
JANG LUCERO – Here are some screenshots of the lady driver's conversation sharing her about her girlfriend Meyah Amatorio.
Recently, the lady driver's friend identified as Jing Le has shared the screenshots of her conversation with Jang Lucero sharing her problem with her girlfriend. The post is now circulating online.
In the photos, Jing Le said that alias "Althea" allegedly slept with the house of Lucero and Amatorio in Taguig. However, the incident causes arguments and quarrels between the couple causing Jang to leave Meyah's house.
Read Also: Ann Shiela Belarmino Denies Accusations of Killing Jang Lucero
In the conversation, the lady victim also stressed that she is not happy anymore with her relationship with Meyah. The 34-year-old victim also showed her arm injury and revealed that she also obtained hematoma at her back.
According to the convo, Jang revealed that Meyah would allegedly hurt her physically due to jealousy. There is also an incident wherein Amatorio allegedly threatened the life of the female driver.
Read Also: Jang Lucero Case: Suspect Arrested For Killing Lady Driver was Meyah Amatorio's Ex-GF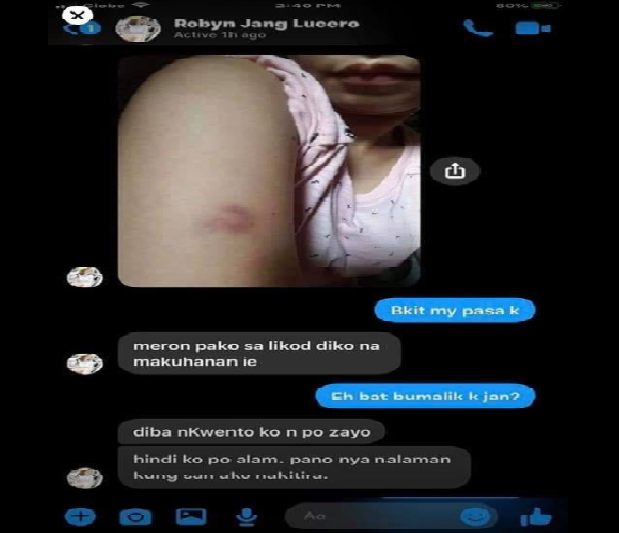 Here is the full post:
Althea althea althea . there's Something in Your Name That Keeps Haunting Me In My Dreams
As of this writing, the police authorities are still conducting further investigation to find the real suspect regarding the gruesome death of Robyn 'Jang' Lucero.
What can you say about this conversation? Just feel free to leave your comments and reactions to this article.
Read Also: JANG LUCERO: Police Says Suspect in Killing Lady Driver Arrested
comment(s) for this post "JANG LUCERO: Screenshots of Lady Driver's Convo Sharing her Problem About GF". Tell us what you think abut this post by leaving your comments below.