PAL Employees Help Pregnant Woman To Give Birth To Baby Boy 38,000 Feet Above the Ground
PAL employees assisted a pregnant woman to give birth to a baby boy on board while flying from Dubai to Manila, Philippines.
A Facebook user named Fidel Guzman Ala has expressed his admiration towards the crew of the Philippine Airlines Flight PR659 for assisting a pregnant lady to give birth while they are flying 38,000 feet above the ground.
Guzman narrated that it might one of his stressful experiences in life since there were no doctors in the plane. He called a doctor using a satellite phone and relayed all the medical terms to the airline employees.
Fidel carefully relayed the instructions given by the doctor in conducting the step by step procedure especially for cutting the umbilical cord. He also asked the doctor again and again to ensure the safety of the patient.
He also expressed his gratitude towards the Philippine Airline crew for helping the pregnant lady amid the coronavirus pandemic. The baby boy was named Ali, which means elevated or most high since he was born thousands of feet above the ground.
Here is the full post:
"Yesterday the crew of Philippine Airlines Flight PR659 flying from Dubai to Manila, delivered a baby boy into this world 38,000 feet above ground, in this dreary time of pandemic.
It was one of the, if not the most stressful and yet fulfilling experiences in my life. As there were no doctors on board, I had to call one through radio satphone and very carefully relay all those medical terms to the cabin attendants delivering the baby. To me, that felt a tad terrifying. One misinterpretation of the doctor's instructions would spellout a person's doom or destiny. I had to ask and re-ask the doctor on the line if I understood him correctly. I now recognize the efforts of those who went through medical school. Hahaha Who would have thought that in my lifetime, I would have to relay the step by step procedure and instructions for cutting an umbilical cord?? I had to draw a diagram and re-ask the doctor again and again just to be sure.
And after all that we went through, I am assured once again that God is here, every step of the way. To the crew of PR659 who were with me throughout this ordeal, I offer my admiration and gratitude to all of you. If this is not proper crew resource management, I don't know what is. To the Philippine Airlines family, thankyou for letting me participate in this #BuongPusongAlaga culture.
PS. The baby was named Ali. Which in arabic meant elevated or most high. Such a wonderful name for one who is born flight levels above ground.
Ali. I hope to meet you one day. God bless you. You are a miracle amidst this world's current misery. Fi Amanillah! All the best!
Shout out to the mentors and dear colleagues who made this team one of the best Capt. Mark F Palomares, First Officer Herky Vitug and Purser Daisy Castellano, CA Dino Antigua Karganilla"
The social media users expressed their reactions to the post: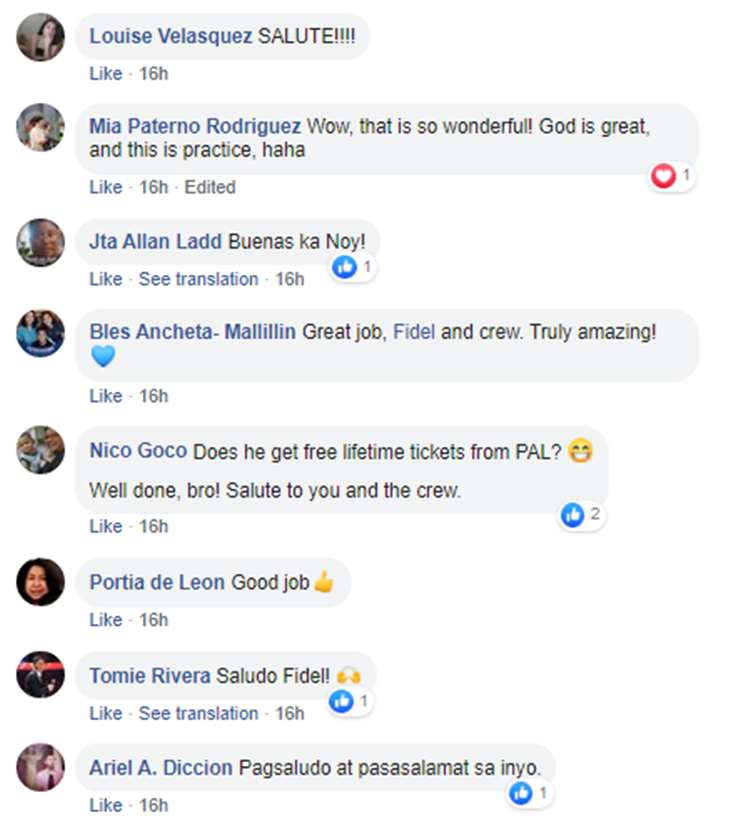 What can you say about this incident? Just feel free to leave your comments and reactions to this article.
Read Also: Frustrated Netizen Barters Expensive Engagement Ring After Relationship Didn't Work Out