Here is the BAR Exam Results 2020 Release Date, Results and Other Relevant Information
BAR Exam Results 2020 – Here is the BAR exam results 2020 release date, full results, complete list of passers, and other details.
The releasing of BAR examination results has been one of the most-awaited events every year in the Philippines. Aspiring lawyers are patiently waiting for the results hoping that their name will be included on the list of passers.
The November 2019 board examinations for aspiring lawyers have been conducted at the University of Santo Tomas in España, Manila. The annual test consists of a full essay type of questions.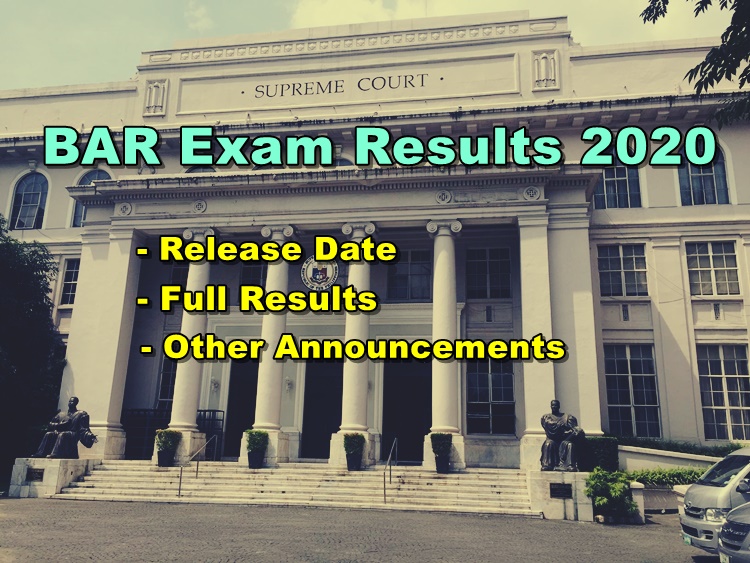 Supreme Court's head Hon. Estela A. Perlas Bernabe together with Associate Justice, and Chairperson and Atty. Ma. Cristina B. Layusa, Deputy Clerk and Bar Confidant administered the test on all Sunday of November 2019.
BAR 2020 RELEASE DATE
The Supreme Court announced that the BAR licensure examination results including the list of successful examinees, top notchers, and other announcements will be released on April 29, 2020 (Wednesday).
Examinees were also advised to stay at home during the releasing of results since the complete list of BAR passers will be release on the official website of the Supreme Court.
FULL RESULTS
OTHER DETAILS
The total number of examinees who were expected to take the examinations are 8,245 but the number candidates reduced to 7,691 on November 10, 2020.
Candidates are required to have a general average of at least 75 percent and with no grade lower than 50 percent in any subjects in order to pass the examinations.
SC said that an average of 27 percent passing rate has been recorded from the year 2010 to 2018. The BAR exams have been dubbed as the most difficult licensure exam in the Philippines.
NOTE
The exam results are expected to be released anytime today!!! Just stay tuned for further updates.
READ ALSO:
comment(s) for this post "BAR Exam Results 2020 Release Date, Full Results & Other Details". Tell us what you think abut this post by leaving your comments below.