Drunk Grandson Mercilessly Mauls & Abuses His Own Grandma
A drunk grandson mauled and abused his own grandma, he even forced the old woman to run away from home and sleep on the streets.
Elderlies such as grandmothers, aunties, mothers, and other maternal figures deserved to be loved, respected and cared because they were the ones who raised us since we were young kids.
They spend several years working hard just to provide our financial necessities and making sure that we would be happy and healthy as well. Parents and grandparents also sacrificed their own comfort for our sake.
Unfortunately, there are some people who are grateful to their parents or grandparents and not sharing the same filial piety for their maternal figures.
Recently, a Facebook user named Ake Srisuwan has shared the heartbreaking photos of a wounded and injured grandma kneeling on the ground beside the street. The photos garnered various reactions from the online community.
The elderly woman revealed that his alcoholic grandson frequently beat and kick her every time he was drunk. The helpless granny is sharing the same house with her abusive grandson, obviously, she could not simply escape.
In the photos, it can be seen that the grandma suffered plenty of wounds, injured arms, swollen and bloodshot eyes.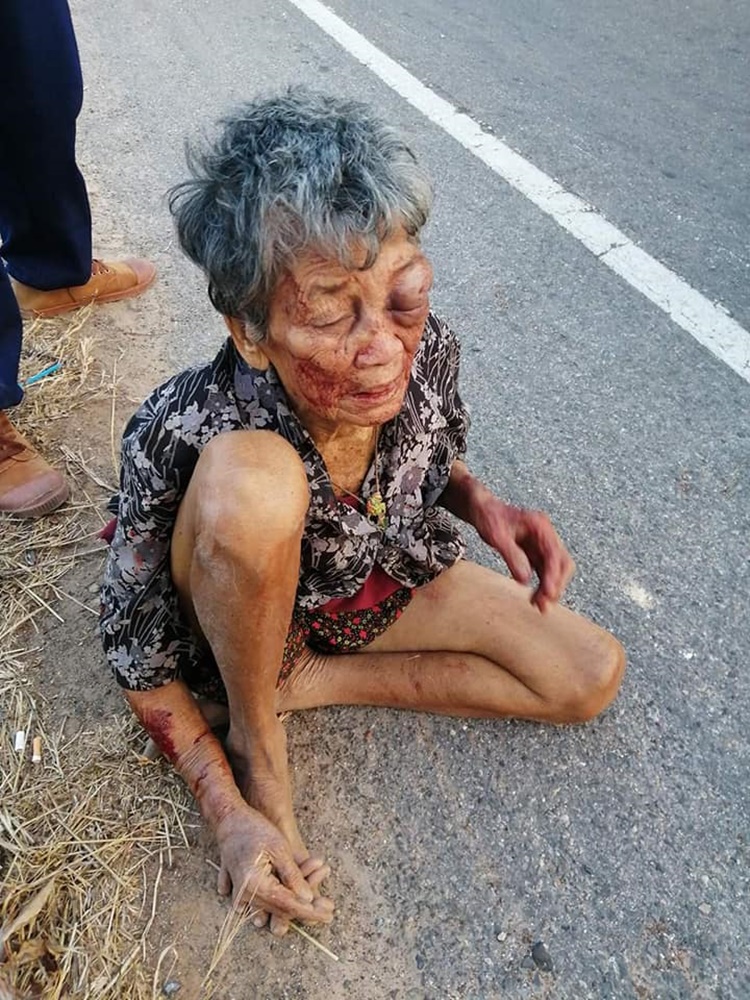 Here are some of the comments:
"How could that grandson do this to her!! It breaks my heart to see her like this. I hope the famous actors and actresses in Thailand help her and rescue her from that devil!"
"God will punish those who wronged you Grandma. Be strong always. Prayers from the Philippines"
" I'm really sorry, really wish real facilities for body and soul real self-healings, really wish good morning, good work, real Meritocracy Always Everywhere, However, Because we Believe! 💖 … 💖"
"Please do something. Please find the son and teach him a lesson. 😭 My heart is so devastated seeing this. 🤬"
What can you say about the alcoholic grandson? Just feel free to leave your comments and reactions to this article.
comment(s) for this post "Drunk Grandson Mauls & Abuses His Own Grandma, He Forces Granny to Sleep on Streets". Tell us what you think abut this post by leaving your comments below.