Here are the NAPOLCOM Exam Results October 2019 Including the Superintendent Passers
Here are the NAPOLCOM Exam Results October 2019 including the Superintendent Passers as per released by the National Police Commission.
The NAPOLCOM Exam Results including the list of passers and top 20 passers for PNP entrance and promotional exams will be available on this website after it will be released.
The PNP entrance and promotional examinations have been given at various testing centers in Makati, San Fernando (La Union), Tuguegarao, Angeles (Pampanga), Cabuyao, Calapan, Iloilo, Cebu, Tacloban, Calbayog, Pagadian, Zamboanga, Cagayan de Oro, Davao, Koronadal, Baguio, Butuan, and Cotabato, and in the provinces of Batanes, Cavite, Quezon, Albay, Kalinga and Tawi-Tawi.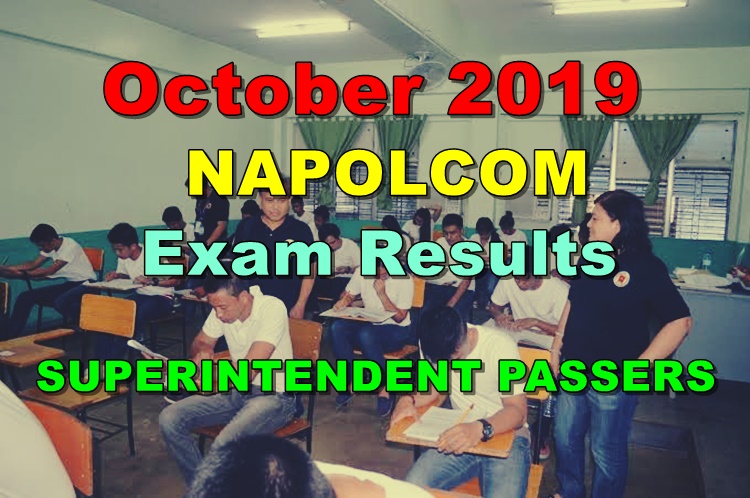 NAPOLCOM Executive Officer Atty. Rogelio T. Casurao headed the distribution of the qualifying and promotional exams.
SUMMARY OF RESULTS
Here is the List of Superintendent Passers:
Roll of Successful Examinees in the
NAPOLCOM SUPERINTENDENT/ 1ST CLASS PROMOTIONAL EXAMS
Held on OCTOBER 27, 2019
Released on JANUARY 2, 2020
19-10-1500004, AGPAOA, JOEBURT ABAOAG
19-10-0400003, ALEGADO, GLENN ESPARTERO
19-10-1500002, ARANDIA, MICHAEL JOHN MARTIREZ
19-10-1600009, BARRAMEDA, ZHARLOTTE WILROSE .
19-10-0900001, BRUNO, HAROLD VELASCO
19-10-0200003, CADINGAN, MANES DINULONG
19-10-1100005, CARUMBA, JERVI CUSILIT
19-10-1600029, CASES, JACKSON BASAYA
19-10-1600014, CAYABYAB, ADRIAN GAMOS
19-10-0300001, CLEMENTE, ERNESTO II HASAN
19-10-0200002, DE LOS SANTOS, ANDY FRONDA
19-10-1600001, DULAGAN, CHRISTOPHER COMICHO
19-10-0500002, GAMBOA, MARK JOEL GONZALES
19-10-2000001, LAURON, JERYLL JOHN CALIBOSO
19-10-1000001, MUSAHAROUN, ALAWI BALT
19-10-0400005, PAALISBO, J-RALE OCSO
19-10-0500007, PADNGARAN, WILBERT JR CHAO-ANGAN
19-10-0100003, PATACSIL, MARIZA BARNACHEA
19-10-1200001, RASOS, BRANDIE BANGKIRIG
19-10-3000001, SALI, MARJAN MAKDIRUL
19-10-0400001, SAYAGO, FRANCIS JAY TAN
19-10-1000002, SUMANDAR, ABUBACAR-SIDIQUE N/A LAWI
19-10-0800001, TAMAYO, JULIO JR GASPANG
19-10-0500005, TANTIADO, KENNY LLANZA
19-10-1400002, WAP, ORVILLE AWICHEN
19-10-1100001, YOUNG, JORDAN ROMMEL CAMPUGAN
19-10-1200004, ZORETA, MARK BHIRGEL OBNAMIA
Exam Coverage
-PNP Entrance
General Information (Philippine Constitution and history, Philippine law and history, criminal justice systems, current events, social awareness, and value judgment)
Verbal Reasoning (Vocabulary, comprehension, grammar, the basic concepts and problem-solving skills of quantitative reasoning)
Verbal and Non-verbal Logical Reasoning
-Promotional Categories
General Information
Police Administration
Police Operations
Values and Ethical Standards
Release Date
The exam results are usually released within two (2) months after the exam or by December 2019 to January 2020.
Note
However, the Napolcom list of passers might be released earlier or later than the expected date.
comment(s) for this post "NAPOLCOM Exam Results October 2019 – Superintendent Passers". Tell us what you think abut this post by leaving your comments below.