Partial & Unofficial Result of Election 2019 Senatorial Race 2:00 pm Update
ELECTION 2019 PARTIAL & UNOFFICIAL RESULT – Here is the senatorial race's partial and unofficial result as of 2:00 pm today, May 16.
The counting of votes in the national election 2019 continues. It is amid the several proclamations happening in the different cities and municipalities in the Philippines following the end of the counting in the local elections.
Currently, the fight for seats in the House of Senate goes on for a lot of senatorial candidates. A total of sixty-two(62) candidates vied for the twelve(12) seats that are up for grabs.
Both unofficial and official Election 2019 senatorial race results are crossing the surface now.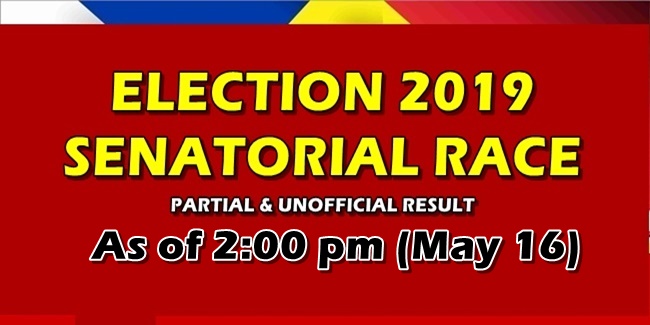 With regards to the Election 2019 partial and unofficial result, a copy of it can be obtained from the live tally provided by media sites including ABS-CBN News.
Based on the post of ABS-CBN, Senator Cynthia Binay is still leading the race in the partial and unofficial result – the same with the partial official result released by the Commission on Elections (Comelec).
In the partial and unofficial results, the Top 1 to Top 9 candidates are consistent in their spots while the Top 10 to Top 13 change every now and then.
Currently, based on ABS-CBN News, here is the latest Election 2019 partial and unofficial result of the senatorial race as of 2:00 pm (1:04 pm results):
Villar, Cynthia – 24,949,138
Poe, Grace – 21,793,597
Go, Bong – 20,276,668
Cayetano, Pia – 19,504,480
Dela Rosa, Bato – 18,637,430
Angara, Sonny – 17,930,706
Lapid, Lito – 16,773,089
Marcos, Imee – 15,637,561
Tolentino, Francis – 15,239,862
Revilla, Bong – 14,432,330
Pimentel, Koko – 14,426,647
Binay, Nancy – 14,363,729
Ejercito, Estrada JV – 14,132,645
We'll keep you posted for updates.
comment(s) for this post "Election 2019 Partial & Unofficial Result of Senatorial Race As of 2:00 pm". Tell us what you think abut this post by leaving your comments below.