Full List of Metro Manila BDO Branches Open on Saturdays
BDO BRANCHES – Here is a full list of the Banco de Oro (BDO) branches in Metro Manila that are open on Saturdays.
One of the biggest banks in the Philippines is the Banco de Oro or more commonly known as BDO. It has more than 1000 branches nationwide and it also several ATMs and it also offers BDO Online banking services.
Usually, banks operate only on Mondays until Fridays. That is why a lot of people really find time to do their banking transactions on weekdays.
However, there are individuals who really can't make it on weekdays due to hectic schedules. The good thing is that there are a lot of banks now that open on weekends and among them are BDO branches which cater banking services on Saturdays.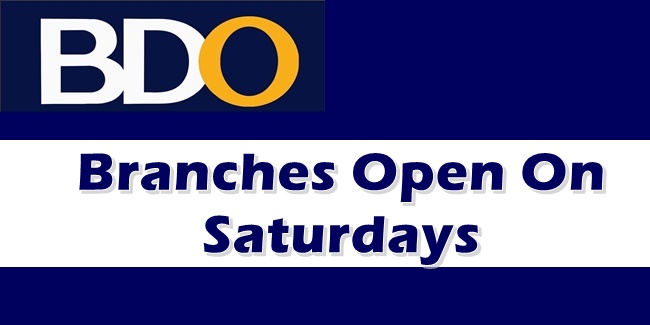 In Metro Manila, the Banco de Oro is the bank with the most number of branches that are open on weekends. Some of these BDO branches are located in shopping malls.
Here is a list of the BDO branches in Metro Manila that are open on Saturdays based on Moneymax:
Caloocan
SM Center Sangandaan Monday to Sunday 10:00 AM – 7:00 PM
Caloocan Sangandaan Monday to Saturday 8:00 AM – 5:00 PM
Las Piñas
Las Piñas Evia Daang Hari Monday to Saturday 8:30 AM – 5:30 PM
Bacoor – Zapote Monday to Saturday 9:00 AM – 6:00 PM
SM Southmall A Monday to Sunday 9:30 AM – 7:00 PM
SM Southmall B Monday to Saturday 10:30 AM – 7:30 PM
SM Center Las Piñas Monday to Sunday 10:00 AM – 7:00 PM
Las Piñas – Talon Monday to Saturday 8:30AM – 5:30 PM
Las Piñas – Philamlife Avenue Monday to Saturday 8:30 AM – 5:30 PM
Makati
Southgate Mall EDSA Monday to Saturday 9:30 AM – 6:30 PM
SM Makati Monday to Sunday 9:30 AM to 6:30 PM
Rockwell Powerplant Monday to Saturday 9:00 AM – 6:00 PM
Cash & Carry Mall Monday to Saturday 9:30 AM – 6:30 PM
Mandaluyong
Shaw Blvd. – Cherry Foodarama Monday to Saturday 9:30 AM – 6:30 PM
SM Megamall C Monday to Sunday 9:30 AM – 6:30 PM
Mandaluyong – Light Mall Monday to Saturday 9:00 AM – 6:00 PM
SM Megamall B Monday to Sunday 10:00 AM – 7:00 PM
SM Megamall A Monday to Sunday 10:00 AM – 7:00 PM
Shangri-La Plaza Mall Monday to Sunday 10:00 AM – 7:00 PM
BDO Corporate Center Ortigas Monday to Saturday 9:00 AM – 6:00 PM
Kalentong Monday to Saturday 9:00 AM – 6:00 PM
Manila
Sta. Ana – Xentro Mall Monday to Saturday 8:30 AM – 5:30 PM
Robinson's Place Manila Monday to Saturday 9:30 AM – 6:30 PM
Tutuban Monday to Saturday 9:00 AM – 6:00 PM
Tondo – Pritil Monday to Saturday 8:00 AM – 5:00 PM
Taft – Pedro Gil Monday to Saturday 8:30 AM – 5:30 PM SM
Hypermarket Adriatico Monday to Saturday 9:00 AM – 6:00 PM
SM City San Lazaro Monday to Sunday 10:00 AM – 7:00 PM
SM City Manila Monday to Saturday 10:00 AM – 7:00 PM
San Andres Monday to Saturday 8:30 AM – 5:30 PM
Rizal Avenue Monday to Saturday 8:00 AM – 5:00 PM
Plaza Calderon – Pedro Gil Monday to Saturday 8:30 AM – 5:30 PM
Padre Faura – A. Mabini Monday to Saturday 9:00 AM – 6:00 PM
Paco – A. Linao Monday to Saturday 8:30 AM to 5:30 PM
Savemore – Nagtahan Monday to Saturday 8:30 AM – 5:30 PM
Harrison Plaza Monday to Saturday 9:00 AM – 6:00 PM
Echague Quiapo Monday to Saturday 9:00 AM – 6:00 PM
Central Market – V. Fugoso Monday to Saturday 8:30 AM – 5:30 PM
Muntinlupa
Muntinlupa – National Highway Monday to Saturday 9:00 AM – 6:00 PM
Alabang Muntinlupa Monday to Saturday 9:00 AM – 6:00 PM
Starmall – Alabang Monday to Saturday 9:00 AM – 6:00 PM
SM Center Muntinlupa Monday to Sunday 10:00 AM – 7:00 PM
Muntinlupa – Poblacion Monday to Saturday 8:30 AM – 5:30 PM
Alabang – Madrigal Avenue Monday to Saturday 9:00 AM – 6:00 PM
Parañaque
Dr. A. Santos Avenue – Puregold Evacom Monday to Saturday 9:00 AM – 6:00 PM
SM Hypermarket Sucat Monday to Saturday 10:00 AM – 7:00 PM
City of Dreams Manila Monday to Sunday 10:00 AM – 9:00 PM
Waltermart Bicutan Monday to Saturday 9:00 AM – 6:00 PM
Solaire Manila Monday to Sunday 10:00 AM – 7:00 PM
Waltermart Sucat Monday to Saturday 9:30 AM – 6:30 PM
SM City Sucat A Monday to Saturday 10:00 AM – 7:00 PM
SM City Sucat B Monday to Sunday 10:30 AM – 7:30 PM
SM City Bicutan Monday to Sunday 10:00 AM – 7:00 PM
Moonwalk Parañaque Monday to Saturday 8:30 AM – 5:30 PM
BF Homes Puregold Monday to Saturday 8:30 AM – 5:30 PM
BF Homes Aguirre Monday to Saturday 8:00 AM – 5:00 PM
Better Living Monday to Saturday 8:30 AM – 5:30 PM
SM City BF Parañaque Monday to Saturday 10:00 AM to 7:00 PM
Pasay
Conrad Hotel Monday to Saturday 9:30 AM – 6:30 PM
NAIA 1 Monday to Sunday 9:00 AM – 12:00 MN
NAIA 3 Monday to Sunday 7:00 AM – 12:00 MN
SM Mall of Asia A Monday to Sunday 9:30 AM – 7:00 PM
Resorts World Manila Monday to Sunday 10:00 AM – 7:00 PM
SM Mall of Asia B Monday to Sunday 11:00 AM – 8:00 PM
Leveriza Libertad Monday to Saturday 8:30 AM – 5:30 PM
Baclaran – Redemptorist Road Monday to Saturday 8:30 AM – 5:30 PM
Baclaran Monday to Saturday 8:00 AM – 5:00 PM
Pasig
SM City East Ortigas Monday to Sunday 10:00 AM – 7:00 PM
A. Sandoval Ave Monday to Saturday 8:30 AM – 5:30 PM
Capitol Commons Estancia Monday to Sunday 10:00 AM – 7:00 PM
Puregold San Joaquin Monday to Saturday 8:30 AM – 5:30 PM
Ortigas Avenue Ext. – St. Joseph Monday to Saturday 8:30 AM – 5:30 PM
Savemore – Amang Rodriguez Monday to Saturday 9:00 AM – 6:00 PM
Robinson's Metro East Monday to Sunday 10:00 AM – 7:00 PM
Pasig – Caruncho Monday to Saturday 8:00 AM to 5:00 PM
Pasig – Kapasigan Monday to Saturday 9:00 AM – 6:00 PM
SM Hypermarket Pasig Monday to Saturday 10:00 AM – 7:00 PM
San Juan
V-Mall Monday to Sunday 10:00A AM – 7:00 PM
Greenhills Shopping Center Monday to Sunday 8:30 AM – 5:30 PM
Blumentritt – San Juan Monday to Saturday 8:30 AM – 5:30 PM
Taguig
Vista Mall Monday to Sunday 9:00 AM – 6:00 PM
Shangri-La Bonifacio Global City Monday to Saturday 9:00 AM – 6:00 PM
SM Hypermarket FTi Monday to Saturday 9:00 AM – 6:00 PM
SM Aura Premier Monday to Sunday 10:00 AM – 7:00 PM
St. Luke's Bonifacio Global City Monday to Saturday 8:30 AM – 5:30 PM
Market! Market! Monday to Sunday 9:30 AM – 6:30 PM Burgos Circle Monday to Saturday 9:00 AM – 6:00 PM
Quezon City
Congressional Avenue – Cherry Foodarama Monday to Saturday 10:00 AM – 7:00 PM
Savemore – Project 8 Monday to Sunday 10:00 AM – 7:00 PM
Quezon Avenue – Fisher Mall Monday to Saturday 10:00 AM – 7:00 PM
Robinson's Galleria Monday to Saturday 10:00 AM – 7:00 PM
Waltermart – North EDSA Monday to Saturday 10:00 AM – 7:00 PM
St. Ignatius – Katipunan Monday to Saturday 8:30 AM – 5:30 PM SM
Cubao Monday to Sunday 9:30 AM – 6:30 PM
SM City Sta. Mesa Monday to Saturday 9:30 AM – 6:30 PM
SM City Novaliches Monday to Sunday 10:00 AM – 7:00 PM
SM City North EDSA A, B, and C Monday to Sunday 10:00 AM – 7:00 PM
SM City Fairview A, B, and C Monday to Sunday 10:00 AM – 7:00 PM
Savemore – Novaliches Monday to Saturday 8:30 AM – 5:30 PM
EDSA – New Farmer's Plaza Monday to Saturday 10:00 AM – 7:00 PM
Eastwood City – Olympic Heights Monday to Saturday 9:30 AM – 6:30 PM
Cubao – General Araneta Monday to Saturday 9:30 AM – 6:30 PM
Commonwealth Monday to Saturday 8:30 AM – 5:30 PM
Mezza Residences Aurora Monday to Saturday 8:30 AM – 5:30 PM
Aurora Blvd. – Hemady Monday to Saturday 8:30 AM – 5:30 PM
Anonas – Kamias Monday to Saturday 8:30 AM – 5:30 PM
READ ALSO: Metro Manila Banks Open On Weekends For Banking Services