Gretchen Barretto showed continued support to Nicko Falcis after the court dismissed Kris Aquino 's case against him.
Makati Prosecutor's Office dismissed the qualified theft against Nicko Falcis, filed by Kris Aquino, and Gretchen Barretto showed support for him.
Amid the controversy between Kris and Nicko, La Greta has already expressed that she is taking the side of the financial whiz.
The former actress is constant to her stand that the social media influencer was the one who erred in this issue.
However, Kris answered her through legal means, especially the issue involving former Bureau of Internal Revenue Kim Henares.
Despite that Henares disproved the claim of Gretchen Barretto, the latter is still siding with Nicko Falcis.
READ ALSO:Kris Aquino: Revelations About The World Of The "Queen"
Just recently, the Makati Prosecutor's office also sided the former business partner of Kris. The court dismissed the case against Nicko for lack of probable cause.
Obviously, Nicko is so delighted about the decision of the court and he immediately shared the good news on his Instagram account.
He shared an article from a popular showbiz site on his IG story. Then, Gretchen Barretto shared this.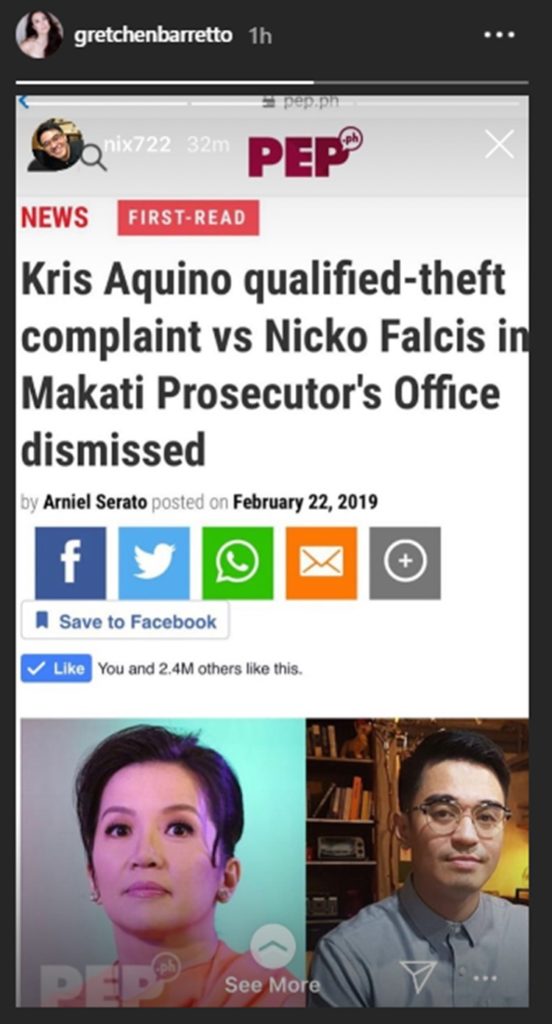 Based on PEP's report, here is the statement from Makati Prosecutor's Office:
"After a careful examination of the records of the case, this Office is inclined to dismiss the complaints as there is no sufficient evidence to engender a well-founded belief that Falcis committed the crimes charged.

"Aquino asserts that by using the KCAP card to purchase the goods and services for his personal benefit, in violation of the trust that she has given, Falcis committed the crime of qualified theft.

"The office begs to disagree.

"At the onset, it is important to note that no evidence was presented with regard to any agreement between Aquino and Falcis as regards the use of the subject credit card.

"Accordingly, the basic rules is that mere allegation is not evidence and is not equivalent to proof.

"In preliminary investigation, the complainant bears the onus of establishing, through evidence, that more likely than not a crime has been committed and the respondent is probably guilty thereof, and should be held for trial.

"The complainant cannot rely on mere conjectures and suppositions.

"If the complainant fails to substantiate her allegations, her complaint must be dismissed for lack of merit."

What can you say about this?
READ ALSO:
Kris: "Fight Shouldn't Be Done On Social Media", Netizens React
Kris Aquino 'Trip Ni Kris' Producer Calls Her "Nightmare"
comment(s) for this post "Kris Aquino's Case Against Nicko Falcis Dismissed, Gretchen Reacts". Tell us what you think abut this post by leaving your comments below.