Netizens Hits Jim Paredes Over Controversial Comment On Maria Ozawa's Post
The netizens lambasted the Filipino musician Jim Paredes over his controversial comment on Maria Ozawa's social media post.
Maria Ozawa is a Japanese actress who rose to fame after making numerous adult video making her one of the most famous celebrities not only in Asia but also in different countries all around the world.
The 32-year-old AV star is currently residing in the Philippines after deciding to quit making adult videos and start a new life in the country.
However, the Japanese star was still very popular and most people could not forget her iconic role as AV actress.
Recently, the Facebook page "Philippine Shocking History" has shared the screenshots of the Filipino singer Jim Paredes' controversial comment on Maria Ozawa's post.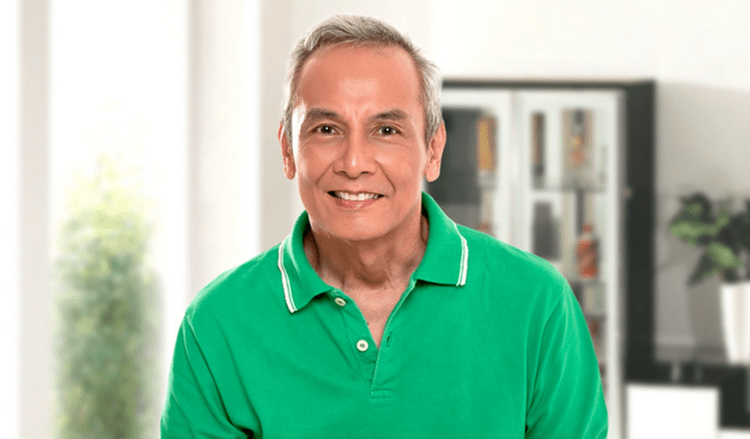 In the photos, it can be seen that the AV star posted "All ready and set for my "Agawan Festival".
Paredes asked the actress of which congressman car is in the photo. Ozawa replied that the car was one by Sir Alcala and asked the singer if he knows him.
Here is the full story:
"Akala ni Jim Paredes mga Kaalyado ni Duterte ang Kasama ni Maria Ozawa. Para gawan nya ulit ng Issue! yun pala ang Kapatid ng Magnanakaw na Taonahan dati ni Benigno Noynoy Aquino! Nasi Department of Agriculture, and Liberal Party stalwart Proceso Alcala…
While browsing Instagram, spotted Maria Ozawa post…
Noticed that Jim Paredes and I are both fans of MO.
Tapos saw Jim's comment re the SUV which served as the backdrop of MO's model pose…
Jim: "Which congressman's car is that?"
Maria: @jimparedes Sir Alcala ? do you know him?"
Jim: *cricket sound ???
Hahaha…
PS – The incumbent congressman of Quezon Province (2nd district) is Vicente Alcala, brother of controversial former Secretary of the Department of Agriculture, and Liberal Party stalwart Proceso Alcala…
Follower pala ni Ozawa si Parades, Mukang Nais din Mag Pa service ni Manong. ???
(Ctto Iyham Duenas)"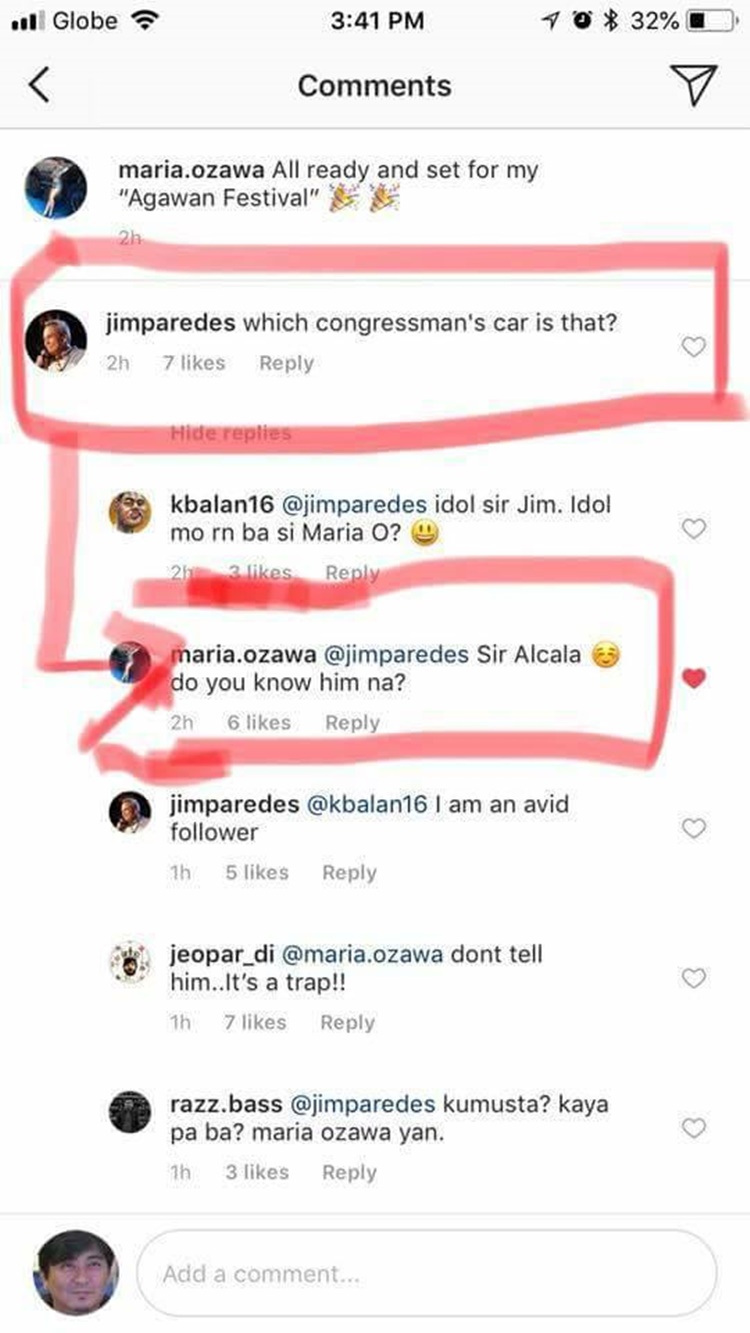 The social media users lambasted the Pinoy musician  for his comment:
Penny Operio: " Nagseselos si Jim, tagal nyang inaasam, kailangan mo muna maging Congressman ang kaso, suntok sa bwuan bago ka manlo. Hahaha!"
Mosh Gonzales: "hahaha lakas mamrotesta sa kalsada na akala mo kung sinong malinis eh di hamak din na isang DOM din yan kakahiya ka manong mas napatunayan naming mas malakas appeal ni Tatay Diging kesa sayo kawawa ka naman ikaw pa lumalapit sa babae"
Eric Roca: "Wag ka na jim paredes baka mabitin lang sayo si MO baka di mo pa kaya tapusin isang round sumuko ka na"
Jon Subong: "sorry ka na lng Jim baby… kahit ilang kilong viagra pa lunukin mo di na yang supot na tite mo tatayo, at kahit na tumayo pa man yan, parang ipinasok mo lng yang tite mo sa pinaka malaking kweba sa buoooong mundo! hahahahaha… at heto pa, sorry ka pa din, naunahan ka na ni tatang cesar! Hahahahahaha"
Yuri Kurolev: "Dirty old man pala to si Jim hehehe!"
Emeritus S. Yuson: "So namboboso si jim paredes sa mga pics ni ms.0?"
Dailisan Alex: "hokage si lolo..
gagamit yan ng ipinagbabawal na teknik.."
Nivs Huca: "JIM PAREDES ULYANIN KNA ""HND MUNA KAYA SI MARIA OZAWA BKA YAN LANG ANG IKAKAMATAY MO MABAWASAN NMN NG SUPPORTER ANG LP LALO N C FAKE VP ROBREDO AKA ASWANG OF PHILS TATAKBO P NMN NG PRSDNT SA PINAS CGE KA ULYANIN PAREDES"
What can you say about this? Just feel free to leave your comments and reactions to this article.
You can also read Tourism Secretary To Investigate Cesar Montano's P80M "Buhay Carinderia" Project