Here Is The List Of Passers For November 2017 Bar Exam Results (R-Z)
The Supreme Court (SC) was about to release the full official results of November 2017 Bar Exam few months after the last day of examinations.
The official list of passers and top 10 lawyers for the November 2017 Philippine Bar Exam will be available on this site after officially released by the Supreme Court of the Philippines.
SC has administered the 2017 Bar Exams on all Sunday of November 2017 (5, 12, 19, and 26) at the University of Santo Tomas (UST).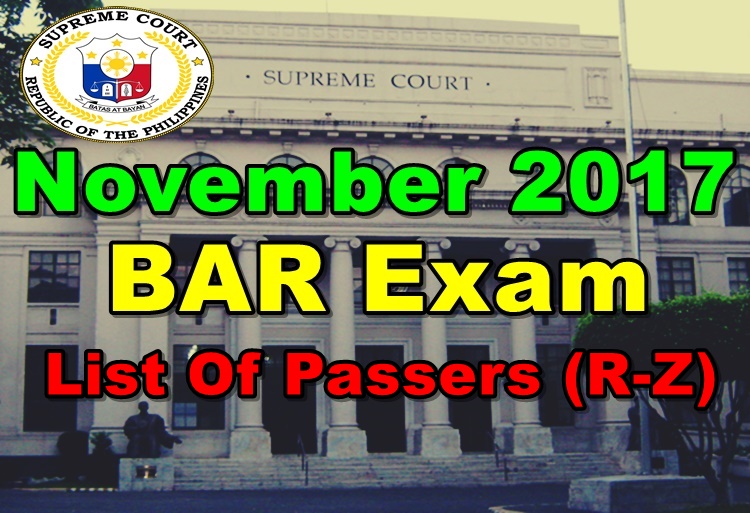 2016 Bar Chairman, Presbitero J. Velasco Jr., Associate Justice and Office of the Bar Confidant headed by Deputy Clerk and Bar Confidant Atty. Ma. Cristina B. Layusa are the members who administered the 2017 Bar Exams.
NOVEMBER 2017 BAR EXAM SUMMARY OF RESULTS:
Here is the list of passers for Bar Exams 2017 (R-Z):
1324. RABE, Angelli Antonette O.
1325. RABE, John Ramil V.
1326. RABE, Roentgen Ruel R.
1327. RACMAT, Aurora Lyn T.
1328. RAMOS, Arvy A.
1329. RAMOS, Cayetano B.
1330. RAMOS, Gabriel Justine T.
1331. RAMOS, Marvin R.
1332. RAMOS, Roman Chino A.
1333. RAMOS, Ronbert A.
1334. RAMOS, Roween Annielle C.
1335. RANGIRIS, Jomaila G.
1336. RAZA, Barry G.
1337. RAZO, Kristine L.
1338. REALIGUE, Karen C.
1339. REBUA-ARAGON, Mercy A.
1340. RECENTES, Jayneveb A.
1341. REDIANG, JR., Rex Antonio C.
1342. REDULLA, Jude R.
1343. REJANTE, Marjorie Rich C.
1344. RELADOR, Emmanuel A.
1345. RELIQUIAS, John Mark B.
1346. RELIQUIAS, Reena May V.
1347. REMOLLO, Albert, Jr. V.
1348. REMOROZA, Camille B.
1349. RENDON, Michelle Francoise C.
1350. REQUEJO, Justine Veron T.
1351. RESCAR, Sharima D.
1352. RESPALL, Edcel C.
1353. RESURRECCION, Anna Rosa-lia L.
1354. RESURRECCION, Roniel D.
1355. RETIRADO, Ma. Concepcion G.
1356. REVEREZA, Xaviera Marie V.
1357. REVITA, Rey T.
1358. REYES, Anna Mae S.
1359. REYES, Cristopher Jon DR.
1360. REYES, Franco Rommel D.
1361. REYES, Grace Adelaide O.
1362. REYES, Jareed C.
1363. REYES, Jenny C.
1364. REYES, Khervy B.
1365. REYES, Lilian B.
1366. REYES, Mark Lester A.
1367. REYES, Mikaelo Jaime C.
1368. REYES, Terryfin D.
1369. REYES, JR., Antonio T.
1370. RIN, Sheryll Ann Y.
1371. RIOS, Dudly Mark R.
1372. RIVERA, Andrea Nicole P.
1373. RIVERA, Justine Camille P.
1374. RIVERA, Moses C.
1375. ROA, JR., Michael B.
1376. ROBENTA, Ronaldo A.
1377. RODRIGUERA, Eduard Angelo Q.
1378. RODRIGUEZ, Earl Allende V.
1379. RODRIGUEZ, John Rey B.
1380. RODRIGUEZ, Maria Alyssa V.
1381. RODRIGUEZ, Maria Victoria DV.
1382. RODRIGUEZ, Mary Elizabeth Christine D.
1383. ROGEL, Angeline P.
1384. ROJALES, Sheila May C.
1385. ROLLORATA, Renz Paula E.
1386. ROMANO, Dion Lorenz L.
1387. ROMILLO, Farida D.
1388. ROMUAR, Roela C.
1389. RONDEZ, Jerryl C.
1390. RONDOLO, Tristan Joseph O.
1391. RONQUILLO, John Paulo C.
1392. ROQUE, Jenina Marie Bernadette R.
1393. ROSALES, Ge Ann Francia S.
1394. ROSALES, Jose Patrick S.
1395. ROSALES, Nalyn Rose M.
1396. ROSARIO, Anjan Wilfrid D.
1397. ROSARIO, Dyrene Mara S.
1398. ROSARIO, Keouh P.
1399. ROSARIO, Marjorie R.
1400. ROSAS, Jose Rommel, Jr. I.
1401. ROSETE, Martha M.
1402. ROSOLADA, Karl Geoffray J.
1403. ROSUELLO, Joseph Michael A.
1404. ROVERO, Zarah Mae L.
1405. ROXAS, Jonaline P.
1406. RUBIO, Marie Christelle T.
1407. RUIZ, Johanna Marie P.
1408. RUIZ, Jose Iii R.
1409. RUIZ, Maria Bianca Leanne SJ.
1410. RULLODA, Mykelle Andrew P.
1411. RUPAC, James Bryan S.
1412. SABARIAGA, Lara Patriz F.
1413. SACLAG, Sheldon K.
1414. SACUPASO, Jay Princess P.
1415. SADANG, Cristy D.
1416. SAGARINO, Giovanni Francis V.
1417. SAGAUINIT, Rex C.
1418. SAGUINIT, Kirby C.
1419. SAHIBBIL, Omar-razdawie S.
1420. SALA, Don V.
1421. SALANDANAN, Ma. Moreni D.
1422. SALAZAR, Keeshia E.
1423. SALAZAR, Madelene Ruth F.
1424. SALAZAR, Zandra U.
1425. SALEM, Dennis E.
1426. SALES-MASANGKAY, Jocelyn R.
1427. SALIENDRA, Martoni S.
1428. SALIGUMBA, Remond G.
1429. SALMANI, Shaira Alexandra G.
1430. SALOMON, Johnald Z.
1431. SALONGA, Ann Laurice V.
1432. SALTING, Lawrence Angelo V.
1433. SALVADOR, Jessie A.
1434. SAMIO, Christine Derrika P.
1435. SAN JOSE, Aileen Mae R.
1436. SAN JUAN, Marjorie A.
1437. SAN JUAN, Nicole Beatrice R.
1438. SAN JUAN, Ronald Ray K.
1439. SANA, Marco Carlo S.
1440. SANCHEZ, Joanna S.
1441. SANCHEZ, Wryl C.
1442. SANCHEZ-PATES, Lilibeth A.
1443. SANDOVAL, Leazel N.
1444. SANGLITAN, Rahma D.
1445. SANORIA, Irene P.
1446. SANTIAGO, Arnold C.
1447. SANTIAGO, John Cyril E.
1448. SANTIAGO, Michael Arthur DJ.
1449. SANTIAGO, Reamil C.
1450. SANTOS, Adrian B.
1451. SANTOS, Aleizel L.
1452. SANTOS, Ana Riza N.
1453. SANTOS, Dennis Y.
1454. SANTOS, Frances Alyssa U.
1455. SANTOS, Howard Rei B.
1456. SANTOS, Immah Concepcion R.
1457. SANTOS, Jewelle Ann Lou P.
1458. SANTOS, Jose Maria B.
1459. SANTOS, Reeneth B.
1460. SANTOS, Rei-anne B.
1461. SAORNIDO, III, Ferdinand A.
1462. SAPNU, Camille Anne C.
1463. SARANDI, Glaiza S.
1464. SARCAOGA, Ronald L.
1465. SARCILLA, Johanne R.
1466. SARINO, Gerard P.
1467. SARIP, Sittie Hadiyah D.
1468. SARMIENTO, Madelyn D.
1469. SARMIENTO, Monica M.
1470. SARNO, Hazel Yvette M.
1471. SAVELLANO, Jillene C.
1472. SAYNO, Hyvimarly Chrisa B.
1473. SECOLLES, Cezar Elvin A.
1474. SELGAS, Miles F.
1475. SEMBRANO, Hyugi Nicolae C.
1476. SENDAYDIEGO, Primer S.
1477. SENGSON, Bernadine Joy E.
1478. SERNA, Marvilie M.
1479. SERNAL, Leah Marie M.
1480. SERRANO, Ingrid Margaret M.
1481. SERRANO, Yvette P.
1482. SERVACIO, Rheland S.
1483. SEVILLA, Ann Shammae M.
1484. SEVILLA, Flois Diplomat P.
1485. SEVILLA, Miguel R.
1486. SEÑA, Luis Alfonso S.
1487. SIANG, Rejyl B.
1488. SIBI, Summer C.
1489. SIERRA, Donnabelle B.
1490. SIGA-AN, Richard C.
1491. SILVA, James John M.
1492. SILVANO, Ma. Berna Joyce M.
1493. SILVOSA, Lex Joshua Andrew U.
1494. SIMANGAN, Emalyn V.
1495. SIMBRE, Marhen Jason P.
1496. SIMBULAN, Angelique Pearl P.
1497. SIMONDO, Mark John H.
1498. SIMYUNN-NORIEL, Ethel A.
1499. SINGSON, Karlo Becher G.
1500. SINGSON, Zsarynha Gay E.
1501. SIOSON, Minette L.
1502. SIRIBAN, Jonanette E.
1503. SITOY, Rounald A.
1504. SIVA, Isabel Pia Rose E.
1505. SO HIONG, Don A.
1506. SOCO, Michaela Marie I.
1507. SOKOKEN, Desiree N.
1508. SOLAIMAN, Norwidad R.
1509. SOLANO, Datu Morro L.
1510. SOLINAP, Joyce Ann May C.
1511. SOLIS, Andre O.
1512. SOLIVEN, Marla A.
1513. SOLLANO, Jose Gabriel Antonio T.
1514. SOLLER, Miguel Sebastian C.
1515. SOLON, Rodelio V.
1516. SORIANO, Reuben Bernard M.
1517. SORIANO, JR., Joseph A.
1518. SORIAO, Laurence P.
1519. SORONGON, Howell G.
1520. SOSA, Gerald Vincent A.
1521. SOTELO-GESELL, Erby Jennifer D.
1522. SUAL, Jecar G.
1523. SUAN, Angelo Andro M.
1524. SUAREZ-LAVILLA, Slynn R.
1525. SUEDAD, Mary Charlen Joy P.
1526. SUELAN, Leo S.
1527. SULIT, Leor Jyle C.
1528. SUMAGANG, Rey L.
1529. SUMAIL, Glover Rais B.
1530. SUMAMPONG, Antonette Janvy B.
1531. SUMAYLO-IMPERIAL, Katherine Joy S.
1532. SUMILONG, Paolo Miguel Francisco A.
1533. SUSON, Glory Joy S.
1534. SUSTIGUER, Joeffrey C.
1535. SUYAT, Dexter John C.
1536. SY, Luis Jude Rey B.
1537. SY, Ma. Frances Aira G.
1538. SY, Martin Franz S.
1539. SY, Rose Anne O.
1540. TABBU, Josephine V.
1541. TABERDO, Brenda B.
1542. TABILOG, Lex D.
1543. TABINGO, Amalia V.
1544. TACIO, Zafhrulah C.
1545. TACORDA, Paul Anthony A.
1546. TACTAY, Allen Joy A.
1547. TAGAMA, Russell Jay S.
1548. TAGUIAM, Julie May C.
1549. TALAMAYAN, Georgiavi Irah F.
1550. TALEON, Dexter P.
1551. TAM, Ann Loraine L.
1552. TAMAYO, Jai Jagannath S.
1553. TAMONDONG, Karlo Paulo DG.
1554. TAMONDONG, Maria Crisselda N.
1555. TAMPADONG, Stephen Jay M.
1556. TAMPI, Bea Agnes M.
1557. TAN, Aaron Jacob G.
1558. TAN, Benjamin Jeptha L.
1559. TAN, Christian Lemuel T.
1560. TAN, Dandolph M.
1561. TAN, Fatima Angeli R.
1562. TAN, Katrina Z.
1563. TAN, Mica Joanna G.
1564. TAN, Michelle Aimee Lyn O.
1565. TAN, Patrice Wendell A.
1566. TAN, Percival Nicholas C.
1567. TAN, Samantha Maxine M.
1568. TAN, Sharie Lulu C.
1569. TAN, Toni Faye J.
1570. TAN-CRUZ, Joan S.
1571. TANA, Krishna Aira A.
1572. TANAEL, Ezekiel V.
1573. TANALGO, Regina DC.
1574. TANGIAN, Kim Carlo F.
1575. TANTOCO, JR., Michael John A.
1576. TAPUYAO, Brooke Lou T.
1577. TARRAYA, Joseph Daniel S.
1578. TARROZA, Joanna Rose R.
1579. TATEL, Ma. Erma T.
1580. TAUTHO, Kay Frin Chez C.
1581. TAYA-AN, Dawn Novera E.
1582. TEJANA, Ritchie Z.
1583. TEJANO, Juan Carlo P.
1584. TEJERO, Faizah Gladys Mae K.
1585. TEJUCO, Felice May A.
1586. TELLO, Karen B.
1587. TEODORO, Bernadette P.
1588. TEODORO, Mark Anthony L.
1589. TEPACE, Maria Charmaine L.
1590. TIANNOK, Shaleem M.
1591. TIBON, Stanley Sam P.
1592. TIBURCIO, Jon Eric B.
1593. TIDOSO, Philip James C.
1594. TIGLAO, Janice C.
1595. TION, Mark Anthony N.
1596. TIONGCO, III, Santiago A.
1597. TIRTHDAS, Samantha Ann T.
1598. TIU, Clarence Marc H.
1599. TOBES, Adah Gwynne P.
1600. TOLEDO, Mary Helen Anne
1601. TOLEDO, Riza Ann T.
1602. TOLENTINO, Angela Margeaux E.
1603. TOLENTINO, Nikkolas Lorenzo Domingo G.
1604. TOMAS, Amourfina M.
1605. TOMOL, Terence Vanessa P.
1606. TORCUATOR, Julian Elizar D.
1607. TOREJA, Joana Patriz C.
1608. TORITA, Mar D.
1609. TORRALBA, Joseph Christopher T.
1610. TORRALBA, Klinton M.
1611. TORREJOS, Roche O.
1612. TORRENTIRA, Emily Rose B.
1613. TORRES, Allison S.
1614. TORRES, Paul S.
1615. TORRES, Ruby Anna L.
1616. TRAYVILLA, Mark Anthony P.
1617. TREPTOR, Ronic Albert D.
1618. TRINIDAD, Glinda B.
1619. TRINIDAD, Paolo Antoniou D.
1620. TRISTEZA, Angeli S.
1621. TUAZON, Oliver M.
1622. TULAGAN, Glamour John L.
1623. TUMULAK, Karla Marie T.
1624. TUTAAN, Lady Ann D.
1625. TUVIDA, Maervic T.
1626. UGSOD, Lariza Aidie R.
1627. UNCIANO, Jenny Flor C.
1628. URBANO-BALMEO, Mauryne Fe N.
1629. USITA, Leonardo B.
1630. USITA, Zoj Daphne A.
1631. USOP, Ablah M.
1632. UY, Gabriel Paulo R.
1633. UY, Jay Albert M.
1634. UY, Joefrey S.
1635. VALAQUIO, Jan Reuell S.
1636. VALDEZ, Anna Danessa H.
1637. VALDEZ, Basill Owen D.
1638. VALDEZ, Daniel A.
1639. VALE CRUZ, Michelle A.
1640. VALENCIA, Iris Ann R.
1641. VALERO, Oscar E.
1642. VALES, Philip Conrad D.
1643. VALIENTE, Micah Abijah B.
1644. VALINO, Shiela O.
1645. VALLARTA, Marvin M.
1646. VALLE, Joanna Charis E.
1647. VALLENA, Padim G.
1648. VALONES, Genald M.
1649. VANGUARDIA, Angelo M.
1650. VARONA, Granney R.
1651. VEHEMENTE, Joseph Harvey M.
1652. VEJERANO, Jemmie Rose E.
1653. VELASCO, Mary Ann Margaret F.
1654. VELASCO, Milagros Isabel L.
1655. VELASQUEZ, Jonn Irvin M.
1656. VERANO, Marbien L.
1657. VERGARA, Diomdelia B.
1658. VERGARA, Ivann James Z.
1659. VERIDIANO, III, Michael Noel R.
1660. VETUS, Lilibeth Grace L.
1661. VIERNES, Jufferson D.
1662. VILARAY, Mary Jane L.
1663. VILLABEZA, Gennethe Anne R.
1664. VILLAFUERTE, Angela Charmeon C.
1665. VILLAGANAS, Nilgie C.
1666. VILLAGONZALO, Ronan Y.
1667. VILLAMIL, Carl Ron F.
1668. VILLAMOR, Frances Kara G.
1669. VILLANOZA, Annabelle P.
1670. VILLANUEVA, Apollo A.
1671. VILLANUEVA, John Michael S.
1672. VILLANUEVA, Jomar Sean H.
1673. VILLANUEVA, Ma. Fatimah V.
1674. VILLANUEVA, Rea Theresa G.
1675. VILLANUEVA, Rigel A.
1676. VILLAR, Mary Grace L.
1677. VILLARAIZ, Kirby A.
1678. VILLARAMA, Bianca Danica S.
1679. VILLAREAL, Sem Precioso A.
1680. VILLARMEA, Mithi E.
1681. VILLARTA, Reychelle Anne B.
1682. VILLARUEL, Andres Mikhail T.
1683. VILLARUEL, Joriel Marie R.
1684. VILLASIS, James Gregory A.
1685. VILLEGAS, Rey L.
1686. VILLEGAS, Sherluck Jun C.
1687. VILLOCIDO, Marie Ronaldine G.
1688. VINLUAN, Pretz Vernice A.
1689. VIOLA, Kyle Omar T.
1690. VISITACION, Francis Jovilou E.
1691. VITO, Jeanette O.
1692. VIVAS, Adrian N.
1693. VIZCARRA, William B.
1694. VIÑAS, Ishmael Z.
1695. WACAS, Welhelm Sefri M.
1696. WU, Sandia O.
1697. YANG, Dan Patrick L.
1698. YANGA, Daryl R.
1699. YANSON, Wendel P.
1700. YAP, Anthony L.
1701. YAP, Francis George S.
1702. YAP, Jessica Agnes L.
1703. YAP, Monica Anne T.
1704. YAP DUQUE, Antoinette Valerie Y.
1705. YAPHOCKUN, Frances Noelle C.
1706. YASIN, Sainoden D.
1707. YASIN, JR., Nasib D.
1708. YBIERNAS, Glyzelle Dianne DJ.
1709. YEE, Kimberly A.
1710. YERRO, IV, Teodolfo Martin S.
1711. YETYET, Wendell Ryan I.
1712. YLAGAN, Roent Lloyd M.
1713. YOGUE, Akira Marie R.
1714. YU, Cheyenne Amayma P.
1715. YU, Frances Ivy D.
1716. YUSI, Eugene Q.
1717. YUSOPH, Nur-elias P.
1718. YUSUP, Jhenilyn N.
1719. ZAMORA, Ivan Darwin G.
1720. ZAMORA, Rosarie Z.
1721. ZAPANTA, Jezreel E.
1722. ZAYAS, Gesah Angelyn I.
1723. ZORILLA, Jam Michelle O.
1724. ZOSA, Eleanor Joan S.
Exam Coverage:
Political Law and Public International Law;
Labor and Social Legislation;
Civil Law;
Taxation;
Mercantile Law;
Criminal Law;
Remedial Law; and
Legal and Judicial Ethics
Release Date:
The result of the examinations was expected to be released by the Supreme Court before the end of this month. However, the result might be released earlier or later than the target date.
comment(s) for this post "November 2017 Bar Exam Results List Of Passers (R-Z)". Tell us what you think abut this post by leaving your comments below.