Here Is The List Of Passers For November 2017 Bar Exam Results (I-Q)
The Supreme Court (SC) was about to release the full official results of November 2017 Bar Exam few months after the last day of examinations.
The official list of passers and top 10 lawyers for the November 2017 Philippine Bar Exam will be available on this site after officially released by the Supreme Court of the Philippines.
SC has administered the 2017 Bar Exams on all Sunday of November 2017 (5, 12, 19, and 26) at the University of Santo Tomas (UST).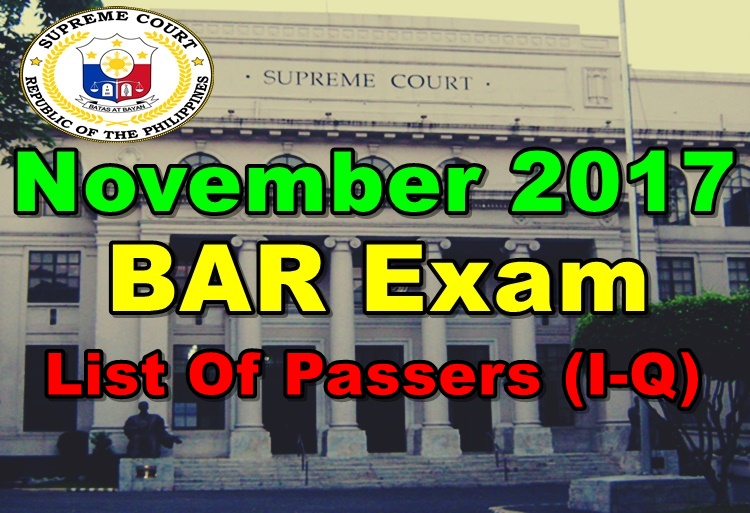 2016 Bar Chairman, Presbitero J. Velasco Jr., Associate Justice and Office of the Bar Confidant headed by Deputy Clerk and Bar Confidant Atty. Ma. Cristina B. Layusa are the members who administered the 2017 Bar Exams.
NOVEMBER 2017 BAR EXAM SUMMARY OF RESULTS:
Here is the list of passers for Bar Exams 2017 (I-Q):
820. IBAÑEZ, Merissa M.
821. IBUNA, Ma. Rossellina Angeline S.
822. ICO, Desiree M.
823. IFURUNG, Ralph Jerohm K.
824. IGNACIO, Lotus C.
825. IGNACIO, Regine Noelle B.
826. IMPERIAL, Christine L.
827. IMPERIO, Ryan V.
828. INGUSAN, Donna DR.
829. INOJALES, Roly A.
830. INOPIA, Jhanelyn V.
831. INOPIQUEZ, Henry L.
832. ISIP, Marifelle L.
833. ISORENA, Manuel Luis C.
834. ITARALDE, Mark Dean DR.
835. JACALNE, Sajid N.
836. JACO, Jordana Mari
837. JADULCO, Kriezl N.
838. JAECTIN, Ronelyn D.
839. JAEN, Bea Marie I.
840. JALA, Christine I.
841. JALASCO, Jenaira Mae A.
842. JALGALADO, May Dan S.
843. JAMBALOS, Nancy L.
844. JAMBANGAN, Adam Dandro C.
845. JAMERLAN, Janet B.
846. JANOLINO, Rez Rein P.
847. JAO, Deane Denesy F.
848. JAUCIAN, Jommel P.
849. JAVELLANA, Maria Yolanda A.
850. JAVIER, Al Joseph T.
851. JAVIER, Kristine C.
852. JIMENEZ, Jerico M.
853. JIMENEZ, Maria Leonor E.
854. JOAQUIN, Mark Ryan C.
855. JORDA, Erwin S.
856. JORES, Ma. Jherie Joie S.
857. JOSE, Giselle C.
858. JOSE, Juan Alfonso Augustus I.
859. JOSOL, Maccabeo C.
860. JUAN, Ma. Barbara Raizza J.
861. JUANICO, Lyan David M.
862. JUEZAN, Monica Katherine S.
863. JUGAN, Gee-ann L.
864. JULIANO, Jefferlyn D.
865. JUMAWAN, Charmaine Galle C.
866. JUNAID, Yasmeen L.
867. JUNCO, Marianne P.
868. JUNTILLA, Janssen A.
869. JURADO, Ace Randolph V.
870. JURILLA, Mark C.
871. JUSON, Ava Cristina A.
872. JUSTIMBASTE, Aubrey E.
873. JUYO, Ciena Mae S.
874. KADATUAN, JR., Kitem D.
875. KALINGKING, Nicole Gabrielle V.
876. KANAPI, Jose Benjamin Q.
877. KAPUNAN, Maria Karina D.
878. KHO, Marion Nerisse D.
879. KIMMAYONG-POLITCHAY, Glynese M.
880. KING, Samantha Beatrice P.
881. LABAUPA, Vennies A.
882. LABIAGA, Janzeri
883. LABILLES, Jett D.
884. LACAMBRA, Lou Corina A.
885. LACASANDILE, Regine Anne B.
886. LACDO-O, Justin Fernan G.
887. LACUATA, JR., Daniel B.
888. LACUESTA, Patricia Faith R.
889. LADRIDO, Patrick Daniel O.
890. LAGGUI, Patricia Anne G.
891. LAGOD, Joseph B.
892. LAGUDA, Allyn Mae L.
893. LAGUESMA, Abrillius Raffy C.
894. LAGUNA, Joseph D.
895. LAHER, Abner V.
896. LALUNA, Christian J.
897. LALWET, Mayline Y.
898. LAMADRID, Francel L.
899. LAMPA, Karenina Isabel A.
900. LAMPA, Maria Theresa M.
901. LANSANGAN, Joanne P.
902. LANTAJO, Justine Joy T.
903. LAO, Richard Von U.
904. LAPINIG, Julie Rose R.
905. LARA, Peter Emmanuel C.
906. LARA, Sheila Marie Rose G.
907. LARGO, Giancarlo O.
908. LARIDA, Elcah Myrrh A.
909. LARO, John M.
910. LASCOÑA, Rogelio, Jr. C.
911. LAT, Kayelyn Mae B.
912. LAURENTE, Georg Joni M.
913. LAURIO, Michael Angelo B.
914. LAXAMANA, Ana Minelle Q.
915. LAZAGA, Vizmarf V.
916. LAZARO, JR., Joe Abad S.
917. LEAL, Christine Dorothy F.
918. LEDESMA, Robin Patrick P.
919. LEE, Monique Annabelle R.
920. LEGASPI, Ray Anselmo M.
921. LENTEJAS, Jam M.
922. LENTORIO, JR., Edgar P.
923. LEONGSON, JR., Menandro P.
924. LERIN, Lorenz Martin M.
925. LEVERIZA, Jon Exekiel N.
926. LEYNES, Angelle Marie Y.
927. LEYSON, Judith P.
928. LI, Celia Marie Kimberly O.
929. LIGAN, Mc Alaine G.
930. LIGARAY, Razilee Rae J.
931. LIGCUBAN, Katherine Christy R.
932. LIGWANG, Delva Rose M.
933. LILAGAN, Llorente V.
934. LIM, Arjay C.
935. LIM, Blanche Ghia L.
936. LIM, Carie Emerald P.
937. LIM, John Jeric S.
938. LIM, Juan Lorenzo M.
939. LIM, Leomard Silver Joseph C.
940. LIM, Marie Felise Dominique V.
941. LIM, Mary Aubbrey Leigh B.
942. LIM, Phimie Glainne G.
943. LIM, Prex Nathan P.
944. LIM, Simmonette S.
945. LIM, Yvette Margaret K.
946. LIM-GAMBAN, Carolina G.
947. LIMOSINERO, Daley Rose A.
948. LIMPOT, Kent Joseph B.
949. LINAG, Christian Paul A.
950. LINDAO-MAO, Normilah D.
951. LIPAT, Mar Al Kriston D.
952. LIPAT, Maree Aiko Dawn D.
953. LIU, Jacqueline Rachel G.
954. LIZADA, Raphael Jose N.
955. LLANDA, Jeremy Q.
956. LLEGO, Arvin C.
957. LLORAD, Cherry P.
958. LLOREN, Michael C.
959. LLORICO, Raiza Khey L.
960. LLUZ, Ven John J.
961. LO, Jade Roxanne R.
962. LOBATON, Maryanne Ester H.
963. LOFRANCO, Kim Nyca R.
964. LOGRAMONTE, Bena Sofia A.
965. LOGRONIO, Angelo J.
966. LOKINES, Rashid B.
967. LONJAWON, Carol C.
968. LOPEZ, Angelo Miguel C.
969. LORA, Ann Lucille Grace L.
970. LORA, Kristian Jacob A.
971. LOREDO, Justin B.
972. LORETO, Sharlene Paula D.
973. LORILLA, Ralph Michael V.
974. LUA, Maria Carmela Cyril E.
975. LUCENA, Marvin E.
976. LUCERO, Consuelo Maria G.
977. LUCERO, Dyan Marie A.
978. LUI, Bernadine B.
979. LUKBAN, Mariano C.
980. LUMABAN, Allyssa Anne C.
981. LUMBRES, Jocelyn P.
982. LUMILIS, Katherine Grace C.
983. LUNA, Carmela J.
984. LURICA, Ivy B.
985. LUZADIO, Loury Mae M.
986. LUZON, Janno Louie Ceasar A.
987. MAAMBONG-SINGH, Urane Leslie F.
988. MAAT, Marco C.
989. MACALIPOT, Jasmine M.
990. MACAPINTAL, Hanna Nazria S.
991. MACAPOBRE, Andrew T.
992. MACARAYA, Sittie Rohaida P.
993. MACARIMPAS, Raihanah Sarah T.
994. MACARIO, Lovely Melchita C.
995. MACAROY, Katherine G.
996. MADALANG, Mark, Jr. A.
997. MADAMBA, Ayah Cristina C.
998. MADAMBA, Eloisa Katrina V.
999. MADAMBA, Maria Bernadine H.
1000. MADARCOS, Fernando G.
1001. MADERAZO, Cristine Mysel T.
1002. MADRIAGA, Joseph N.
1003. MAGALIT, Gem Karen B.
1004. MAGALONGA-TAN, Shella Mae O.
1005. MAGARRO, Julia Therese T.
1006. MAGAS, Mark Emann B.
1007. MAGBANUA, June Alinne G.
1008. MAGBANUA, Pearl Ashleigh P.
1009. MAGBITANG, Rommella V.
1010. MAGCULANG, JR., Menandro K.
1011. MAGDALAGA, JR., Romeo G.
1012. MAGLAJOS, Lucille C.
1013. MAGLEO, Rhea Ann V.
1014. MAGSOMBOL, Lean Jeff M.
1015. MAHILUM, Marielle C.
1016. MAHINAY, Gilda S.
1017. MAHINAY, Kristina May C.
1018. MALABANAN, Mary Anne P.
1019. MALAZA, Ma. Jhovelle M.
1020. MALDOS, Ginalyn T.
1021. MALIFER, Raul Anton U.
1022. MALINAO, John Vincent B.
1023. MALINAY, Mae Vernadel M.
1024. MALIT, Ryan Anthony S.
1025. MALLARI, Aihruz Lynell A.
1026. MALLILLIN, Princess Kae P.
1027. MALON, JR., Salip Yang A.
1028. MALONZO, Anna Margarita P.
1029. MAMAUAG, III, Romeo T.
1030. MAMBUAY, Ayesha Aminah A.
1031. MANACOP, Stephanie Q.
1032. MANAIG, Jomel N.
1033. MANALO, Gerard Nelson C.
1034. MANALO, Normandale O.
1035. MANATO, Marydale C.
1036. MANDANGAN, Maisah M.
1037. MANGADANG, Nassief L.
1038. MANGAGOM, Joy Claire B.
1039. MANGASER, Roslyn Bianca R.
1040. MANGUBAT, Brim D.
1041. MANINGDING, Japheth B.
1042. MANIQUIS, Alkaid M.
1043. MANIQUIS, Jann Paolo P.
1044. MANLANGIT, Mark Deo B.
1045. MANTIKAYAN, Hamida U.
1046. MANZANES, Rigel Kent P.
1047. MAPE, Harold S.
1048. MAPUE, Bernadette A.
1049. MAPUTOL, Alfredo Miguel D.
1050. MARANAN, Christopher Ryan R.
1051. MARASIGAN, Ronna D.
1052. MARATA, Marcelino S.
1053. MARAÑO, Rebbekah Grace G.
1054. MARAÑON, Robert Ian G.
1055. MARBELLA, Jose Paolo B.
1056. MARCAIDA, Ida Marie S.
1057. MARCELO, Cornelio C.
1058. MARCELO, Natasha Daphne S.
1059. MARCELO, Pamela Marie T.
1060. MARCO, Jeperson F.
1061. MARCOS, Angeriza V.
1062. MARI, Ruel Nico R.
1063. MARIACOS, Algie Kwillon B.
1064. MARIANO, Diana Grace J.
1065. MARIANO, Elwell B.
1066. MARIANO-SOMBILON, Maeshach F.
1067. MARIFOSQUE, Anna Mariela O.
1068. MARQUEZ, Kevin Buen L.
1069. MARQUEZ, Ruby Jean B.
1070. MARTIN, Emer B.
1071. MARTINEZ, Jose Audie Rustum R.
1072. MARTINEZ, Kaye C.
1073. MARTIREZ, Alma Alexandra L.
1074. MASORONG, Rainneheart M.
1075. MATALANG, Angeline Trinity Y.
1076. MATENCIO, Areanne G.
1077. MATEO, Raemond Edward A.
1078. MATIAS, Joseph Edward L.
1079. MATIAS, Ma. Lourdes C.
1080. MATIENZO, Dowie Mae M.
1081. MATTA, Camille Jan G.
1082. MAURILLO, Monique Therese P.
1083. MAUYAG, Ayesha Ryka P.
1084. MAYOR, Aicel Joy J.
1085. MAYOR, Kerwin Rey B.
1086. MEDEL, Hyacinth Rose P.
1087. MEDINA, Anna Katrina P.
1088. MEDINA, Fatima Marie B.
1089. MEDINA, Joselito Edgar E.
1090. MEDITAR, Nasiff Brian O.
1091. MEDRANO, Thirdee L.
1092. MEJIA, Aiko M.
1093. MEJIA, Karel S.
1094. MEJOS, Mera Grace A.
1095. MELGAR, Marjorie N.
1096. MENDIGUARIN, Nadia Christine L.
1097. MENDOZA, Alwyn Faye B.
1098. MENDOZA, Elaine S.
1099. MENDOZA, Ella Mae C.
1100. MENDOZA, Jason Rainer M.
1101. MENDOZA, John Martin M.
1102. MENDOZA, Nordeliza B.
1103. MENESES, Lana O.
1104. MENGULLO, Gil D.
1105. MERCADO, Charmee Anne C.
1106. MERCADO, Ivy Carmela R.
1107. MERCADO, Marc Anthony B.
1108. MERINO, Rose Antonette M.
1109. MERISCO, Noevir M.
1110. MESINA, Julie Ann Joy N.
1111. MICABALO, Jaysie T.
1112. MIER, Richard P.
1113. MIJARES, Manelee P.
1114. MILLAN, Mikhail Laurence C.
1115. MILLARES, Rosette Gail G.
1116. MINOG, Mylannie P.
1117. MIQUE-SUNIEGA, Gladys Anne V.
1118. MIRAFLOR, Johanaflor P.
1119. MIRALLES, Meg Anthony M.
1120. MIRANDA, Wayne Leigh G.
1121. MISLANG, Corina P.
1122. MOJICA, Kirst Deon R.
1123. MOKAMAD, Marvin D.
1124. MOLATE, Elijah A.
1125. MOLATO, Christopher Joselle C.
1126. MOLEJON, Jayson T.
1127. MOLINA, Maritoni B.
1128. MOLLANEDA, Virginette May P.
1129. MOLON, Mariel Jasmine M.
1130. MONDAY, Ruby L.
1131. MONTECIR, Princess O.
1132. MONTECLAR, Daryl Andrew C.
1133. MONTEMAYOR, Janella G.
1134. MONTERO, Kurt Chino A.
1135. MONTERON, Karen Abegail S.
1136. MONTILLA, Lester D.
1137. MOOC, Mark Justin P.
1138. MORA, Jemannoel A.
1139. MORAL, Eunice M.
1140. MORALES, David Gil A.
1141. MORANO, Ronel Andrew R.
1142. MORENO, III, Rufino Gerard G.
1143. MORENTE, James Noel V.
1144. MORTELL, Khriska Viktoria M.
1145. MORTOLA, Angelica C.
1146. MOSCARDON, Geno M.
1147. MOSCARE, Frances O.
1148. MOSTAJO, Renney Kirsty P.
1149. MUEGA, Criselda D.
1150. MURALLA, Clariza Anne A.
1151. MURCIA, Erika Joy B.
1152. MUSA, Ahmad Taib U.
1153. MUÑEZ, JR., Renato T.
1154. NACIONAL, Katherine E.
1155. NAGERA, Kris Rajani V.
1156. NALUS, Margarita Concepcion A.
1157. NAMBATAC, Joefel Andrea A.
1158. NAMBATAC, Reycarte M.
1159. NAPA-EG, Milagros P.
1160. NAPALIT, Charmi Jobelle R.
1161. NAPUTO, Francis Gideon G.
1162. NARCIDA, Ruther Marc P.
1163. NATIVIDAD, Chester D.
1164. NAVAL, Ernesto, Iii C.
1165. NAVALES, Alija Auxan M.
1166. NAVARRETE, Ma. Criselda C.
1167. NAVARRO, Camille S.
1168. NAVARRO, Colleen Fretzie L.
1169. NAVARRO, Ivy Joy A.
1170. NAVARRO, Marico Gabrielle B.
1171. NAYRE-SANTIAGO, Kimberly C.
1172. NERI, Trixie Jane E.
1173. NG, Audrey Nicole Y.
1174. NIGRO, Marco P.
1175. NIMO, Hilmarie V.
1176. NIOG, Rejee Mae C.
1177. NOGOY, Ismael S.
1178. NUDALO, Goldie Myrrh M.
1179. NUESTRO, Reinerr John A.
1180. OAMINAL, JR., Henry F.
1181. OASAN, Wendell Leigh M.
1182. OBNIMAGA, JR., Rey P.
1183. OBTIAL, Derly G.
1184. OCAMPO, Jenee Monique R.
1185. OCAT, Mylene M.
1186. ODIO, Ryan J.
1187. ODUCADO, Ruzzel Diane I.
1188. OJA, Maria Ludica B.
1189. OJANO-SABADO, Jennylyn R.
1190. OLIVA-BARCARSE, Maria Carisa C.
1191. OLIVEROS-SAMPANG, Anna May P.
1192. OLIVES, Lanz Aidan L.
1193. OMEGA, Riza Mae G.
1194. OMELAN-ARGUELLES, Melody May
1195. OMETER, Alex A.
1196. ONG, April Joy G.
1197. ONG, Carlwin Thomson U.
1198. ONG, Ceferino Miguel Y.
1199. ONG, Erika Denice G.
1200. ONGHANSENG, Donald Jefferson S.
1201. ONGKEKO, Antonio Rafael, Jr. B.
1202. ONTANGCO, Jeffrey L.
1203. OPLE, Hilary May G.
1204. OPONE, Warren Niño U.
1205. ORACION, Connie Jane D.
1206. ORAP, Melchor J.
1207. ORDOYO, Justin Adriel E.
1208. ORGASAN, Ledebee Lee T.
1209. ORJALO, Klarence D.
1210. ORTEGA, Karla Katrina S.
1211. ORTIZ, Arvin Antonio V.
1212. ORTIZ, Patricia I.
1213. OSIDA, Lorenzo Miguel A.
1214. OSORIO, Maranatha Joy SP.
1215. OTERO, Rufino Luis B.
1216. PABILONA, Jocet Consisa R.
1217. PABIONA, Lazaro Kevin G.
1218. PABUAYA, Cristie Pearl O.
1219. PACAMARRA, John Eric Floyd C.
1220. PACIENCIA, Christine L.
1221. PACIENCIA, Lizette Nimfa C.
1222. PACLIBAR, Sarah Phoebe L.
1223. PADAGDAG, Gail Glenn E.
1224. PADAPAT, Mary Grace H.
1225. PADAYAO, Rei Mari Jule M.
1226. PADER, Jessica Resurrecion L.
1227. PADILLA-DELA PEÑA, Janice C.
1228. PADUA, Kristine Joyce D.
1229. PAGALILAUAN, Bianca G.
1230. PAGAPONG, Jeson D.
1231. PAGDANGANAN, Raychelle A.
1232. PAGSANJAN, Donita Rose T.
1233. PAGUIO, Patricia Czarina M.
1234. PAJO, Ahda B.
1235. PALACOL, Jamie Rose M.
1236. PALADO, JR., Emmanuel A.
1237. PALAGHICON, JR., Andres E.
1238. PALARCA, Coryell Teodoro C.
1239. PALCE, Jamaica Ida C.
1240. PALER, Aiko Eleni N.
1241. PALER, Jezzene Gail R.
1242. PALGAN, Danilo D.
1243. PALIGAN, JR., Francis Allen T.
1244. PALMA, Jon Arley R.
1245. PALMA, Roman Mayo G.
1246. PALMERA, Raymund Xenon C.
1247. PALOMINO, Rheand Cornell M.
1248. PANDI, Rashid V.
1249. PANGANDAMAN- PAPORO, Norhanna A.
1250. PANGANIBAN, Miko Jim Paulo V.
1251. PAQUIBOT, Adelaida G.
1252. PAQUIDAO, Sheryl E.
1253. PARAAN, Brian Jonathan T.
1254. PARADO, Joan Ayr O.
1255. PARADO, Shenna Jane T.
1256. PARAGAS, Lean M.
1257. PARALEJAS, Claire Anne F.
1258. PARREÑO, Antony J.
1259. PARRONE, Justine Bette M.
1260. PARUNGO, Mara Alexandra V.
1261. PASCO, Lewellyn Judah C.
1262. PASCUA, Ma Claire L.
1263. PASCUA, Melanie Christine S.
1264. PASCUAL, Angela Marie A.
1265. PASCUAL, Clefford E.
1266. PASCUAL, Madonna Immaculada Concepcion M.
1267. PASTOR, Michael Evans C.
1268. PAUDAC, Mohammad Fayez D.
1269. PAULINO-DAYO, Junevieve M.
1270. PAÑGAN, Romano B.
1271. PEDREALBA, Cara Krystle B.
1272. PEDRO, Eugene Carmelo C.
1273. PELAYO, Kristian Ryan A.
1274. PELITO, Lois Philippe M.
1275. PENALES, Rhea M.
1276. PENULLAR, Ellen Grace A.
1277. PEQUE, Kimberly Grace R.
1278. PERALTA-BORLAS, Pinky Q.
1279. PEREZ, Erinn Mariel C.
1280. PEREZ, Princess Caressa V.
1281. PEREZ, Princess Charisma V.
1282. PEREZ, Raniros J.
1283. PEREZ, Rizelle Zenika H.
1284. PEREZ-BARIUAN, Roselle P.
1285. PERLAS, Janelle P.
1286. PERLAS, Van Regine L.
1287. PEROLA, Maximillan Jean T.
1288. PETILLA, Imee A.
1289. PEÑASERADA, Vien Kristine L.
1290. PIEDAD, Daryll F.
1291. PIGAO, II, John Socrates G.
1292. PIMENTEL, Jenny Ann A.
1293. PIMPING, Moh'd Naif S.
1294. PINEDA, Daniel Radjit D.
1295. PINEDA, Erika Mariz
1296. PIÑON, Iola Vianka M.
1297. PO, Melody R.
1298. POBAR, Aprilyn T.
1299. POGONGAN, Fatima Naryl K.
1300. PONCE, Allen R.
1301. PONTANAR, Katrina N.
1302. POON, Peterson U.
1303. PORCIUNCULA, Rene Paolo P.
1304. PRESTOZA, Christine Joy D.
1305. PRIETOS, Jim Alvien T.
1306. PUA, Irene Mae G.
1307. PUA, Peter Michael G.
1308. PUGUON, Dorothy Jane G.
1309. PULMONES, Joan Szanne S.
1310. PUNO, Mikhaella Martina H.
1311. PUNZALAN, Mary Ruth S.
1312. PURUGGANAN, Denise Pauline P.
1313. PUSTA, Bj Bonn D.
1314. PUTOT, Mary Lou S.
1315. PUYOT, Arjay V.
1316. QUEJADA, Ken Louwen M.
1317. QUIAMBAO, Hanna Clariss S.
1318. QUIAMBAO, Rhoda D.
1319. QUIBEN, Lovely Grazette D.
1320. QUINCOSE, Sharifa SJ.
1321. QUINTO, Mark Andrew B.
1322. QUINTO, Vinilla Germina N.
1323. QUIRANTE, Mishelle Faith D.
Exam Coverage:
Political Law and Public International Law;
Labor and Social Legislation;
Civil Law;
Taxation;
Mercantile Law;
Criminal Law;
Remedial Law; and
Legal and Judicial Ethics
Release Date:
The result of the examinations was expected to be released by the Supreme Court before the end of this month. However, the result might be released earlier or later than the target date.
comment(s) for this post "November 2017 Bar Exam Results List Of Passers (I-Q)". Tell us what you think abut this post by leaving your comments below.