A netizen cries foul over alleged exploitation of Apo Whang Od.
MANILA FAME – Netizen Winky Scott took the social media to express feelings over alleged exploitation of Apo Whang Od in Manila Fame.
Apo Whang Od is a Filipina tattoo artist from the Buscalan.
What made her subjective among the other tattoo artists is her traditional way of inking.
For that matter, she is also the last and the oldest "mambabatok", a traditional hand-tapped tattoo artist.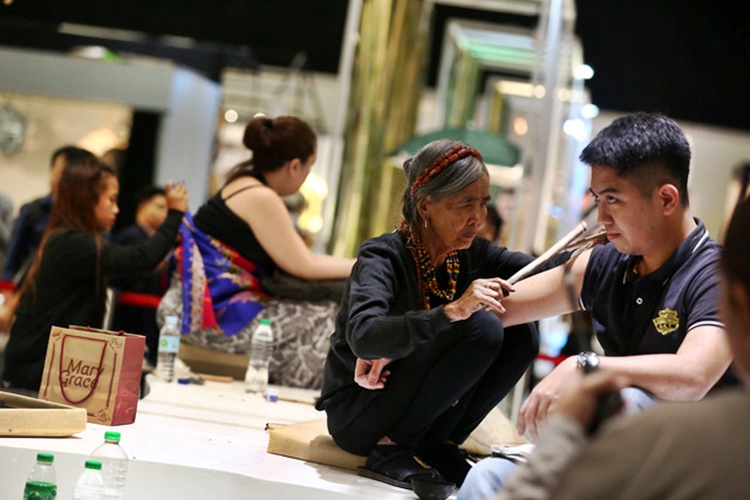 The ink is a composition of the mixture of charcoal and water and was tapped unto the skin through a thorn from a calamansi or pomelo tree.
Thus, because of her remarkable role in the society and in the history of the country, Whang Od became prominent.
Her customers, such as the locals and the local celebrities and even foreigners travel their way to the Buscalan and were willing to walk for miles just to have Whang Od's art inked on their body.
However, netizen Winky Scott shared something on Facebook which stirred and ignited different reactions from the people of the social media community.
A photo has gone viral to where Apo was captured sleeping during a press conference to where she is a panelist
According to blogger Winky Scott, she cried "NO TO APO EXPLOITATION" on her Facebook post.
The organizers have accordingly charged attendees P2,500 for a tattoo, P500 for a signature (3 tattoo dots), and P700 to see Whang Od at the press conference.
And also this after the allegation that the organizers allowed her to tattoo up to 300 attendees at the trade show.
As of this writing, the post has already gathered more than 73,000 reactions and has been shared more than 33,800 times.
Read full post below:
https://www.facebook.com/winkyscottlaagan/photos/a.1899370033721763.1073741828.1895415080783925/1942526276072805/?type=3&theater
What can you say about it?
Read also the previous article: Maricel Soriano's Fans Defend Veteran Actress On Controversial Score To Team Anne