Hours from now, residents of the United States will cast their ballot for the president of the country.
The Americans will be choosing between the Democrat presidential candidate Hillary Clinton and Republican candidate Donald Trump.
A candidate can win the elections if she or he will get 270 electoral college votes.
In the Philippines, taking selfie while voting or having a picture of the ballot is not allowed by the Commission on Elections.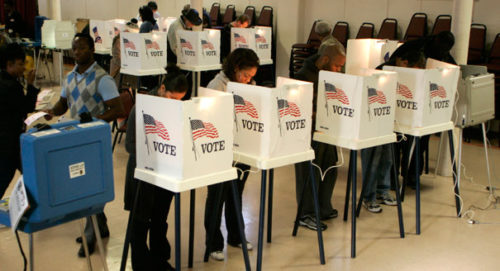 In the US, there are states which allow taking selfie with the ballot in order to document the voting experience.
The following are the states where selfie is allowed:
Colorado
Connecticut
Delaware: In this state, there are signs being put up in polling places that say "no cellphones," but it is not a law.
District of Columbia
Hawaii: This year, a law was passed in this state, allowing voters to share their own ballot pictures on social media, like Facebook.
Idaho
Indiana
Kansas
Kentucky
Louisiana
Maine
Minnesota
Montana
Nebraska
New Hampshire: In September, the federal appeals court ruled that the state's ban on selfies is unconstitutional.
North Dakota
Oregon
Rhode Island: In this state, taking photos are allowed as long as it only show the ballot of the person taking the selfie, no other voters'.
Utah
Vermont
Virginia
Washington
Wyoming
On the other hand, selfie is not allowed in the following states:
Alabama
Alaska
Florida
Georgia
Iowa
Maryland
Massachusetts
Michigan: In October 24, a federal judge ruled that the state's ballot selfie ban was unconstitutional, but on Thursday, a federal appeals court upheld the ban, prohibiting voters to do so.
Mississippi
Nevada
New Mexico
New York
North Carolina
South Carolina
South Dakota
Tennessee
Texas
West Virginia
Wisconsin
When caught violating the ban, the penalties vary from fines to possible jail time depending on the local prosecutor's discretion.
Meanwhile, there are states having unclear laws on selfie during voting, and these include Arizona, Arkansas, California, Illinois, Missouri, New Jersey, Ohio, Oklahoma and Pennsylvania.
comment(s) for this post "States In US Where Taking Selfie With The Ballot Is Legal and Illegal". Tell us what you think abut this post by leaving your comments below.