King Bhumibol Adulyadej of Thailand has surrendered to illness after being confined at a hospital in Bangkok.
Adulyadej died on Thursday at the age of 88, after being considered as a revered and unifying figure who embodied the nation in his 70-year reign.
The Royal Palace released an announcement through a statement read on state TV Thursday. This is following the days of outpouring of support and prayers from the Thais since the king was hospitalized.
Over the weekend, the king underwent medical procedures.
The king died at 3:52 p.m. local time and passed away in a "peaceful manner," the Royal Palace said.
Earlier on Thursday, hundreds of Thais gathered outside the hospital in Bangkok where King Bhumibol Adulyadej is confined.
Late on Wednesday, the palace said in a statement that the king's health had "overall not yet stabilized". The statement said the 88-year-old king was on a ventilator and battling a new infection.
This is following the statement on Sunday which said the king was in an unstable condition after he received a hemodialysis treatment.
On Thursday, about 300 people gathered outside Siriraj Hospital, near Chao Phraya river in Bangkok, in order to give their well-wishes to the ailing king.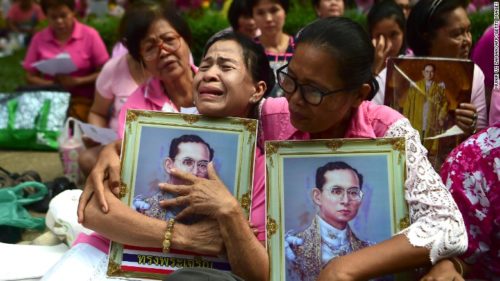 Adulyadej is the longest reigning monarch in the world.
The king has long been seen as a unifying figure in Thailand. His health, which is watched closely, is a sensitive subject.
Some of those who gathered to pray wore yellow, the king's color, and others donned pink, a color they believe will bring the king an improvement in his health.
According to the 67-year-old housewife Thornpan Tornueng, she was worried so she came here to see for herself.
"This evening I will take part in chanting for the king," she said.
According to the palace statement, all government buildings will put the Thai flag at half-staff for 30 days starting October 14.
The palace added that in a sign of how deeply this leader's death will be marked, all civil servants have been ordered to wear black clothing for a year as a sign of mourning.