The Duterte-Cayetano tandem conquered Taguig on Monday night, April 12, with more than 30,000 people came out throwing their support with the only candidates in the 2016 national elections who promise to curb crime and corruption within the first 3-6 months when elected as President and Vice President respectively.
See Also: Rody Meets Freddie During Taguig Rally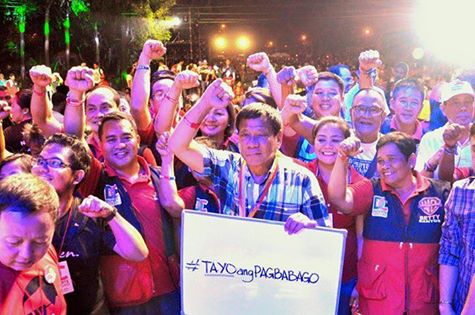 Mayor Rodrigo Duterte and his running mate, Sen. Alan Peter Cayetano graced the political event in FTI, Taguig alongside their chosen senatorial candidates who first introduced their platform of government under the Duterte-Cayetano team.
Although the event did not get the usual TV and print media comprehensive coverage, the rally in Taguig by the DuCay tandem conquered social media by storm with thousands of people showing their interests with the updates on the Duterte-Cayetano rally in Taguig City.
The Duterte-Cayetano tandem speak up right after the performances of the Filipino artists who graced the event and performed for the people in support of Mayor Duterte for free. Before the Duterte-Cayetano tandem speech, their senatorial line-up also used the event to offer their platform of government and plans when elected as senators of the Republic.
During the speech of Mayor Rody Duterte, he mentioned his opponent such as Vice President Jojo Binay, Sen. Grace Poe and former DILG Secretary Mar Roxas.
According to Mayor Duterte VP Binay is the "Berdugo ng Kaban ng Bayan," as he replied to he statement of the Vice President who described him as "Berdugo ng Bayan," and even challenged the Vice President to debate about Graft and Corruption.
Aside from hitting VP Binay, the Davao City Mayor also described Mar Roxas as "Bakla" whic means "coward" as part of Duterte's reply to the Liberal Party standard bearer after attacking him again saying Duterte is a "threat to Democracy."
Mayor Duterte explained that his parents belongs to the people who pushed for Democracy during the Martial Law years, so why he will destroy the advocacy of his parents. He also noted that he will stop corruption in his first month of office once elected as President.
Due to the huge turnout of the mammoth rally in FTI, Taguig, people are now expecting that Mayor Rodrigo Duterte will surely dominate the National Capital Region (NCR) which will add more dominance to Duterte's bailiwick after more than 50% of voters in Mindanao preferred him to be the next President.
Some Photos of Duterte-Cayetano Rally in Taguig:
comment(s) for this post "Duterte-Cayetano Rally in Taguig Not Reported on Traditional Media But Conquered Social Media by Storm". Tell us what you think abut this post by leaving your comments below.