Philippine government struggles in saving the life of Mary Jane Veloso, a Filipina domestic helper who was charged of drug trafficking, but netizens from all over the world seek for her pardon through a petition.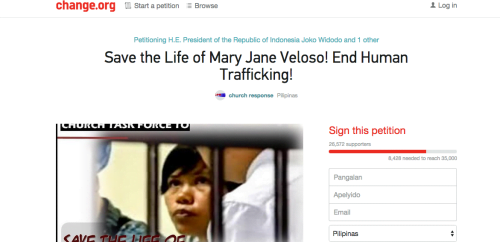 The petition, which is titled "Save the Life of Mary Jane Veloso! End Human Trafficking!" was already signed by 26,572 supporters on global petition platform Change.org.
The petition targets 35,000 signatures to make effort for the call to grant clemency and pardon for Veloso who is set to be executed through a firing squad.
The petition also explains how Veloso is a victim of human trafficking.
"As a single mother of two, young sons, Mary Jane was desperate for employment which made her vulnerable to the Human Traffickers."
"Not fluent in English and limited in formal education, Mary Jane was swept up in a flood of circumstances that resulted in her conviction: she had no legal counsel for most of the process, she did not understand most of the proceedings, and her family received death threats from the drug syndicate, warning them not to go to the media or seek help," the petition read.
The Filipina domestic helper was convicted for the charge in 2010 when she arrived at Yogyakarta Airport with 2.6 kilograms of heroin stitched in the lining of her luggage.
Meanwhile as Philippine government effort, President Benigno Aquino III will try to dialogue with Indonesian President Joko Widodo in a bid to save Veloso's life.
She is set to be executed on April 28, her relatives said.
H/T: Inquirer.net; and photo screen grab from Change.org