Maricar Sebastian, the mother of the late YouTube sensation Jam Sebastian earlier accused Mich Liggayu of keeping her son's share of the earned funds from YouTube revenues.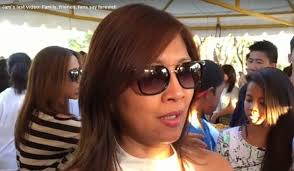 "I said, 'I want a breakdown of finances of my son.' I am not a stage mother and I did not even get a single cent from him because we have our own lives. This time, since my son died, I now have the right (to his share)," Sebastian said in an exclusive interview with Startalk on Saturday.
Sebastian said the treatment she has been receiving from the other half of the YouTube sensation prompted her to speak against the latter.
"I wish I did not have to speak up but it's just too much. We were asking for his belongings. But you told us that you will think about it. We were asking for his share but you did not give us any. You want everything for yourself. My son also worked hard for it. Jamich will not exist without Jam. And until now, you are benefiting from it," she expressed her grievance.
The mother also became particular when her son was cut off from the social media accounts and e-mail which Jamich earn money.
"Who is the greedy one between the two of us? Who is the greedy one now? Using my son for your gain is just too much," she added.
Aside from breaking up her silence over alleged Liggayu's greed, Sebastian also said that Mich has been seeing someone when Jam was still in hospital bed struggling for his life.
"Every time you stay out late, where do you go? You are not sleeping in the house. You told us that you are just friends with him but why are you spending more time with him? Where were you when Jam needed you the most?" Sebastian said.
The latter in the other hand publicly denied the rumors after being linked with singer Neo Domingo.
comment(s) for this post "Jam Sebastian's Mom: Mich Ligayu Pockets Money From My Son". Tell us what you think abut this post by leaving your comments below.