The Commission on Elections announced that starting on Tuesday, May 6, 2014, the official registration of voters for the 2016 Presidential Elections will be open to the public. COMELEC Chairman Sixto Brillantes Jr., urged the Filipinos to register early.
Related Article: May 2016 COMELEC Registration Requirements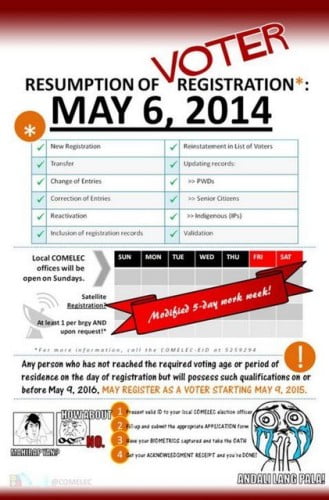 The COMELEC Office nationwide will be open for the voter's registration from 8:00 AM to 5:00 PM starting today, May 6, 2014 and will end on October 31, 2015. According to the government agency in-charge of Philippine elections, they are targeting to have 9.6 million voters registered and take their biometrics data for the upcoming elections.
According to COMELEC those voters who don't have their biometrics data will not be allowed to vote this coming 2016 national and local election. COMELEC Spokesperson James Jimenez also noted on Monday that they are expecting around three million new voters to register for the next elections.
The Commission on Elections through COMELEC Resolution 9853 noted that the Office of the Election Officer (OEO) across the country's cities and municipalities should accept applications five days a week, preferably from Sunday to Thursday.
COMELEC Spokesperson James Jimenez stated on Twitter that new voters should have "no more excuses" not to be registered since COMELEC offices will now be open during Sundays.
James Jimenez noted that in order for them to service the expected three million new voters who will turn 18 on or before election day in 2016, they made some advanced preparations.
Jimenez was quoted as saying "We are ready. In preparation for the resumption of the voters' registration, the Comelec has gone all out to make sure that the process is convenient, that the sites for registration are accessible," Jimenez said.